Ex-NBA player Matt Barnes announced that he will be launching a scholarship fund for Stephon Clark's two sons to ensure that they can afford to go to college.
Barnes, whose lengthy basketball career included stints with the Sacramento Kings and Golden State Warriors, made an impassioned speech at a rally in Sacramento on Saturday while holding one of Clark's children. He spoke about the fraught relationship between police officers and black America, and the need for reform.
"We fear what we don't know. We don't know these cops, so we fear them. They don't know us, so they fear us," Barnes said. "When you get out and know someone on a first-name basis, when you are called to the situation, next time you may be able to defuse the situation."
Clark, 22, was killed on March 18 when Sacramento police officers shot him eight times in his grandparents' backyard. The two officers, responding to reports of car break-ins in the neighborhood, said they believed Clark to be armed, though he was found with only his cellphone in hand.
Since Clark's death, protests have roiled Sacramento and led to yet another uprising by a community imploring the government to do more in investigating deadly police shootings and prevent them.
Saturday's march was organized by the Sacramento Black Lives Matter chapter. Barnes was involved in the rally because he heard of Clark's death from one of his two 9-year-old sons. The child apparently asked his father if police were "bad" for what they did to Clark.
"I had to pause for a second because the emotion of me wanted to say yes, but at the same time cops aren't bad, one cop doesn't make every one bad," Barnes said.
"But one black man doesn't make everybody guilty. It's more than color. It comes down to wrong and right."
Barnes said of his sones, "I fear for them. I fear for the streets and now I've got to fear for the cops. How do we explain to our kids that because of the color of your skin people aren't going to like you? That's not fair, but that's what we have to explain to our kids every day."
He added: "This isn't a Sacramento problem, this is a nationwide problem."
Before You Go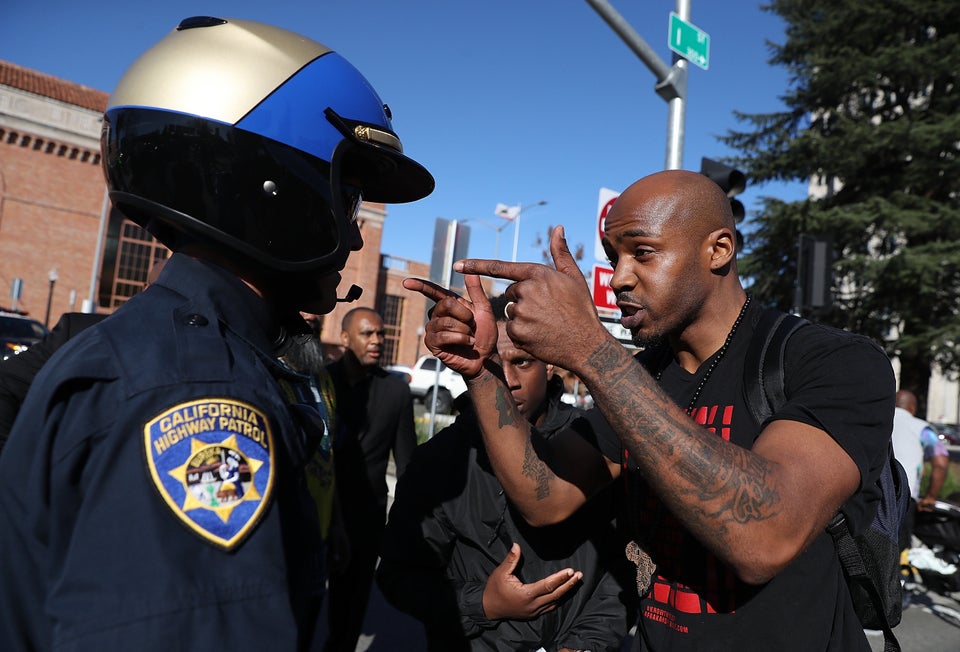 Black Lives Matter Protests After Stephon Clark's Death
Popular in the Community