Kentucky Gov. Matt Bevin (R), like President Donald Trump, has said that both white supremacists and counterprotesters are to blame for the deadly violence in Charlottesville, Virginia, over the weekend.
The violence erupted as white nationalist and neo-Nazi groups descended on Charlottesville, ostensibly to protest a statue of Confederate Gen. Robert E. Lee being removed from a public park in the city.
"The fact that people ... were encouraged to come in and counterprotest and be just as violent and angry as the hateful people that came in in the first place ― people knew what was gonna happen, and it's unfortunate."
Bevin responded by criticizing the white nationalist and neo-Nazi groups, but also said "all sides" were to blame for the violence.
"The kind of racial hatred that we're seeing from people, as has been said by the president, on all sides ― people are offended at the idea that people take exception with a particular type of hatred versus another," Bevin said Tuesday in an interview with West Virginia radio station WVHU. "All of it is reprehensible. It just is. There's no reason for it, there's no room for it. It doesn't further anything. And the fact that it has been allowed to accelerate out of control, as it has, is is irresponsible on the part of people who allowed it to happen."
"The fact that people were allowed to clash with one another as they were in Virginia, that people were encouraged to come in and counterprotest and be just as violent and angry as the hateful people that came in in the first place ― people knew what was gonna happen, and it's unfortunate," Bevin said. "And the result of that is that innocent lives were lost. And I find the whole thing disgusting."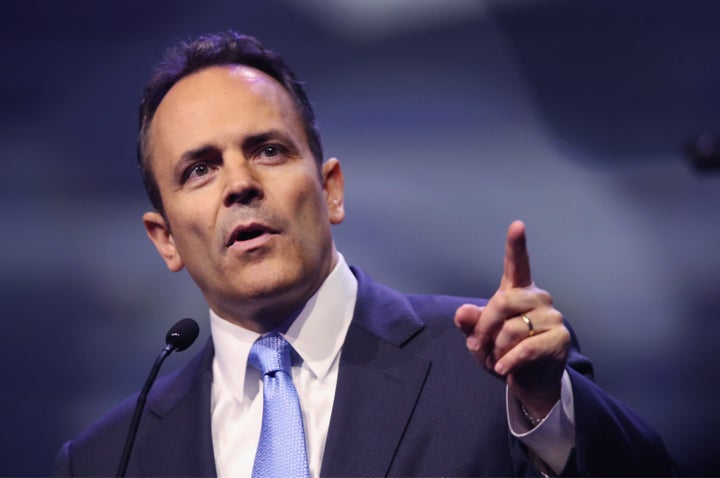 In his initial remarks on Charlottesville, Trump said "many sides" were to blame for the violence. His comments were widely criticized and condemned ― by Republicans and Democrats alike ― for enabling the white supremacist groups that had chanted racist, anti-Semitic and anti-LGBT slogans during their rallies.
Trump reiterated those comments in an unnerving press conference on Tuesday afternoon, saying that "both sides" shared blame. "You had a group on one side that was bad, and you had a group on the other side that was also very violent," Trump said. "There were very fine people on both sides."
Leaders of some white nationalist groups have viewed Trump's comments as an accurate description of the events in Charlottesville, while others have described his previous tepid rebuke of them as "Kumbaya nonsense" that he doesn't believe.
Bevin's decision to lay some blame at the feet of people protesting white supremacists comes at a tenuous time for his state. White nationalist leaders told the Lexington Herald-Leader on Tuesday that that they were planning rallies in the city to protest Mayor Jim Gray's efforts to remove two Confederate statues from outside a historic downtown courthouse.
The monuments stand on land that was once home to one of the South's largest slave auction sites. They depict Confederate secretary of war and former U.S. Vice President John C. Breckinridge and Confederate Gen. John Hunt Morgan; Jake Gibbs, the Lexington city councilman who represents the area, said the monuments were erected during and after Reconstruction as a way to show that "white supremacy was back."
There is no set date for the rallies, and a Lexington Police Department spokesperson told HuffPost that police are monitoring the situation but have not heard of specific plans for demonstrations.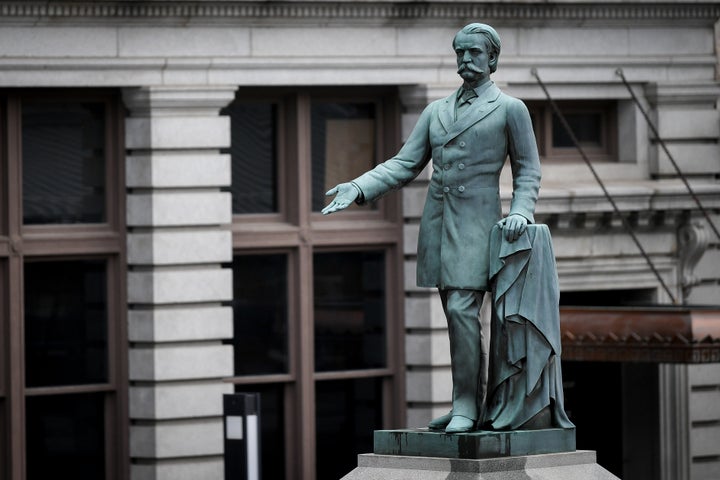 Lexington currently doesn't plan to destroy statues. Rather, it intends to find a another location for them, which Gray and other lawmakers have said will allow them to exist in the proper context of Kentucky's Civil War history.
"I think moving the statues and providing info about them ― why they were placed there, what their meaning is, providing more information about Reconstruction and how it was handled in Kentucky ― would be useful," Lexington vice mayor and city council member Steve Kay told HuffPost this week. "And the people who have a legit interest in maintaining that history will find that acceptable."
Bevin also criticized the nationwide efforts to move Confederate statues, saying he is opposed to the "sanitization of history." Kentucky, where slavery was legal, has more monuments to the Confederacy than any other state that did not leave the Union, according to the Southern Poverty Law Center.
"I absolutely disagree with this sanitization of history. If we want to learn from history, if we don't want to repeat the mistakes of our past, then we better teach it to our young people," Bevin said in the radio interview. "It better be known. It doesn't have to be celebrated, as in, 'This is something we did and should do again.' But to pretend it didn't happen, to remove from society, because where do you draw the line?"
In 2015, however, Bevin said he thought it would be "appropriate" to remove the statue of Confederate President Jefferson Davis that stands in the rotunda of the Kentucky state Capitol in Frankfort. The Kentucky NAACP and some state residents have called on lawmakers to remove the statue.
Last year, Louisville relocated a Confederate monument that had been on the the University of Louisville's campus. Mayor Greg Fischer has called for a review of any Confederate memorials remaining in the city.
Bevin, in the radio interview, was also critical of Charlottesville law enforcement officials, who have been scrutinized for how they handled the weekend's demonstrations. Bevin pointed to a white supremacist rally that took place in Kentucky earlier this year to say that his state would be prepared to ward off any violent outbreaks if white nationalist groups demonstrated in Lexington.
"I can't speak for what the city of Lexington will do" if the rallies occur, he said. "But I will speak for the state of Kentucky. As happened when people met in our state parks to try to do the exact same thing a few months ago, as I said, such activity will be discouraged to the degree possible, as in, we don't want that nastiness and foolishness in our state. But because this is a free society and there's only so much that can be shut down in advance, then such activity if it moves forward will be met with an overwhelming amount of preparation. And it will not be allowed to accelerate to that degree."
America does not do a good job of tracking incidents of hate and bias. We need your help to create a database of such incidents across the country, so we all know what's going on. Tell us your story.
Before You Go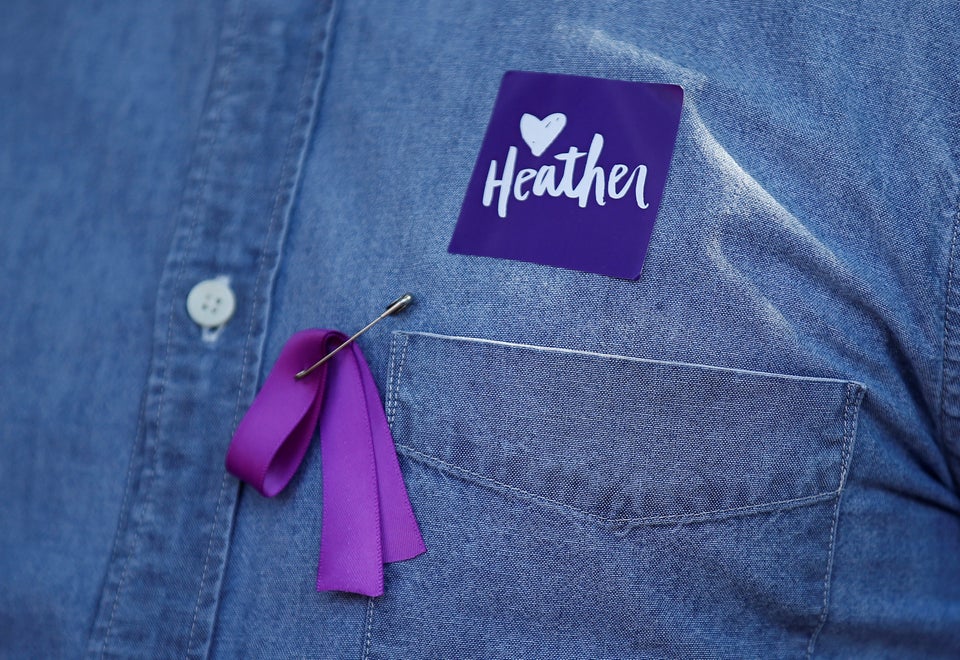 Memorial Held For Charlottesville Victim Heather Heyer
Popular in the Community