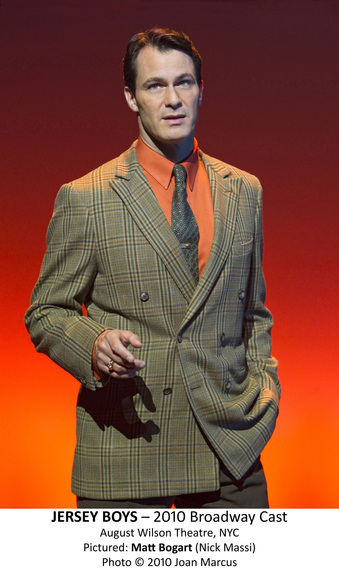 Despite his tough guy exterior as Nick Massi in Broadway's Jersey Boys, actor Matt Bogart is all smiles as he greets me in the hallway outside his dressing room. Matt's fun-loving demeanor is infectious, and he takes pride in showing me around the theater, pointing out along the way the good-humored picture wall full of "embarrassing pictures", as he puts it, including one of him in a Broadway Jockey Ad from 1998 (although I think that women are thanking him for that picture!).
We ultimately get settled in his dressing room, which is flanked by photos of his wife, actress Jessica Boevers Bogart, and their two young children, and launch into a conversation of how he got his start.
What was your childhood like?
I grew up in a little town outside of Dayton, Ohio, on an eighty-acre horse farm. At one point, we farmed it ourselves, but that took too much time since my dad had a full-time job as an engineer, and also felt it was too dangerous to have his four kids doing that as farm accidents do happen. My dad is still racing and breeding horses on the farm though.
So you must be a big animal lover.
I am, but I don't own any at this time. I have two little kids, ages 5 and 7, so that's enough for me right now!
Looking at you, I would think that you would have played football growing up.
I played a myriad of sports - baseball, soccer, football, track, basketball. But I also auditioned for the show choir, and the glee club, and the musicals. My mom was a bit musical, and did community theater herself, so I was influenced by her as she put me in piano lessons and singing lessons. And then, later on, I played one year of football at Baldwin Wallace college up in Cleveland while I was majoring in musical theater in the conservatory. But it was a bit of a conflict of interest, not just with the schedule, but in my heart of hearts as well.
You ultimately transferred to the University of Cincinnati's College-Conservatory of Music, where you met your wife Jessica.
Yes, we were long-time friends but we didn't start dating until about seven years after coming to New York City. It's great now, in retrospect, to have had a long-term friendship with someone I've made a life with.
How did you get out of the friend zone?
We were both dating other people and, every once in awhile, we would take each other to events that our significant other couldn't go to. At some point, I asked her to come to an event with me and we both happened to be single and looked at each other and said "hey why not?!" and the sparks flew from there!
What's the key to a successful marriage while being in this profession?
It's ultimately about having the same philosophy in life and how you want to live.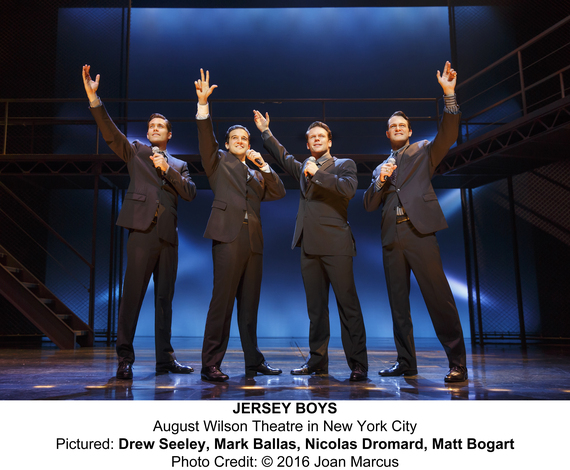 You've been starring as Nick Massi in Jersey Boys since 2008. In preparing for the role, what did you need to understand about Nick Massi as a person?
To me, Nick was a musical genius, but also someone who tried to keep the band together so he could have that in his life. Outside of the band, he struggled with addiction and drinking, and keeping his family together. These are things that a man wouldn't want to admit to, but I think its really important in order to find the vulnerability underneath the facade of the man who tries to put out an image of keeping himself together. All of that is boiling inside of him, which is covered up by these nice suits and shiny hair. He knows that he looks good on the outside but inside he's hurting.
The cast of the Four Seasons has such great chemistry on-stage.
Everybody has their own thing to bring and you never know what's going to be thrown at you. You are passing the ball back and forth and you have to figure out how to catch it and throw it right back as best as possible. And when we meet someone new, like Mark Ballas, we all go out and grab a beer and get to know each other on that level, but we also have rehearsals together and we figure out all the dynamics we are going for.
How has it been having Mark Ballas in the cast as the final Frankie Valli?
It's been great. Wonderful attitude. Incredible dancer, of course, but also a really stylish singer. I think everyone's going to be pleasantly surprised.
I'm sure you've met Frankie Valli several times.
I have. He's a producer on the show and part writer really, because this is his story. He's kind of quiet and reserved at first, but when he's in a room where he's comfortable he will open up. And he has fascinating story after story to tell about his life.
What has being in Jersey Boys taught you?
To commit to one role for eight years has been quite a lesson in stamina and figuring out how to be as consistent as possible. In an eight year period you are going to go thru every phase you can think of. It's been a great journey with Jersey Boys.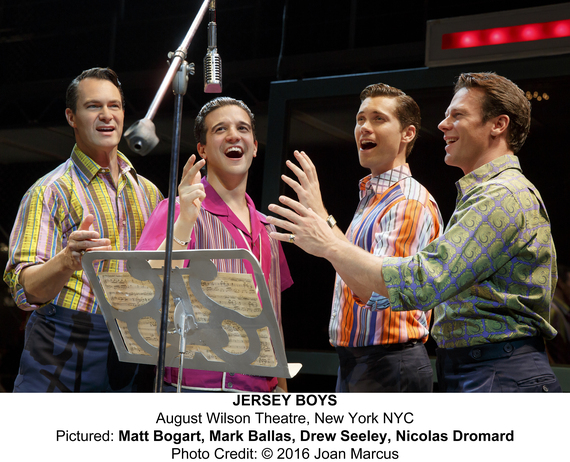 If you were to meet Nick Massi, what would you say to him?
I'd say "I hope I've done you well". But I'm not sure, though, that this is Nick's story. I wonder what story he would tell. It's hard because you have three band members telling his story, and as we say at the beginning of Jersey Boys, "If you ask four different guys, you get four different stories about how we came together."
Jersey Boys ends its run on Jan 15, 2017. It's kind of an end of an era for you.
Definitely. I've had the good fortune of working with almost everyone that has come along to replace other people in the show. And I've had the pleasure of working with the three who've been here the entire time - Mark Lotito, Sara Schmidt and Peter Gregus. What a great show to be part of if you're going to do a long-running show. The audiences love it; there's the automatic enthusiasm for it. I've been very lucky and very blessed.
You've done some television work, as well. Any experience stand out?
It's so different than theater, but so great. Vinyl for HBO was especially wonderful. I was on set for four days altogether, and Martin Scorsese stopped by the day we were shooting my scene. He watched the shoot and signed off on me, and that was really cool, as well as taping the song I sang at Electric Lady Studios which was Jimi Hendrix's studio. And I got to hang out with Ray Romano and Bobby Cannavale all day long - it was a great time.
What's up next for you?
As a follow-up to my first CD, Simple Song, I'm releasing, around Valentine's Day, a new CD called Sky Above Manhattan. It's musical theater composers of my generation. I'm very excited about it. The orchestra can be anything from a couple of pieces up to twelve. It's a very artistic album as it's a lot of music you may not have heard but was produced in a show. And I'm also co-producing an album, so I'm working on that too.
Calling all HuffPost superfans!
Sign up for membership to become a founding member and help shape HuffPost's next chapter