Get ready to fall in love on a whole new level. Matt Bomer is so good in this role.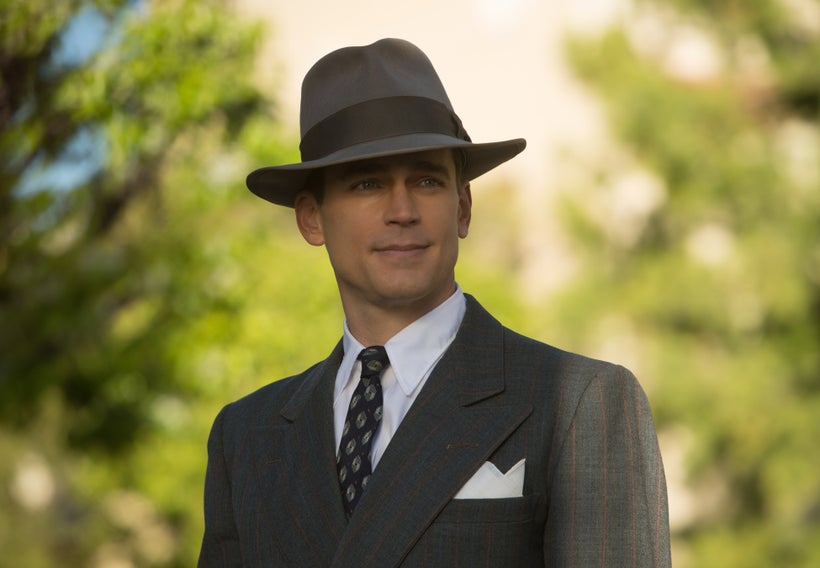 Fact: Put Matt Bomer in a suit, a tux ― or, very little clothing for that matter ― in any time period and fans will automatically fall in love.
We loved him in White Collar, cried with and for him in The Normal Heart, and shouted 'take it off' in Magic Mike. But he really brings it as Monroe Stahr in F. Scott Fitzgerald's final work, The Last Tycoon. The nine episode season will be available on Amazon on July 28. Watch the pilot and the preview on Amazon for free.
It should be noted that fans will also fall in love a bit when sitting in the same room with him, which I had the opportunity to do twice recently ― once for a round table interview with Matt, screenwriter Billy Ray and producer Chris Keyser. And again, while attending a panel about the film at Book Expo in June.
A fangirl moment: He is quite adorable, charming and funny. He gives off a great deal of warmth and sincerity. He is swoon worthy for sure. And has a kind spirt. Sigh.
Bomer's star has risen high in recent years, but he continues to have the soul of an artist and says he's grateful for the opportunity to be doing this work. I wish I had a little more time to chat with him about craft, soulful living and family life (he's a devoted a father of three). Meditating is one of the ways he stays grounded.
The Last Tycoon follows Hollywood's Golden Boy, Monroe Stahr, portrayed by Bomer, as he battles father figure and boss, Pat Brady (Kelsey Grammer) for the soul of their studio. In a world darkened by the Great Depression and the growing international influence of Hitler's Germany, The Last Tycoon illuminates the passions, violence, and towering ambition of 1930's Hollywood.
Fitzgerald never got the the chance to finish the book ― although others have added to it over time ― and this new production updates the world of The Last Tycoon and the characters.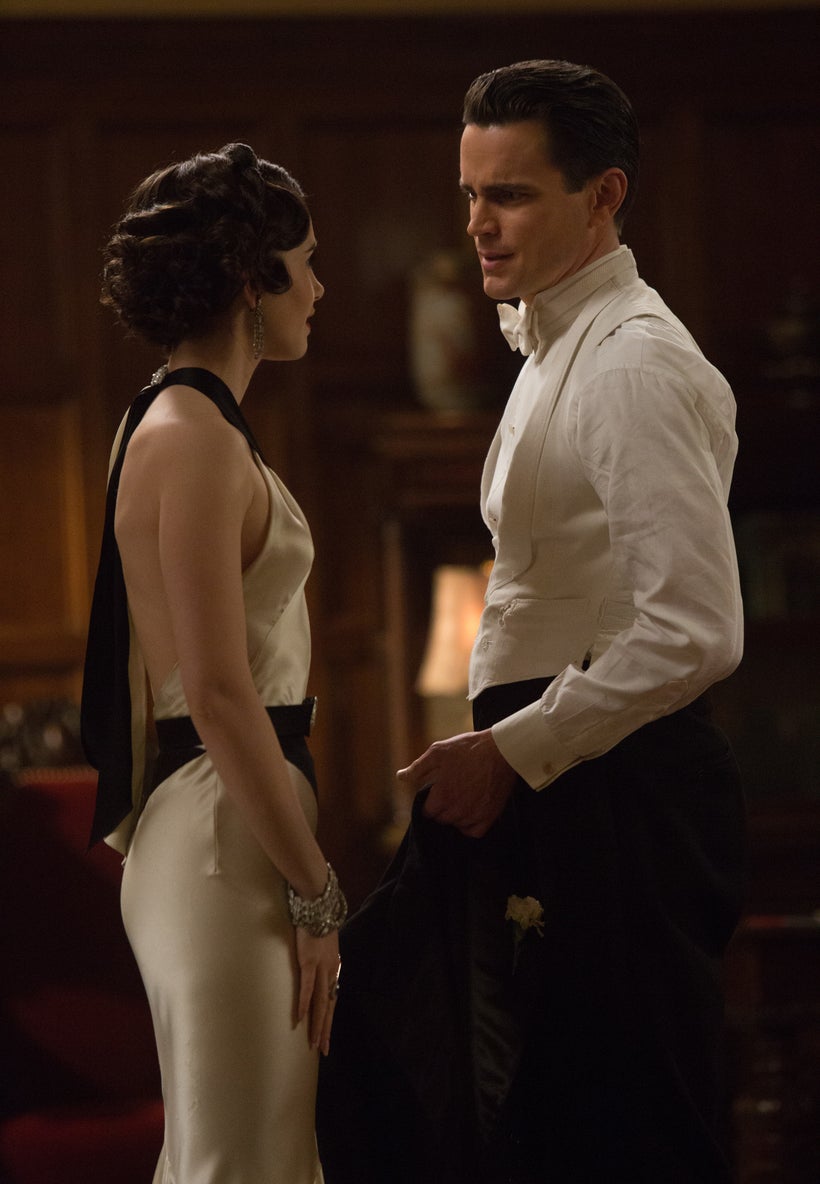 Here's part of my chat with Matt Bomer about The Last Tycoon:
What was the appeal of this role for you?
Interestingly, a couple weeks before Billy initially called me about this, I had been revisiting Day of the Locust, the Nathaniel West novel, which deals with a lot of similar themes and thinking about how much in Hollywood really hasn't changed and how do we craft stories around that. I had read everything else by Fitzgerald but I hadn't read this, and it just seemed like incredible synchronicity to me that it came my way at that time I was thinking about those themes and I had to embrace that.
When we sat down together and talked about the project and how relevant I thought it was, and how much really hasn't changed, and then the fact that we could use this world to not only tell an interesting story, but really comment on a lot going on now. I thought it was really promising and very fertile.
Do you think the fact that this work is not as well known give you more freedom and flexibility because it's not the Great Gatsby?
I think so. It wasn't a finished craft or novel. I think the way they've fanned out this story and broadened the world, and expanded on it is really brilliant and necessary when you're going to do it for nine hours [9 episodes]. You have to branch out at some point. I think the fact that people have a general preconception of what a Fitzgerald piece is going to be is good, but the fact that they may not be as familiar with this piece is good for us as well.
What did you love about the character and what was hard about this role?
I think what I was really contemplating at the time the job came my way is that whole debate of art versus commerce, and how do you make a living trying to put art into the world as an actor in this day-and-age, and am I able to be a part of the commerce machine? Do they even want me there? And so it's really a central tenant to the story we're telling, central being is art versus commerce.
In terms of Monroe, I think he's someone who is all about legacy and very multifaceted. And he's had this ticking clock on his life, his entire life since he's had his heart condition, and it was like he has to put his stamp on the world and achieve immortality in the limited time he has. I think those kind of stake are always interesting as an actor.
And then he had this great tragic flaw in his romantic life that really blindsides him continually, which was also really interesting to me that someone that could be so detailed, and specific, and nuanced, but also miss things entirely or get caught up in the romance of his love life.
Do you think he's trying to heal himself through this experience in the movies? Is that his healing journey too?
I think he's more trying to heal himself through his romantic life, or at least draw inspiration and he's almost vampiric in that way.
He's attached … and all in when it comes to romance.
Yeah, I think he gets inspiration from that. And then he tries to bring that to the screen as well along with literary knowledge and storytelling, probably acquired in those days when he wasa kid who had to stay in bed and read books instead of going out and playing with kids on the playground.
And he says he doesn't like sad endings.
He doesn't like them, but that doesn't mean he doesn't always get them.
I love that dialogue. He also said, "That's why we have rewrites.".
In terms of the rewriting and being able to control a story of his life to show what he might think people would like to see, he does heal himself that way.
What is one of you favorite scenes as Monroe Stahr?
One of my favorite scenes this season was when Monroe calls his mother on Christmas, and he sort of sees a little glimpse of who he left behind, and what that cost him in terms of his mother, and he's trying to tell her about this great girl he's met, and she asks him if the girlfriend calls him "Milton," and he says, "No, she calls me 'Monroe' like everyone else." You just feel this distance and pain there.
Next time: I'll share some insights from Billy Ray and Chris Keyser on what it was like to bring Fitzgerald's final novel to scrr.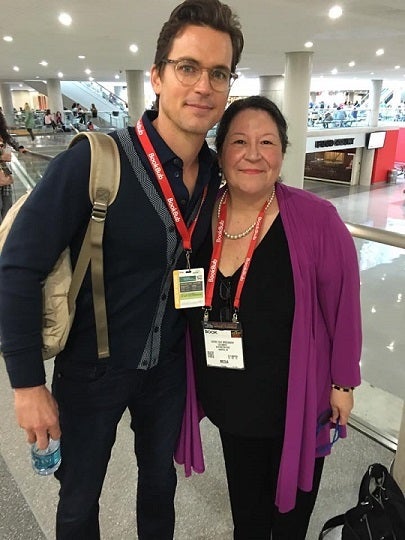 Matt Bomer kindly posing for a photo with this reporter.
Calling all HuffPost superfans!
Sign up for membership to become a founding member and help shape HuffPost's next chapter
This post was published on the now-closed HuffPost Contributor platform. Contributors control their own work and posted freely to our site. If you need to flag this entry as abusive,
send us an email
.