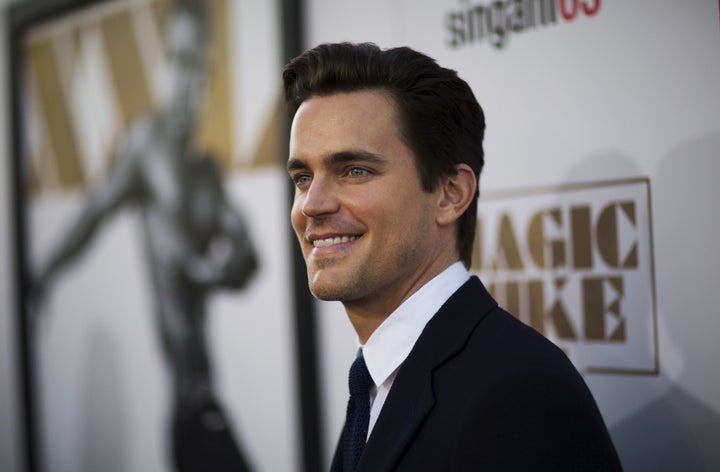 Matt Bomer received praise from the LGBT community when he subtly came out by thanking his now-husband, Simon Halls, and their three children in a 2012 acceptance speech. Still, the 37-year-old "Magic Mike XXL" star says he wouldn't necessarily encourage others in Hollywood to follow suit. 
"I think one thing that people don't always take into consideration is a holistic aspect of what may or may not be going on in that individual's life ― you know, what kind of relationship they have with their family, how the people around them feel about it," he recently told PrideSource's Chris Azzopardi. "But for me, having kids and being married, it was important to maintain the integrity of those relationships and not teach my kids that this is a shameful secret and that my husband has to be waiting in the wings all the time ... By the same token, I don't hold anyone else accountable. It's their choice."
The actor is also refreshingly candid about the gushing compliments paid to him by "Magic Mike XXL" co-star Channing Tatum during his recent Reddit AMA. Tatum said, "No matter if you're a man, woman, cat [or] hamster, you will get lost in Matt Bomer's eyes." 
"I mean, obviously, I blushed," Bomer said of the apparent man crush. "Knowing Channing, and what a kind soul he is, I guess when you're the most handsome man on the planet ― and probably the most desired man on the planet ― you have the security to give those kinds of compliments. It made my day, of course!"
"It wasn't some PR move on his part ― he wanted to be inclusive, and that's a big part of who he is as a human being," Bomer said. "So, given the opportunity to work with him, and really everybody in this cast ― they're just a great example of what we all can be, which are people who are secure in themselves, and loving and accepting of people no matter who they are and where they come from."
PHOTO GALLERY
Understated Celebrity Coming Out Stories
Calling all HuffPost superfans!
Sign up for membership to become a founding member and help shape HuffPost's next chapter