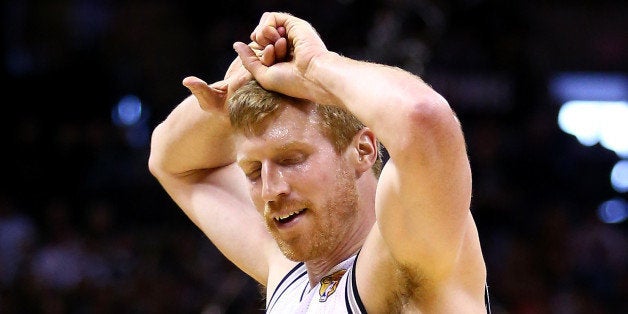 We all make excuses. NBA player Matt Bonner's is in a league of its own.
The free agent, who is known for his long-range shooting, suffered dips of about five percent in both his three-pointer and field career averages in the 2014-2015 season. He's blaming the drop on tennis elbow, which he thinks might be a result of his iPhone.
"I hate to make excuses, I was raised to never make excuses, but I went through a two-and-a-half month stretch where I had really bad tennis elbow," the former San Antonio Spurs center told New Hampshire's Concord Monitor on Sunday.
"[H]ere's my theory on how I got it," Bonner continued. "When the new iPhone came out it was way bigger than the last one, and I think because I got that new phone it was a strain to use it, you have to stretch further to hit the buttons, and I honestly think that's how I ended up developing it."
Presumably, Bonner was using the iPhone 6 Plus, which has a 6.2 x 3.1-inch display, or the iPhone 6, which measures 5.4 x 2.6 inches. The iPhone 5 is smaller, measuring only 4.9 x 2.3 inches.
Typically, tennis elbow develops over time from repetitive arm movements that strain the muscles and put pressure on the tendons.
There have been many instances of excessive smartphone use leading to injury. In April, a man tore a tendon playing the puzzle game "Candy Crush Saga" on his phone. In August 2010, a banker had to have surgery on her thumb after texting clients on her iPhone for 12 hours a day; her condition is recognized as Blackberry thumb, or De Quervain's tenosynovitis.
A representative from Apple did not respond to a request for comment about Bonner's issue. The Rolling Stone, however, suggested, "Maybe it's time he got a Galaxy?"