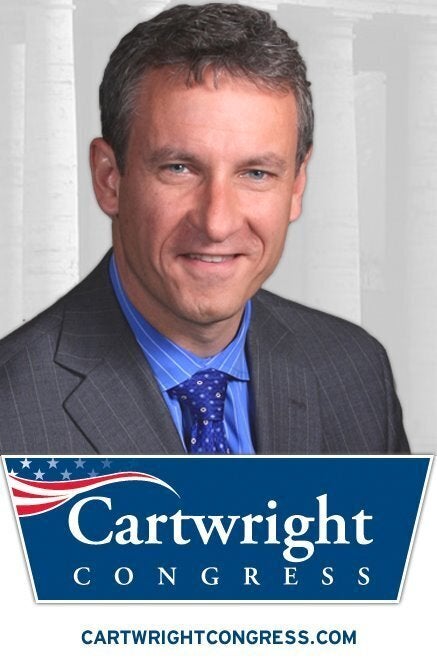 The post-Citizens United world of campaign finance is producing ever more strange bedfellows. One of the two Blue Dog Democrats who lost primary races Tuesday night in Pennsylvania faced an unusual alliance: the League of Conservation Voters and an unconventional anti-incumbent super PAC whose donors include oil and gas executives and the Republican House majority leader.
With the help of both those groups, Scranton attorney Matt Cartwright, who positioned himself as the progressive in the race, was able to defeat Rep. Tim Holden, the longest-serving member of the state's congressional delegation.
Despite Holden's incumbency advantage, Cartwright found himself with outside friends too. The League of Conservation Voters, a prominent environmental advocacy organization, spent $230,000 on ads and the Campaign for Primary Accountability, the anti-incumbent super PAC, chipped in $350,000 -- more, over the course of the overall campaign, than the third-party money Holden received.
The Campaign for Primary Accountability's donors include a number of wealthy executives from the oil and gas industry. It has received $350,000 from Tim Dunn, the Midlands, Texas-based CEO of Texas Land & Royalty Company and $10,000 from Lloyd R. French III, the CEO of Northwind Energy Partners. House Majority Leader Eric Cantor (R-Va.) also recently gave $25,000 to the group for a Republican primary race in Illinois.
"It's no secret, it's public record that many of our donors are from the oil and gas industry, and while they may disagree with Matt Cartwright's position on some of the drilling issues, they believe in competitive elections," said CPA spokesman Curtis Ellis. "They believe in the rights of the people of the 17th district of Pennsylvania to choose their own representative, who may disagree with them -- them being the donors."
League of Conservation Voters President Gene Karpinski shrugged off the super PAC's connections, saying that "there's certainly no coordination."
"We specifically wanted to be in that race to shine the spotlight on Mr. Holden's vote for the Bush energy plan and against the Obama clean energy plan," he said.
He added that the Campaign for Primary Accountability -- which has targeted both Democrats and Republicans with its anti-incumbent message -- is an idiosyncratic group, and its message in the district didn't focus on environmental issues.
The ads from both groups, said Jeffrey Brauer, an associate professor of political science at Keystone College in Pennsylvania, made a big difference. With Holden forced to run in a newly redistricted area, he had to introduce himself to many voters for the first time. The TV ads from outside groups were instrumental in helping him do that.
"I don't think the average voter understands or notices where these campaign ads came from," he said. "These outside groups really played a huge role, I think, in this election, but I don't think Holden had a chance to try to explain (them)."
Despite its role in his victory, Cartwright's campaign had disavowed the Campaign for Primary Accountability's spending.
Popular in the Community