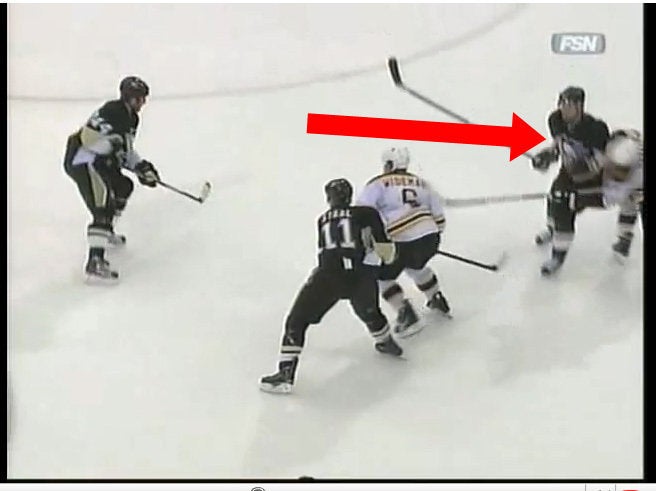 (AP) PITTSBURGH — Boston Bruins center Marc Savard was carried off the ice with a concussion after being leveled by Pittsburgh forward Matt Cooke's blindside hit with 5:37 remaining in Sunday's game.
Savard had just taken a shot from above the circles when Cooke raised his shoulder and struck Savard in the head. Cooke was coming from behind on the play and Savard did not see him.
Savard was on the ice for several minutes, being attended to by a Penguins team doctor, before being carried off. He was moving his legs while on the ice and his arms while on the stretcher.
"It's pretty obvious that was definitely a dirty hit," Bruins coach Claude Julien said. "That's probably the classic blind-side hit to the head ... I'm usually reserved in making comments, but definitely the league will take care of it."
Savard, one of Boston's top players with 10 goals and 23 assists, remained behind at the team hotel Sunday night, along with a member of the team's medical staff. The Bruins were unaware after the game of any medical problem other than the concussion, although they said Savard was unconscious briefly.
No penalty was called, which especially angered the Bruins.
"A guy like that has to be suspended," Julien said. "That's the way I see it because it's an elbow to the head from the blind side, and that's exactly the example they show, what we've got to get out of this game. We got a guy who's got a concussion, our best player, and he's going to be out for a while. He was out on the ice for a bit and that's unacceptable."
Cooke, a player with the reputation of taking borderline hits, insisted he was only finishing his check. TV replays appeared to show Cooke had enough time to pull up and not slam into Savard, and that he raised his arm before the hit.
"I felt like it was shoulder to shoulder," said Cooke, who is uncertain whether he will be suspended by the NHL. "I know he's shooting the puck but I just finished my check. I got hit the same way my shift before at center ice by their defenseman, except I (ducked) at the last second."
Several Bruins players said they liked how the team didn't spend the rest of the game trying to retaliate, but focused instead on trying to get the tying goal.
"It's always hard to see one of your teammates go down," defenseman Zdeno Chara said.
Currently, shoulder to head hits are not banned by the NHL. However, league general managers voted in December to investigate the problem before they meet again this week. They are considering rules that would prohibit contact to the head, even with a shoulder.
"At some point there's got to be a clear indication from the league because we've seen this so many times now," Penguins captain Sidney Crosby said. "You don't like to see anyone, their own teammate or an opposing player, lay on the ice like that. That was scary."
Related
Popular in the Community