SACRAMENTO, Calif. ― Two women have come forward with allegations of sexual harassment and assault against California Assemblyman Matt Dababneh (D).
Pamela Lopez, a Sacramento-based lobbyist, first publicly described being assaulted as part of the #MeToo campaign seven weeks ago, but kept her perpetrator anonymous, citing fear of retaliation. She decided to name Dababneh at the urging of California Assemblyman Ken Cooley (D), who chairs the Assembly Rules Committee.
"Ken Cooley urged women who have been sexually harassed within the California political community to step forward and speak to the legislature and seek redress through their process," Lopez said at a Monday press conference.
She also credited the #MeToo campaign and the "moment of collective action" for inspiring her to come forward and name her perpetrator.
Lopez says Dababneh pushed her into a bathroom at a mutual friend's wedding celebration in Las Vegas in January 2016.
"I was face to face with Matt Dababneh and he had very quickly exposed himself and started masturbating," she said. "He told me to touch his genitals while he was masturbating. I thought, 'Make it very clear that I do not want to be here.' I said several times, 'No, I will not touch you.'"
Lopez has not filed criminal charges, but has filed a report to the Assembly Rules Committee. Dababneh's legal team sent her a cease and desist letter last Friday, calling her claims against him "false."
"Mr. Dababneh unequivocally denies the occurrence of the incident of sexual harassment that you allege, or any other act of sexual harassment by him against you, at any time," his lawyer wrote.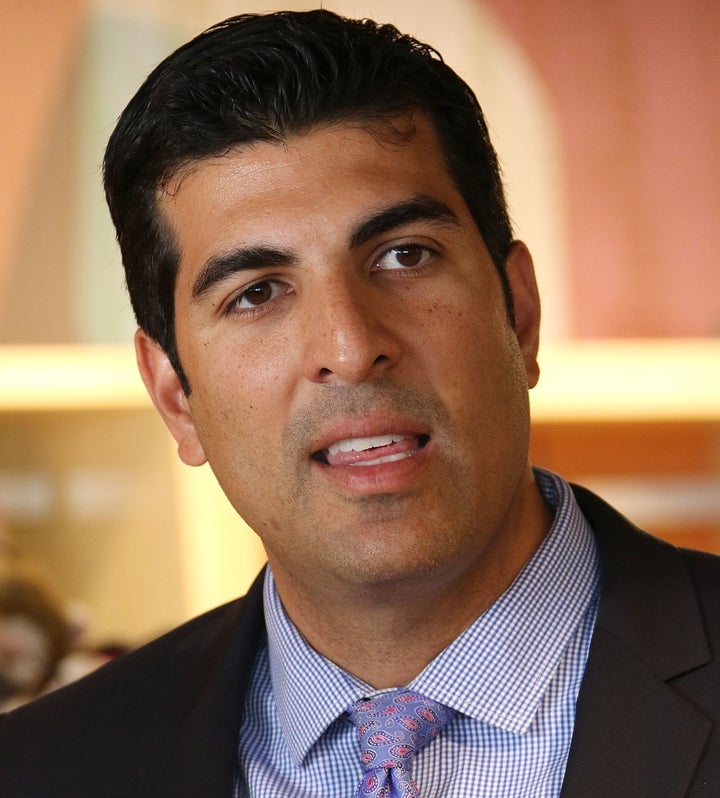 At Monday's press conference, another woman, Jessica Yas Barker, alleged that Dababneh had harassed her and other employees while she was working for him in 2008 in the state office of Rep. Brad Sherman (D-Calif.).
In an October article for the Los Angeles Times, Barker described being harassed while working in the office of an unnamed elected official.
Barker said on Monday that working for Dababneh was "a constant reminder that women were subordinate in all ways." She alleged that Dababneh once opened his desk drawer to show her that it was full of condoms, and that he engaged in inappropriate touching, inappropriate comments about his sex life, and often showed off and talked to female colleagues or subordinates about his muscles and workout routine.
Barker also said that she has no reason to think Sherman was aware of Dababneh's behavior ― he was "always on his best behavior in front of the congressman," she said.
"Prior to Ms. Barker's article, I had never seen or been told of, any inappropriate behavior by Assemblyman Dababneh, or any disparagement of women," Sherman told HuffPost in a statement.
Dababneh now represents California's 45th Assembly District, covering much of the San Fernando Valley in Southern California. Previously, he was chief of staff for Sherman, and worked as a staff member for former Secretary of State John Kerry's 2004 presidential campaign.
Lopez, who alleged that Dababneh had harassed other women as well, spoke to HuffPost after the press conference about the larger culture of sexual harassment ― and of silencing victims ― at the California Capitol.
"I remember being 26, and I remember being 23 and several other instances of sexual harassment ... and those moments were so debilitating because I was aware of my own powerlessness to do anything," she said. "And that is the fear of so many other women who have shared their experiences with me." 
"I had panic attacks for years as a result of some really brutal sexual harassment in my work environment when I was 26 ... it didn't involve any physical assault, but it broke my mental health. And that happens to so many women." 
For that reason, Lopez said, she decided to come forward and name her perpetrator. 
"As terrifying as it is, it's my job to do everything that I can do so that other women and other allies can do everything that they can do," she said. "I want young women who are perhaps in college or in high school thinking about working in politics someday not to have to experience all of the things that I have experienced." 
REAL LIFE. REAL NEWS. REAL VOICES.
Help us tell more of the stories that matter from voices that too often remain unheard.