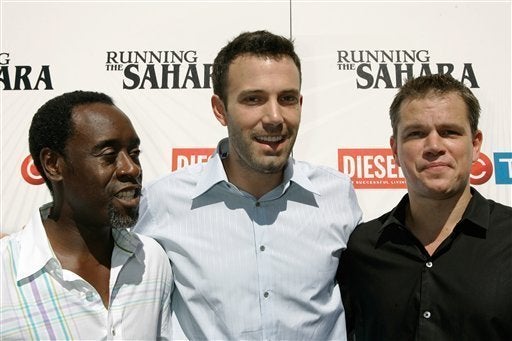 MoveOn.org is teaming up with Hollywood to produce an ad for Barack Obama. Actually, there hoping that readers all over will submit their own pro-Obama slots for a chance at earning national airtime. From the press release:
MoveOn.org joined forces today with Academy Award-winners Ben Affleck, Matt Damon and Oliver Stone, multiple Grammy-winner John Legend and author Naomi Wolf to announce a new ad contest, "Obama in 30 Seconds." The contest provides a platform for Obama supporters to show in 30-second spots what inspires them about the Senator's candidacy. MoveOn will buy time to run the winning ad on national television.
Entries will be viewed by a celebrity panel:
The ads, which will be submitted at the "Obama in 30 Seconds" website, will be judged by a celebrity judging panel that includes Academy Award-winning writer/actor/director Ben Affleck; Emmy and Golden Globe-nominated actor/director Steve Buscemi; Academy Award-winning writer/actor Matt Damon; progressive hero & future Congresswoman Donna Edwards; musician/activist Michael Franti; actor/musician/director Adrian Grenier; Academy Award-nominated producer Ted Hope; author & civil rights leader Reverend Jesse Jackson; award-winning documentary filmmaker Rory Kennedy; Grammy-winning recording artist John Legend; Stanford Law professor & founder of the Center for Internet and Society Lawrence Lessig; recording artist & Bush in 30 Seconds co-founder Moby; Daily Kos founder Markos Moulitsas; President of Lionsgate Entertainment Tom Ortenberg; Native American activist and documentary filmmaker Heather Rae; President of Focus Features James Schamus; producer, author, and entrepreneur Russell Simmons; author, lecturer, & experimental hip hop musician DJ Spooky; Academy Award-nominated documentary filmmaker Ricki Stern; Academy Award-winning writer/director Oliver Stone; Academy Award-nominated documentary filmmaker Annie Sundberg; Grammy & Golden Globe award-winning songwriter and musician Eddie Vedder; and New York Times best-selling author Naomi Wolf.
Popular in the Community