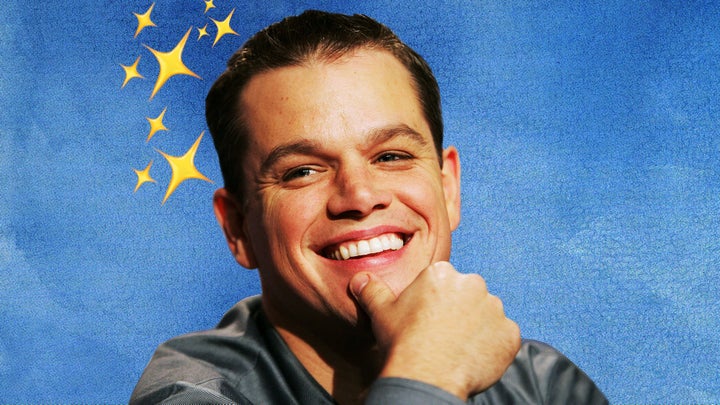 Shortly before "Good Will Hunting" hit theaters in December 1997, Matt Damon bought two duffel bags from Walmart. The movie's buzz had escalated. Its benefactor, Harvey Weinstein, was plotting an awards campaign, and Damon was suddenly spending a lot of time in hotel rooms, with access to four-star room service and fitted suits.
As almost any profile of Damon will tell you, the scrappy 27-year-old from Boston had spent the decade before clawing his way into Hollywood. And then, a short six months after "Good Will Hunting" opened, he would need those duffel bags for more nights spent in hotel rooms while promoting "Saving Private Ryan," a Steven Spielberg epic that would earn him another ticket to an Oscar ceremony.
This contrast — between Walmart luggage and Spielberg-flanked red carpets ― encapsulates Damon's archetypal movie-star narrative: a persevering outsider heads to Tinseltown, sleeps in low-rent apartments, works odd jobs to foot the bills and accepts whatever roles he can find, hoping somehow to land a so-called break. It's the American Dream, fed to the masses in pithy interview anecdotes and packaged for big screens across the country.
And it's the narrative that, 20 years ago, in conjunction with the Oscar he and Ben Affleck won for their "Good Will Hunting" script, turned the little-known Damon into the primo good guy next door ― an image that defined him, without fail, until Weinstein's sexual misconduct scandal and a few unwoke gaffes reframed the Matt Damon Persona we've long accepted.
The thing is, that persona was heavily produced and reliant on a collective nostalgia for a star who, just like us, totes around duffle bags and dresses in blue jeans. Damon's rise to fame was so clean and simple that he never needed to update his image even as the times changed — and that's exactly why now we're wondering just how much we didn't know about Mr. Matthew Paige Damon.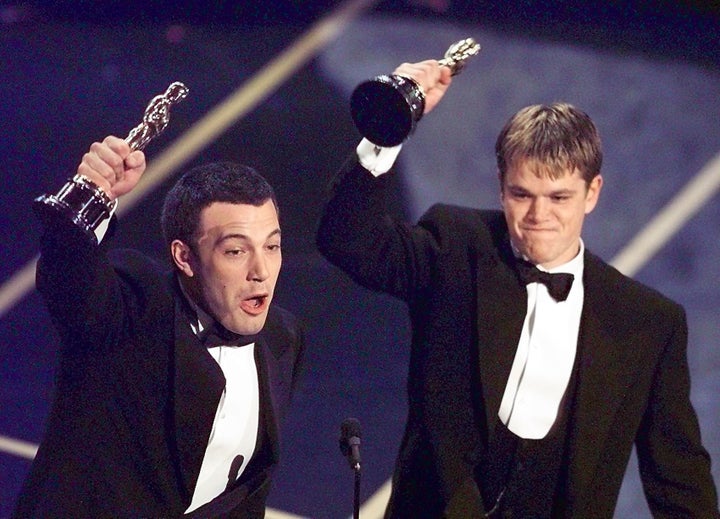 To understand the Matt Damon Persona, we have to consider the ubiquity of polished celebrity images. Any well-regarded celebrity embodies a distinct ideal that informs how we relate to ― or at least envy ― them and what makes them a marketable brand. Usually, that image is born out of the thing that first drove the person's fame, though nothing crystallizes without the help of savvy agents and publicists. An image can be reshaped or refracted with time, but it never escapes its origins entirely.
Audrey Hepburn is still plastered on dorm-room walls as the personification of classic, elegant beauty. Viola Davis will forever be the actress who bolted onto the screen in one scene-stealing "Doubt" showdown with Meryl Streep. Even when Tom Cruise makes oddities like "Eyes Wide Shut" and "Magnolia," he's still the energetic blockbuster hero. Winona Ryder can star on a Netflix juggernaut, but she'll always be the edgy outsider we met in "Beetlejuice" and "Edward Scissorhands." Warren Beatty can settle down with Annette Bening, but only as a commentary on his years of Lothario notoriety.
That said, few Hollywood luminaries hit the mainstream with an image as clearly outlined or as beloved as Matt Damon, which is a large part of why he hasn't changed much in our eyes over the years. Revisiting coverage of Damon from the late '90s, every piece frames him as a hard-working tenderfoot who'd determined that if he had any hope of a career in movies, he'd have to write one himself. That narrative of gumption was further solidified with his and Affleck's shouty, wide-eyed Oscar speech, which they so happened to deliver during the "Titanic" year, aka the most-watched telecast in the awards' history.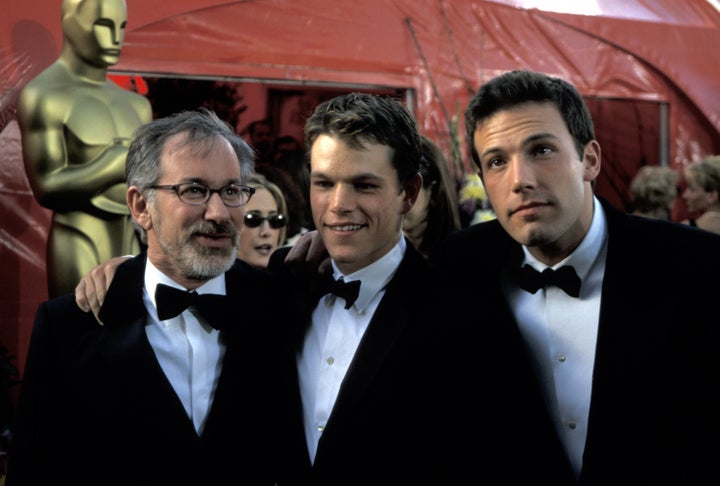 The story goes: After dropping out of Harvard in 1992, Damon hustled for parts, attempting to earn his Serious Actor credentials by shedding 40 pounds for a supporting gig in the 1996 thriller "Courage Under Fire." Meanwhile, he grew tired of going on endless auditions ("Primal Fear," "Batman & Robin") and reading scripts that Chris O'Donnell (LOL) and Leonardo DiCaprio had passed on. Lucky for him, Francis Ford Coppola wanted to cast an unknown in 1997′s "The Rainmaker," right around the time that such John Grisham adaptations were guaranteed box-office gold. Damon and Affleck had already sold the "Good Will Hunting" screenplay to Miramax, but progress stalled as Weinstein, the distribution company's tempestuous overlord, squabbled over which director to hire and whether to boot Damon and Affleck in favor of stars like DiCaprio and Brad Pitt.
But the minute Damon booked "The Rainmaker," everything changed. Weinstein "took a chance" on the "Hunting" boys, and Damon quickly segued into hot projects like "Saving Private Ryan," "Dogma" and "The Talented Mr. Ripley" (even though DiCaprio had turned down the latter).
Combined, those four movies form one of the most auspicious breakthroughs in modern cinema, a perfect blend of commercial appeal and art-house prestige. Suddenly, Damon was trying on Calvin Klein suits he'd never imagined wearing; eyeing the type of career Ed Harris had (read: not super Hollywood); ogling the fantasy of $10 million paychecks (in 2004, he would be paid a reported $26 million for the first Jason Bourne sequel); refraining from quoting "Forrest Gump" upon meeting Tom Hanks; appearing in tabloids for relationships with Winona Ryder, Minnie Driver and Gwyneth Paltrow; telling Oprah he slept on a Walmart air mattress after his Oscar victory; grinning about how "lucky" he was; and charming the pants off the media, which continually wrote about his killer smile, attractive-but-not-too-attractive looks, down-home wardrobe and exemplary manners.
None of this alone is all that striking. Most Hollywood newcomers arrive with some version of an outsider tale, and there's no reason to believe Damon's ingenuity was inauthentic. But Weinstein, who was just finding his own footing as award season's most cutthroat campaign guru, took Damon's debut a step further, presenting him as the platonic ideal of an everyman, enterprising liberal who proves just how well the white male celebrity machine can work.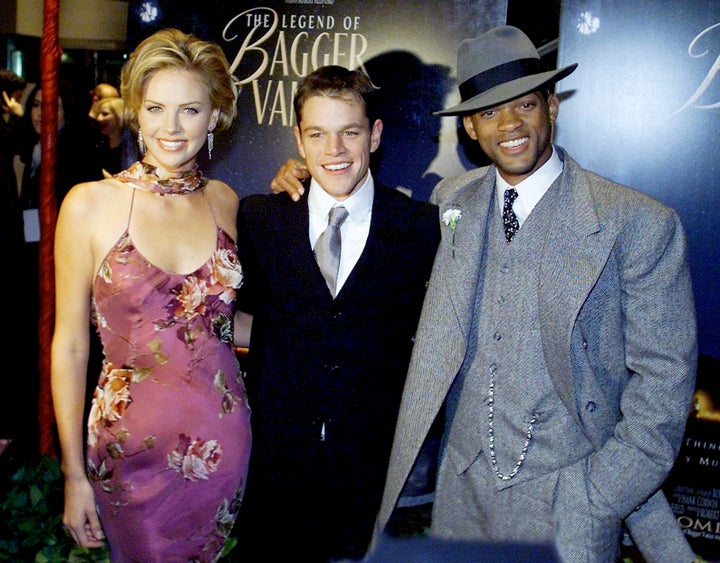 In Peter Biskind's revealing book Down and Dirty Pictures, Weinstein is quoted as inducting Damon and Affleck into the "Miramax family," a small stable of talent whom Weinstein ushered to fame and turned into his mouthpieces (other members: Gwyneth Paltrow, Quentin Tarantino, Kevin Smith). Soon enough, Weinstein was carting Damfleck to Camp David to meet President Bill Clinton and first lady Hillary Clinton. (Only the good ones get to meet the prez!)
Later, when Damon felt he'd done enough photo shoots and media appearances to promote "Good Will Hunting," Wesintein pushed him to do more, despite telling USA Today in 1999 that "to Matt, it's not about the whole movie-star thing."
It was the early 2000s when Damon's cachet became seemingly indestructible. Even a couple of significant misfires ― "The Legend of Bagger Vance" (directed by Robert Redford) and Miramax's "All the Pretty Horses" (directed by Billy Bob Thornton) ― couldn't diminish that initial introduction. It didn't hurt that Affleck, his ride-or-die with whom Damon was still customarily associated, suddenly made him look spotless by comparison.
Between 1998 and 2001, Affleck toplined "Armageddon," "Forces of Nature," "Bounce," "Reindeer Games" and "Pearl Harbor" ― a stellar sequence, popularity-wise. But the attention had an adverse effect: Between 2001 and 2005, Affleck went to rehab for alcohol abuse, endured a tabloid-splashed breakup with Jennifer Lopez, starred in a series of critical and commercial disappointments (including the infamous "Gigli"), hit the cagey celebrity poker scene, and called his life a "slow-motion train wreck" during a "Saturday Night Live" monologue.
As Affleck's reputation dipped, Damon landed the "Ocean's" trilogy and headlined the never-ending Bourne series, married a non-celebrity in 2005, and earned another Oscar nomination for the 2009 drama "Invictus" ― all while maintaining a clean-cut media presence. Even though his salary had outgrown Miramax's coffers, he still subscribed to the Weinstein playbook: Find a sweet spot between serious cinema and wholesale crowd-pleasers, and then schmooze, schmooze, schmooze.
"Matty and Ben are two people that Harvey strives every waking moment of his life to be in business with," Kevin Smith told Biskind.
The fact that Damon no longer needed to be a member of Weinstein's "family" made him seem cool, and yet the Matt Damon Persona remained something of a Weinstein production. Miramax paid the actor "a whole lot of money" for a cameo in Smith's 2001 comedy "Jay and Silent Bob Strike Back." Weinstein wanted to splash Damon on the poster and include him in the television ads, but according to Down and Dirty Pictures, Damon commanded him not to. Knowing how to retail his worth, the actor wanted his appearance in the movie to be a surprise.
Weinstein reportedly acquiesced until the last minute, deciding he needed Damon to help drive business. He called Damon, told him the news of his cameo had leaked and added him to the marketing ― building on the idea that this craftsman who wrote an Oscar-winning screenplay was affable enough to appear in something as frivolous as "Jay and Silent Bob."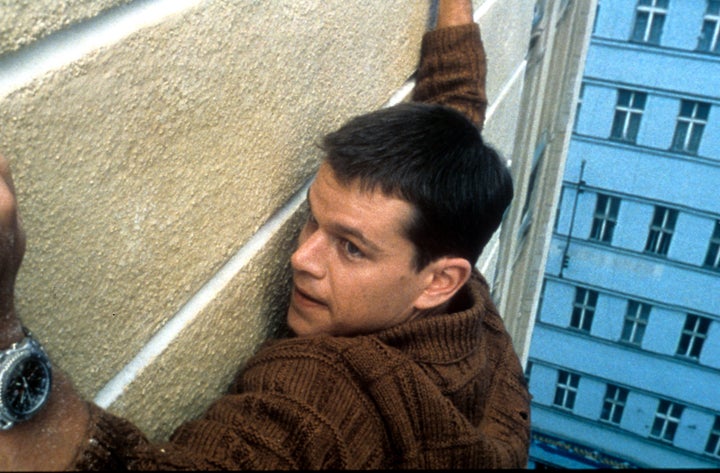 So it has continued throughout recent years: Matt Damon is so kind and so famous that being the butt of a bawdy Jimmy Kimmel joke is a badge of honor! He founded a nonprofit to give developing countries access to clean water! He's a spokesman for a hunger relief organization! His liberal sensibilities let him pal around with Barack Obama!
But in 2015, the Matt Damon Persona started to show cracks, one after the next. During a controversial exchange on his HBO reality show "Project Greenlight," he interrupted a black female producer to imply that diversity behind the camera is unimportant. The internet erupted with accusations of whitesplaining and mansplaining. Two weeks later, he lightly suggested that gay actors should stay in the closet so as to maintain a certain "mystery." And a few months after that, he came under fire for misunderstanding the whitewashing accusations lobbed at the bonkers movie "The Great Wall," in which European mercenaries descend upon China to fight a swarm of monstrous creatures.
That wasn't enough to shatter him, though. A July 2016 GQ piece still likened him to ultimate nice guy Jimmy Stewart. "Matt Damon is, scientifically, the most liked man in Hollywood," the first sentence read.
And then Weinstein re-entered the picture in late 2017, and the Matt Damon Persona went from cracked to shattered. After The New York Times published a career-ending investigation detailing allegations of Weinstein's long-rumored sexual misconduct, former Times reporter Sharon Waxman said Damon had called her in 2004 to defend one of Weinstein's accomplices, effectively helping to kill her investigation. Even though Waxman corroborated Damon's claim that he had no knowledge of Weinstein's misdeeds, the actor couldn't avoid putting his foot in his mouth.
"I do believe that there's a spectrum of behavior," he said in an interview with film critic Peter Travers. "And we're going to have to figure — you know, there's a difference between, you know, patting someone on the butt and rape or child molestation, right? Both of those behaviors need to be confronted and eradicated without question, but they shouldn't be conflated, right?"
It's not that Damon is wrong, per se, but his flippant tone struck an unwelcome chord right amid the Me Too groundswell. And he took it a step further, going soft on alleged harasser Louis C.K. by saying, "I imagine the price that he's paid at this point is so beyond anything that he ― I just think that we have to kind of start delineating between what these behaviors are."
If nothing else, this reflected his wealthy-white-male privilege, something no one was talking about during Damon's Weinstein-assisted rise to fame. The actor soon found himself apologizing on the "Today" show: "I really wish I'd listened a lot more before I weighed in on this. Ultimately what it is for me is that I don't want to further anybody's pain with anything that I do or say. So for that, I am really sorry. A lot of those women are my dear friends and I love them and respect them and support what they're doing and want to be a part of that change and want to go along for the ride — but I should get in the backseat and close my mouth for a while."
Closing his mouth for a while was a fine idea. But apologies and clarifications are increasingly hard to live down in the internet age, when an infinite loop of headlines and tweets can redefine a person's polished image overnight.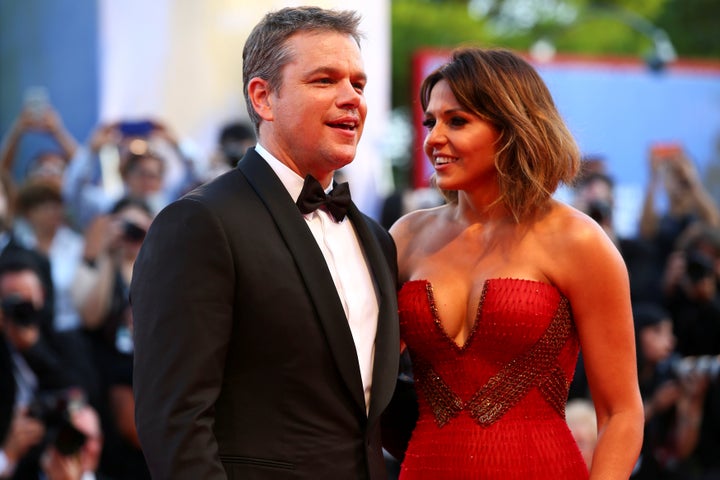 Will Damon recover from these blunders? Sure, probably. But now his box-office power is in flux. In October, the misguided racial satire "Suburbicon," directed by George Clooney, was eviscerated by critics and ignored by audiences. In December, "Downsizing," the disappointing Alexander Payne dramedy once thought to be an Oscar contender, did so-so business at best. The only forthcoming project on Damon's docket is June's female-fronted "Ocean's 8," in which he is very much not the center of attention. In fact, nearly 30,000 people have signed an online petition to have him removed from the film because of his comments on sexual harassment.
And therein lies the boomerang that is the star-making machine. Weinstein helped construct the Matt Damon Persona, and he inadvertently helped tarnish it, too. Damon's signature trait ― being normal, even boring ― became his detriment: He was so middlebrow that he didn't really think critically about race or gender politics or what it means for public figures to own their sexuality.
For my money, the conversation isn't about whether Matt Damon's time in Hollywood should come to an end. We're all learning how to rework the patriarchal power dynamics that have governed society for far too long. What Damon proves, instead, is how fallible the celebrity engine is. Hollywood images are constructed in implicit coordination among studio honchos, calculating publicists, an ever-evolving media and the public's appetite for stars who offer some magical blend of the relatable and the aspirational.
No matter how much we think we know a famous person, there is always an artificial quality to what he or she presents to the world ― one that doesn't fit into budget-priced duffel bags.
CORRECTION: A previous version of this story indicated Ben Affleck and Jennifer Lopez divorced. In fact, they were never married.