Is "The Martian" based on a true story? Is Matt Damon stuck on Mars? There are people out there who seem to think so. 
On Friday, a GoFundMe page cropped up from the far corners of the Internet with one simple mission: rescue Matt Damon from Mars. And it was actually receiving donations towards its goal of $99 million.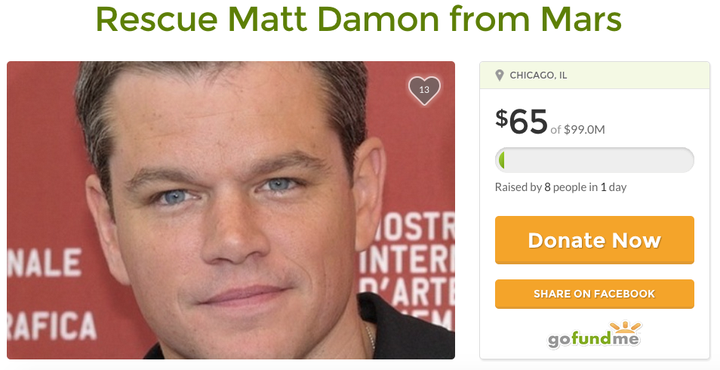 The page reads: "Guys, I'm lying in bed in my apartment in Chicago with tears streaming down my face with the thought of Matt Damon stuck on Mars. Let's bring him home!" 
Based on a novel by Andy Weir, Ridley Scott's "The Martian" premiered last weekend, starring Matt Damon as a stranded astronaut.
But don't worry. Kyle Douglas, the creator of the GoFundMe page, does't really think Matt Damon is stuck on Mars. He just wanted to make fun of the people who thought the movie was real. 
"With the recent discovery of water on Mars, I thought it sounded like a hilarious concept that some buffoon watched The Martian and didn't realize it was only a movie," Douglas told HuffPost in an email. 
Indeed, more than just one person that thought "The Martian" was based on a true story. People across Twitter voiced their frustrations about other moviegoers who apparently still thought this after the credits rolled.
Douglas is not one of these people. He runs a comedy page with a friend and the satirical GoFundMe campaign gained internet traction after he posted it there. 
Douglas hasn't even seen the film, but does consider himself a Matt Damon fan.
"I was going to wait to watch it when it came out on HBO," Douglas told HuffPost. "I think Matt Damon is a great actor, one of my favorites. If he was stuck on Mars, it would have a significant effect on the quality of films."
All of the proceeds from the campaign will go directly to NASA, Douglas said. (Though you should probably just donate directly to the organization if space is your thing.)
Knowing that Douglas has selected a worthy cause, let's all do our part and #BringMattHome. 
PHOTO GALLERY
Fall Movie Preview 2015
REAL LIFE. REAL NEWS. REAL VOICES.
Help us tell more of the stories that matter from voices that too often remain unheard.