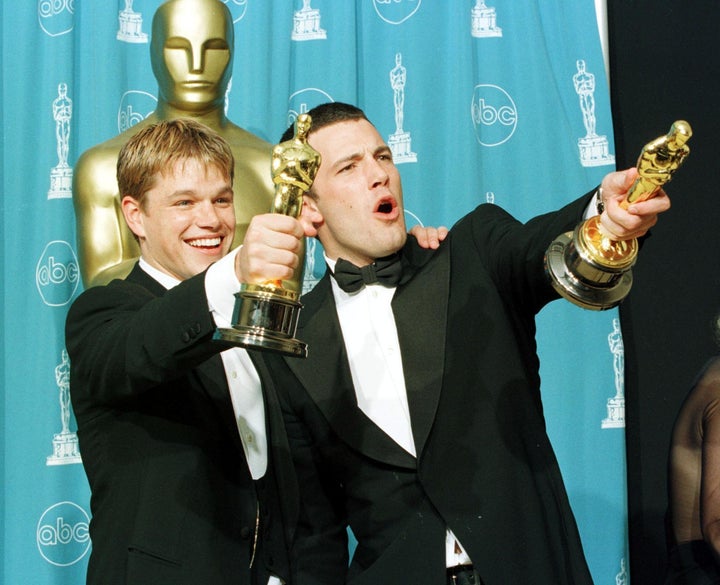 Back in 1997, Matt Damon and Ben Affleck catapulted to stardom, winning an Oscar for writing "Good Will Hunting," the coming-of-age story in which they also starred. They were the young toasts of Hollywood, and in the years that followed, each went on to make some impressive films: "Saving Private Ryan," "Rounders" and "The Talented Mr. Ripley" for Damon, and "Armageddon," "Shakespeare In Love" and "Boiler Room" for Affleck.
Damon continued to make hit films, starting up the Bourne series, amongst others, but it became a bit more dicey for Affleck. He suffered through a number of public relationships, and began featuring in movies that didn't quite hit it big with the public or critics; "Gigli" and "Daredevil," amongst others, now stain his IMDB page.
Life wasn't easy, and as his best friend and writing partner, Damon had a hard time watching it.
"That was really hard for me to watch as his friend, because I didn't think it was fair to him," Damon told Shortlist.com, before shifting over to Affleck's more recently revived career. "It's more of a relief to me, to be honest. As his writing partner, I know how great he is. I always knew that better than anybody, so now I just feel vindicated. So I'm not at all surprised, but I'm glad to see him doing so well and it's turned back the way it should be. Everything is right with the Force again."
Indeed, Affleck has returned to making hit movies, not only as an actor, but now as a director, too. He got behind the camera for his first feature in 2007, directing the solidly received "Gone Baby Gone," and then scored a major hit with his 2010 crime pic, "The Town."
In fact, the two old partners are planning a reunion.
"Yeah, we really want to work together again," he said. "We have a couple of things we're developing and we have a deal together over at Warner Bros, but he's making a great movie right now called 'Argo.' It's really, really good."
Affleck is directing and starring in that film, the true story of the bizarre way the CIA worked to rescue hostages in Iran in the late 70s. Bryan Cranston, John Goodman, Kyle Chandler and Alan Arkin also star in the film. Damon, who just featured in Steven Soderbergh's "Contagion," will next star in Cameron Crowe's "We Bought A Zoo," and was just announced as a co-star in HBO's biopic of Liberace.
For more, click over to Shortlist.com.
REAL LIFE. REAL NEWS. REAL VOICES.
Help us tell more of the stories that matter from voices that too often remain unheard.