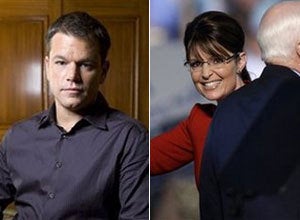 UPDATE BELOW: PALIN RESPONDS
Actor Matt Damon spoke out on the Republicans' choice of hockey-mom Sarah Palin for VP. Damon compares her rise to a 'really bad Disney movie' and says it's absurd that this woman could become President.
"I think there's a really good chance Sarah Palin could become president, and I think that's a really scary thing... I think the pick was made for political purposes... Do the actuary tables and there's a one out of three chance, if not more, that McCain doesn't survive his first term and it'll be President Palin... It's like a really bad Disney movie. The hockey mom, you know, 'oh, I'm just a hockey mom'... and she's facing down President Putin... It's totally absurd... it's a really terrifying possibility... I need to know if she really think that dinosaurs were here 4,000 years ago. I want to know that, I really do. Because she's gonna have the nuclear codes.

Maria Comella, a spokeswoman for Palin, called the comments "name-calling."

"It's not surprising that the Barack Obama and his celebrity supporters continue to tear down Governor Palin with little more than blatant name-calling," she said. "It's clear they're threatened by a candidate who actually has a record of achieving reform and change, while Barack Obama just talks about it."
WATCH DAMON'S WHOLE STATEMENT:

Popular in the Community