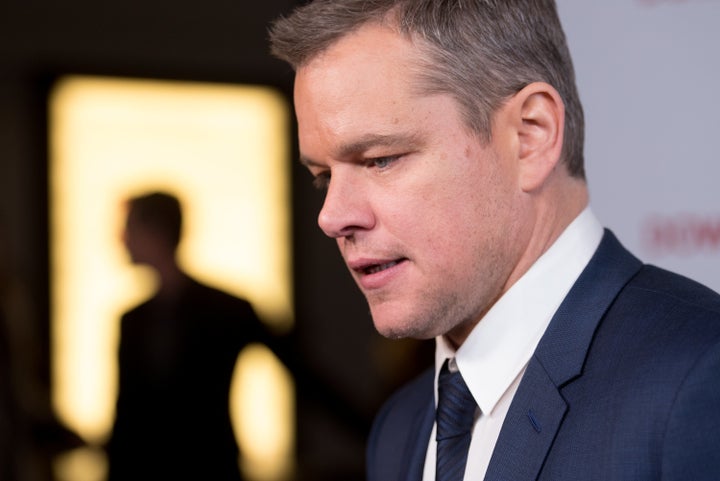 After a few missteps, actor Matt Damon on Tuesday finally said the right thing about Hollywood sexual harassment and assault. 
″A lot of those women are my dear friends and I love them and respect them and support what they're doing, and want to be a part of that change and want to go along for the ride, but I should get in the back seat and close my mouth for a while," Damon said of the "Time's Up" movement during an appearance on the "Today" show. 
"I really wish I'd listened a lot more before I weighed in on this," Damon continued. "Ultimately, what it is for me is that I don't want to further anybody's pain. With anything that I do or say, so for that I'm really sorry."
This tweet basically sums up the internet's reaction: 
Damon found himself in hot water in October after he couldn't seem to get his story straight about whether he knew of movie mogul Harvey Weinstein's alleged history of sexual harassment and assault. Damon later acknowledged that he knew Weinstein harassed Gwyneth Paltrow.
Damon later came under fire for comments about sexual misconduct during an interview with ABC News' Peter Travers in December. 
"You know, there's a difference between, you know, patting someone on the butt and rape or child molestation, right? Both of those behaviors need to be confronted and eradicated without question, but they shouldn't be conflated, right?" Damon said in the interview. 
Damon continued: "All of that behavior needs to be confronted, but there is a continuum. And on this end of the continuum where you have rape and child molestation or whatever, you know, that's prison. Right? And that's what needs to happen. OK? And then we can talk about rehabilitation and everything else. That's criminal behavior, and it needs to be dealt with that way. The other stuff is just kind of shameful and gross." 
"We're in this watershed moment and it's great, but I think one thing that's not being talked about is there are a whole shitload of guys ― the preponderance of men I've worked with ― who don't do this kind of thing and whose lives aren't going to be affected," he said. "If I have to sign a sexual harassment thing, I don't care, I'll sign it. I would have signed it before. I don't do that and most of the people I know don't do that."
Well, great. And now, apparently he knows how to talk about it.
Calling all HuffPost superfans!
Sign up for membership to become a founding member and help shape HuffPost's next chapter
BEFORE YOU GO