The actor provided a surprisingly thoughtful response to simulation theory, which posits that our lives and entire world might resemble a sophisticated computer simulation. No, he's not a physicist or cosmologist ― playing an astronaut in "The Martian" doesn't count ― but, again, this is MIT we're talking about. Damon suggested that even if the world were fake, it would still need people to make it a better place.
"What if this, all of this, is a simulation?" Damon asked. He isn't a physicist or cosmologist ― though he did play an astronaut in "The Martian" ― but his thoughtful response was oddly uplifting. Even if the world is fake, it would still need people to make it a better place.
"Real or imagined, this world has some problems that we need you to drop everything and solve," Damon said. "So go ahead. Take your pick from the world's worst buffet."
He then went on to list some of society's most pressing issues ― economic inequality, the refugee crisis, institutional racism ― before saying "there is more at stake today than in every story that has ever been told." 
"If there are multiple simulations, how come we have to be in the one where Donald Trump becomes the Republican nominee for president?" Damon said to massive applause. (We wonder the same thing.)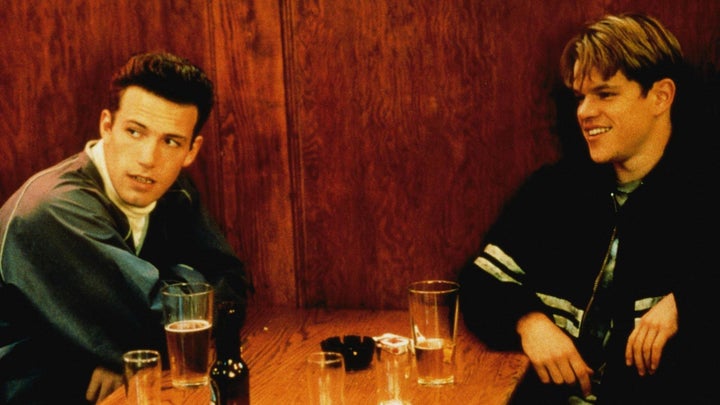 Damon joked that he didn't really deserve to be MIT's commencement speaker, saying: "I mean, I've seen the list of previous commencement speakers. And who did you get? The guy who did the voice for a cartoon horse." (He voiced the main character of 2002's "Spirit: Stallion of the Cimarron.")
But the actor was actually the perfect choice for MIT. He and his BFF Ben Affleck ("a brilliant guy, a good guy, never really amounted to much") grew up in the university's neighborhood.
"We all grew up right here in Central Square, children of the sometimes rocky marriage between this city and its great institutions," he said. "To us, MIT was kind of like the Man -- this big impressive, impersonal force."
Damon also took a moment to reveal the inspiration behind the famous blackboard scene in "Good Will Hunting," which was set at MIT.
"My brother, who's an artist, picked up some chalk and wrote an incredibly elaborate, totally fake version of an equation," he said. "It was so cool and completely insane that no one erased it for months." 
Damon's brother Kyle didn't actually solve that math equation and the actor is not a real-life savant, but his commencement speech was spot-on.
"This is your life, class of 2016," Damon said. "This your moment. It is all down to you. Ready, player one. Your game begins now."
Calling all HuffPost superfans!
Sign up for membership to become a founding member and help shape HuffPost's next chapter
BEFORE YOU GO