Rep. Matt Gaetz (R-Fla.), the freshman congressman who introduced a bill to "completely abolish" the Environmental Protection Agency, has a packed morning scheduled for Feb. 23 in the suburbs of Pensacola, Florida. Starting at 7 a.m., he plans to visit the local Kiwanis Club for coffee, do a radio segment, attend a county commissioners meeting and play "civics teacher for a day" at a middle school. At noon, he caps it all off with a lunchtime rally at Grover T's BBQ.
Things could get hot at the rib joint.
Throngs of protesters, organized by the local Democratic Women's Club, plan to meet him there to demand he end his crusade against the embattled EPA. A local Tea Party agitator vowed to muster militiamen to prevent "these Marxists" from "disrupting" the event. A faction of Bikers for Trump ― the loosely affiliated group of motorcyclists who rallied after last month's inauguration to counter the Women's March on Washington against President Donald Trump ― pledged to show up, too.
Republican lawmakers have faced fierce protests at town hall meetings across the country in the last few days. On Thursday, in Utah, protesters booed Rep. Jason Chaffetz, chair of the House Oversight Committee, a demonstration that became highly publicized. On Friday, in Georgia, demonstrators shouted "shame" at Republican aides during a meeting about the future of the Affordable Care Act. And on Saturday, in Florida, voters erupted after Pasco County GOP Secretary Bill Akins, speaking at an event hosted by Rep. Gus Bilirakis, claimed the law, known colloquially as Obamacare, required elderly folks to go before "death panels."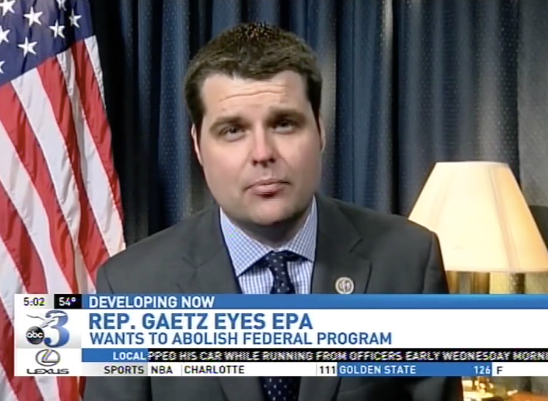 But Gaetz's upcoming tour of his constituency may be the first time a major counter protest has been planned.
"I need all patriots in attendance to protect Congressman Gaetz from any potential disruption of his speech," Geoff Ross, the purported militia leader, wrote in a call-out on his private Facebook page. "Concealed carry permit holders most welcome - don't forget your ammo."
That last part read like a veiled threat to the Escambia County Democratic Women's Club, which has used social media to publicize its intention to protest Gaetz. Last week, the club hired an off-duty police officer to guard its 75-person monthly meeting after the group said Ross threatened to come, bearing guns. The women reported Ross to the local sheriff and police departments, and some have lambasted Gaetz on Facebook for refusing to condemn the threats. But Evalyn Narramore, chair of the Escambia County Democratic Party, isn't backing down.
"My husband jokes and says, 'I'm going to buy you a Kevlar vest,'" Narramore, who has worked in local Democratic politics for 19 years, told The Huffington Post by phone last week. "But we decided we aren't going to let this guy scare us away if that's what he thinks he's doing. We're going to go forward with our protest as planned."
The Milton Police Department and Santa Rosa County Sheriff's Office, who police the area where Grover T's BBQ is located, did not return calls requesting comment.
Neither Gaetz nor Ross responded to repeated calls and emails requesting comment. But the newly sworn-in lawmaker, an ardent Trump supporter who emulates the president's off-the-cuff tone on social media, brushed off calls to condemn Ross, whom he called a "friend" in a Facebook post.
"Everything is more topsy-turvy than I've ever seen it before, and more frightening, more volatile, more off the deep end."
"Everyone is welcome to attend and participate in a peaceful, non-disruptive manner," Gaetz wrote. "That is exactly what my friend Geoff Ross intends to do. My liberal friends should know that not every gathering of Republicans exercising their rights is dangerous."
It's unclear how big a turnout Gaetz can expect. Escambia County, which includes Pensacola, voted overwhelmingly for Republicans on Election Day. Republicans make up 45 percent of registered voters in the county, while Democrats comprise 35 percent, according to county election data. Nearly 58 percent voted for Trump, compared to about 37 percent who voted for his Democratic opponent, Hillary Clinton. In his own district, Gaetz won nearly 61 percent of the vote, easily defeating Democrat Steven Specht's 39 percent.
Narramore is used to being in the political minority. She has lived on Florida's northwest panhandle most of her life and is a self-proclaimed "lifelong progressive." Her grandfather served as a defense attorney to Willie McGee, the black man whose death sentence in 1945 for allegedly raping a white woman became what some call a "real-life version" of Harper Lee's 1960 classic To Kill A Mockingbird.
Still, she said, the vitriol dredged up during the hotly contentious presidential election is unlike anything she's seen before.
"This is just all an offshoot of our insane election," Narramore said. "Everything is more topsy-turvy than I've ever seen it before, and more frightening, more volatile, more off the deep end."
"So I guess," she added, "there's really no telling what's going to happen."
CORRECTION: An earlier version of this article misstated a rank Ross reportedly held in the U.S. Navy. It also misattributed a statement made by Pasco County GOP Secretary Bill Akins to Bilirakis.
Support HuffPost
The Stakes Have Never Been Higher
Before You Go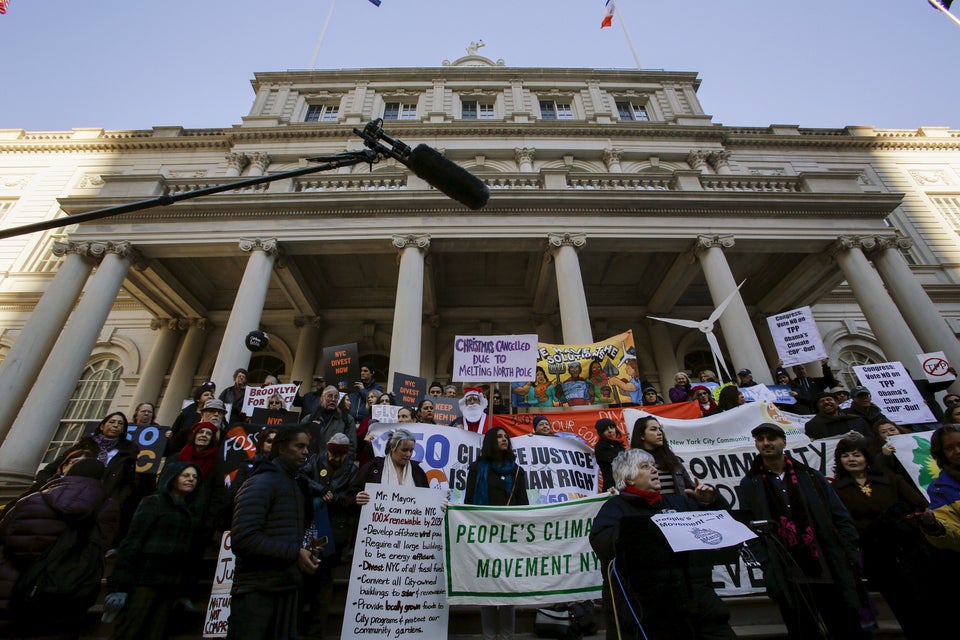 What You Can Do Right Now To Stop Donald Trump's Dangerous Climate Agenda
Popular in the Community