The Justice Department is investigating Rep. Matt Gaetz (R-Fla.) for possible sexual relations with a 17-year-old girl, three people briefed on the matter told The New York Times on Tuesday.
The staunch conservative and Donald Trump ally is also under investigation for possibly paying for her to travel with him across state lines, which would violate federal sex trafficking laws because of her age.
According to the Times' sources, the DOJ launched its investigation in the final months of the Trump presidency. Gaetz, 38, told the Times that the DOJ informed his legal team he was the subject of the probe but not the target, and added he believed there may be some bad faith accusations at play.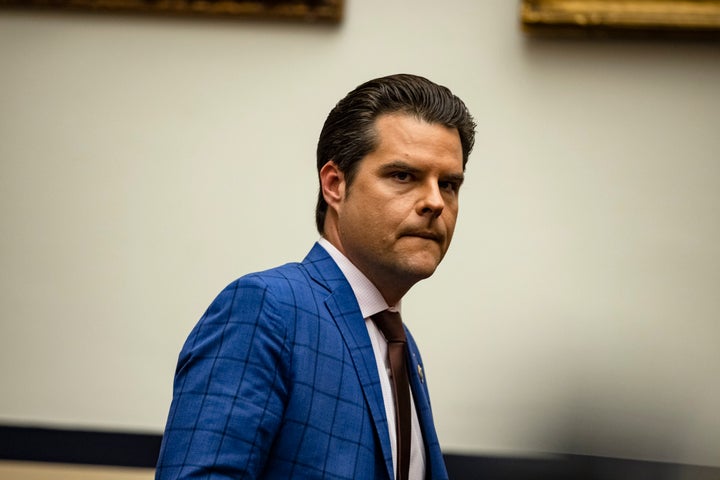 "I have a suspicion that someone is trying to recategorize my generosity to ex-girlfriends as something more untoward," he said.
Gaetz elaborated in an interview with Axios, saying that "the allegations of sexual misconduct against me are false."
"They are rooted in an extortion effort against my family for $25 million … in exchange for making this case go away." He then began tweeting about the ordeal, claiming the FBI had his father, a former leader of the Florida Senate, wearing a wire to "catch these criminals."
He claimed that a former Justice Department employee is behind the extortion effort and told Fox News' Tucker Carlson on Tuesday night that the person's name is David McGee.
McGee served six years as the first assistant U.S. attorney for the Northern District of Florida and seven years as the lead attorney for the Justice Department's Organized Crime Task Force. The lawyer led the fight to jail F. Lee Bailey, a longtime criminal defense attorney who helped acquit physician Sam Sheppard and O.J. Simpson, both of whom were accused of killing their spouses.
Gaetz said on Carlson's show that someone has alleged there are photos of him with child prostitutes. That accusation had not been made public until Gaetz brought it up on Fox News, but he nevertheless denied it.
The congressman also attempted multiple times to rope Carlson into his accusations, saying he's "not the only person on screen right now who has been falsely accused of a terrible sex act." Carlson quickly dismissed his comments, but Gaetz later said he and the Fox News host went for dinner together "about two years ago" and that Carlson would remember the female "friend" Gaetz brought.
"I don't remember the woman you're speaking of, or the context, honestly," Carlson told the congressman. The host later said on his show that his interaction with Gaetz "was one of the weirdest interviews I've ever conducted" and that having the congressman on the show didn't "clarify much."
Axios said Gaetz sounded "shaken" during the interview. When asked what he thought possible charges could relate to, he said: "I have definitely, in my single days, provided for women I've dated. You know, I've paid for flights, for hotel rooms. I've been, you know, generous as a partner. I think someone is trying to make that look criminal when it is not."
If found guilty of the crime, Gaetz could face a heavy sentence. Notably, he was the sole member of Congress in 2017 to vote against a law giving the federal government more power to prosecute human trafficking, saying his constituents did not want him to "create more federal government."
He has also been supportive of QAnon, the baseless right-wing conspiracy theory that Democrats are part of a cannibalistic, satanic child sex trafficking ring, by refusing to vote on a bill condemning its followers and supporting freshman Rep. Marjorie Taylor Greene (R-Ga.), who has propped up several QAnon conspiracy theories.
Earlier Tuesday, Axios reported that Gaetz had privately told his inner circle he was considering retiring from Congress to take a job at the right-wing outlet Newsmax. But the Florida representative had once mulled the idea of running for the Senate in Alabama, sources said in 2019, and he spent much of the Trump administration building his national profile.
Popular in the Community