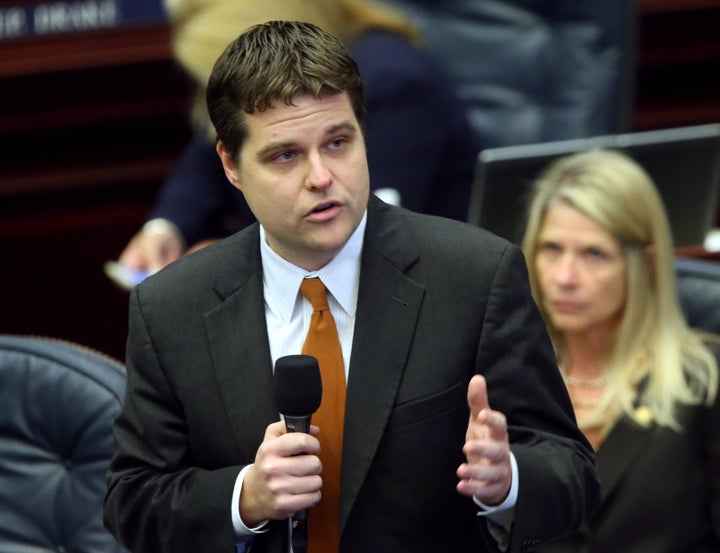 WASHINGTON ― Three days before Florida Republican state Rep. Matt Gaetz announced his intention to run for an open seat in Congress, he sent two letters to the state's Division of Elections formally stepping down as the chairman of two leadership PACs he had run for over two years. Three months later, those two PACs contributed all of their remaining funds to a super PAC supporting his congressional bid.
These donations are yet another sign of the porous rules restricting coordination between campaigns and independent groups. Whether the PAC contributions to the pro-Gaetz super PAC amount to violations of Federal Election Commission rules governing coordination depends on the as-yet-unknown facts of the case.
The contributions in question include a $369,008 donation from the Economic Freedom Foundation and a $11,306 contribution from the Free Enterprise Fund. Both are political action committees registered with the Florida Division of Elections. They were led by Gaetz from 2013 until he stepped down as chairman and named Amanda Clark as his replacement on March 18, 2016. On March 21, he announced his congressional bid.
Under Clark's leadership, the two PACs filed papers with the Florida Division of Elections to formally terminate operations on May 26. Then on June 20 they contributed their remaining funds to North Florida Neighbors, a federally registered super PAC.
North Florida Neighbors was created in July 2015 with a stated goal of supporting the congressional campaign of Republican Neal Dunn in Florida's 2nd Congressional District. One of the group's first contributions was actually a $10,000 donation from Gaetz's Economic Freedom Foundation.
At the time, Gaetz was running for the state Senate seat currently occupied by his retiring father, Don Gaetz. It wasn't until Rep. Jeff Miller (R-Fla.) announced that he was retiring from Congress that the younger Gaetz dropped the bid to replace his father in the state Senate and threw his hat into the race to represent Florida's 1st Congressional District in Washington.
On May 20, North Florida Neighbors announced that they would now be supporting Gaetz's campaign along with Dunn's ― conveniently running in neighboring districts in Florida's panhandle. One month later, the super PAC received the $380,314 in contributions from the two PACs formerly led by Gaetz. These contributions amount to 65 percent of the total funds raised by the super PAC.
The question at issue is whether Gaetz directed his successor at his two leadership PACs, Amanda Clark, on what to do with the remaining funds. Neither the Gaetz campaign nor Clark responded to requests for comment.
Federal coordination rules prohibit any entity controlled by a candidate from making independent expenditures on their behalf. Although untested, those rules presumably extend to prohibit contributions from a leadership PAC controlled or directed by a candidate to a super PAC supporting that candidate.
"If what happened was that he raised the money to these state organizations and then he said 'transfer money over to the super PAC,' that would be illegal," Larry Noble, general counsel to the Campaign Legal Center, told The Huffington Post. "What they always say, though, is that they had nothing to do with it."
Christina Johnson, spokeswoman for North Florida Neighbors, simply stated, "We don't comment on specific contributions or donors."
This is not the first time that a candidate-linked leadership PAC has contributed to a super PAC supporting the same candidate. In 2015, a leadership PAC connected to Sen. Pat Toomey (R-Penn.) donated $75,000 to Prosperity for Pennsylvania, a super PAC run by former Toomey aides. The super PAC, however, refunded the Toomey leadership PAC contributions more than a month after The Huffington Post wrote about them. That was before the super PAC spent a dime on Toomey's election.
CORRECTION: An earlier version of this article incorrectly identified Don Gaetz as Dan Gaetz.
Support HuffPost
The Stakes Have Never Been Higher
Popular in the Community