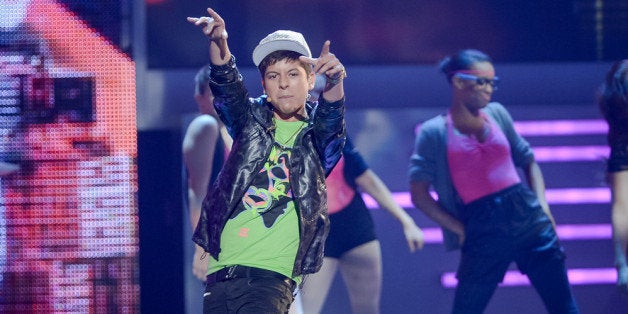 Fifteen-year-old Latin pop singer Matt Hunter is well on his way to becoming the next teen idol.
Already a huge hit in Latin America, he was nominated for an award at this year's Premios Juventud on Univision, and now he's getting ready to release his yet unnamed EP — he'll make sure to let us know as soon as that happens.
Dubbed the "Latino Justin Bieber" by some, this young recording artist is working toward making his grand debut in mainstream U.S. pop music.
He has come a long way from voicing Diego, on "Go, Diego, Go." Let's watch as he shocks the industry.
VOXXI: You used to do the voice for "Go, Diego, Go," so how did you transfer from doing voice acting to being a pop star?
Matt Hunter: Well, how it all started was that when I was about, I would say, 10, I auditioned for the voice of "Go, Diego, Go." I was doing some voice acting. I had a small agent that would send me on auditions and stuff, so she sent me on an audition for "Go, Diego, Go," and I got it surprisingly. I recorded the voice for Diego for like a year and a half. And after that my voice started to change a little bit when I was 12, and how those shows work is that when your voice starts to change they kick you off.
There's been a lot of voices of Diego. So yea, they switched me up, they took me off the show, and I started getting an interest in music, so I started writing and I started singing. I started to post videos on YouTube. Like just small videos of my playing the guitar and singing to Justin Timberlake songs and stuff like that. These producers reached out to me online and they were like, "Hey we like the way you sing. Where do you live?" I said, "New York." "Oh come back top our studio." So I went back and we just started writing and making music and that's how my first song "Mi Amor" [was written]. I had like no following. I had like 2,000 followers on Twitter. I started making a song; I started posting more songs on Youtube. I just started growing and following started increasing, and I started to grow on the Internet.
VOXXI: What is the song-writing process like for you? How do you juggle writing songs that mix Spanish and English?
MH: Well, the thing is, I'm super creative. I've always been super, super creative. It's always been easy for me to come up with song lyrics and stuff like that. I don't know, I guess that's just how I am. When it comes to the writings process, I don't know, I just think that I'm going to write a song in Spanglish, and it just comes out that way. That's how my new song "Right Here, Right Now" came out. I definitely have mentors that help me and have helped me write my songs. It's not that hard for me.
VOXXI: What material are you working on now?
MH: Right now I'm working on a lot of new music. I'm trying to steer away from Latin sounding music and go for that more pop sound but with Latin words. Know what I'm saying? Kind of what Pitbull is doing but not rapping, singing. I don't want to be stuck in one category like "Tropical," I want to branch out and explore other genres and see where I end up staying.
VOXXI: You're a huge star in Latin America, but not in mainstream U.S. How do you expect to transfer into mainstream U.S.?
MH: That's exactly what I'm doing right now. I'm in the kitchen cooking up some good new stuff.
VOXXI: Do you have anyone in mind that you'd like to collaborate with, that would maybe help you get into mainstream?
MH: I think that just with the music, by myself, I could come out with a song. That would be a good crossover.
VOXXI: You've been nominated for Pop Artist at the Premios Juventud. How does it feel to be recognized at that level? Is this the biggest thing you've been nominated for so far?
MH: I've never been nominated for anything. This is my first. It feels amazing to be nominated, especially against these other artists that are so amazing and have had such long and amazing careers like Jenni Rivera, who we lost this year, Thalia, Dulce Maria, like a bunch of amazing artists. It's an honor to just be alongside their names. It feels amazing.
VOXXI: Do you have a name in mind for your album?
MH: No, I know that I'm releasing an EP soon. Still thinking on the name now.
VOXXI: About your fans, your "Hunters:" What's the craziest thing that they've done to get you to notice them? I know they tried to make #GetMattHunterVerified trending on Twitter — and then you actually got verified. What else have they done to get you to notice them?
MH: Sometimes they just say like crazy stuff. Like really weird stuff that makes no sense. Most of the tweets are the same "Matt follow me," and I look through them, and then I see that one girl that says like weird random stuff and then look at it and press follow. You have to say something unique. Because they all say "Follow me, Follow me."
VOXXI: Do you work with anyone in your family?
MH: No, it's really just me and my brother that are the musical ones in my family.
VOXXI: What other songs are you working on? Any names you can give us?
MH: I can't give any names yet. But I'm definitely doing stuff that's different that I've never really done before. Different genres, more like pop, more like my first song "Mi Amor."
VOXXI: Coming off those questions about Premios Juventud, what other nominations do you maybe hope to receive in the next year? Do you hope to get a Teen Choice Award?
MH: I would love to have some sort of nomination that has to do with social media because I'm very active on social media. That's really how my career started. I owe a lot to social media. I would love to be in some category that has to do with social media.
Listen to Matt Hunter's hit singles
Calling all HuffPost superfans!
Sign up for membership to become a founding member and help shape HuffPost's next chapter
BEFORE YOU GO
PHOTO GALLERY
27 Celebs You Didn't Know Were Latino