When someone thinks of an 18 year old, they might think of someone who is graduating high school or a freshman in college. Matt Jaffe is not your typical 18 year old. The San Francisco Bay Area native was discovered (playing solo) at an open mic by ex-Talking Head member, Jerry Harrison. Harrison was so impressed with Jaffe's talent that he decided to produce his music. Contribution from Steve Ferrone (Tom Petty) on drums and Nathan East on bass, they are working on Matt's first album. Later, Alex Coltharp and Sammie Fischer joined the live (onstage) band and Matt Jaffe and The Distraction were born.
According to Jaffe, many band names were bounced around. However, all agreed that keeping his name in the beginning would be for the best. The Distractions pays homage to Elvis Costello and the Attractions. "Costello has been an enormous influence on my songwriting and my attitude towards music," Jaffe states. "While I don't want to associate too strongly with any one influence, I have to cite him as a huge one."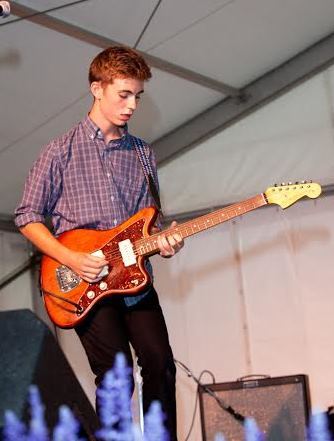 It also pokes fun at the format of the star and his or her backup band. "My band mates, of course, are far from being distractions." Jaffe exclaims. "Even though there will always be extra attention directed at the singer, we try to approach everything as band mates on equal footing."

He currently attends Yale, juggling time between music and his studies. "I feel as though I can appropriate my education so that it suits my lifestyle." He says. "Essentially, this means I am developing an education that complements my music, but doesn't interfere with it. Music is my priority, and while I am thrilled that my studies can positively affect my music, I don't allow them to get in the way."
While listening to his music, I couldn't help but compare the band's music and sound to that of an older genre. This is not by accident. "The simple and bullheaded answer is that older music is better," he exclaims. "That answer should be qualified since some awesome artists are working today. However, older music speaks to me much more, for whatever intangible reason. And I think intangible reasons can be the best ones for liking a band or a song. Perhaps I would feel differently if Bob Dylan or Joe Strummer had been contemporary, but older music seems less self-conscious. With some notable exceptions, current music feels processed and hyper aware. "
When it comes to their music, Jaffe wants it to be different (a "distraction"). "All too often, it seems that music is being written and produced so sleekly that it can just blend into everyday life, without jolting you. We want to jolt the listener. We do not want to be elevator music."
The band's first single Backs of our Eyelids was named a winner of the Teen Section 2013 International Songwriting Competition. Another song, "I Wanna Be Cruel," became a finalist in the 2013 UnSigned Only Songwriting Competition. My favorite song of theirs was just released and is called "No Hesitation." It has a catchy hook and an indie feel. It reminds me of a song that would be played at an outdoor venue or music festival.
Matt Jaffe & The Distractions have successfully "distracted" the listener with their music. This is a good thing. Matt Jaffe, himself, is currently successfully navigating the tough music scene, while staying true to the music he wants to record, regardless of what is "popular" at the time. Considering that the band's fan base is steadily growing and some of their recent performances included shows at NYC's CBGB and CMJ Music Festivals, it seems to be working.
For more information on Matt Jaffe & The Distractions,(including tour dates and updates) you can visit their website.
Calling all HuffPost superfans!
Sign up for membership to become a founding member and help shape HuffPost's next chapter