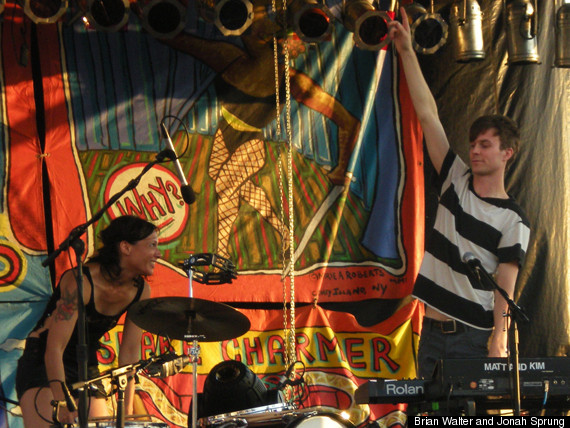 It takes us Jerseyans about two hours to get to Coney Island, the site of the annual Siren Music Festival. Saturday's journey gave us ample time to think about our relationship with Matt & Kim, this year's headliner. We had first seen Matt & Kim four years ago in a warehouse in Bushwick, where their simple keyboard and drum pop took just moments to turn a crowd of expressionless head-bobbers into a dance mob so excited that they had to be calmed down for fear of the floor breaking. They played with a sense of unbridled joy that neither of us had ever encountered. After that night, we chased them all over the city in search of that same high.
Their signature breed of simple, energetic indie-pop has since propelled them to national fame. Single "Daylight" is ubiquitous and can be heard everywhere from frat houses to Smirnoff commercials. Kind of like meeting up with successful old friends at a school reunion, we were going to this concert with a sense of trepidation: would we see the band we loved, or had fame beaten everything good out of them?
As we made our way to the show, the flood of hip concert goers from the subway struck a stark contrast with the seedy board walk vendors and towering projects of Coney Island, which to our untraveled eyes seemed like some ungodly hybrid of Brooklyn and the Jersey Shore. We entered the main show area located directly under the famous Cyclone, and our attempt to progress through the masses stalled out midway to the stage. Just as we were about to resign ourselves to our fate, two girls shoved us aside and proceeded to bulldoze their way through the crowd. We seized the opportunity and followed, darting through the holes they opened up like Chris Johnson darting through the d-line, and soon were right up at the front.
The sun was dropping and the scene was set. It was distinctly "rock and roll"--there were people as far back behind us as we could see, and congregations had formed on either side of the retaining fences. There was even a girl trying to gain a better vantage point by perching on top of a ladder. All eyes were anxiously peering for the first glimpse of the band they had waited all day to see.
The crowd could barely be contained as Matt & Kim burst out on stage to "Where Brooklyn At?" Matt opened with a wonderful yet rehearsed "Hey Brooklyn, how ya feelin' today?" and then immediately launched into an album perfect rendition of "I Wanna". We quickly abandoned our stoic 'reporter' poses and jumped around with the roaring audience, pens flailing dangerously. The crowd was a little hesitant during the older numbers, but went wild for new hits such as "Good Ol' Fashioned Nightmare".
Matt & Kim were working hard up there, but the first few songs lacked that intangible something that had made them so great in the past; it felt like they were just performing. What had seemed effortless now clearly required concentration. It wasn't until Matt slowed down the set to play "Lightspeed" that something seemed to click and everything came together. As Matt looked into the sky and stretched his hand out to the audience, we knew there would be no more pretending up on stage. From that point on, the band sustained an energy level which held the audience throughout the rest of the performance. Highlights included a cathartic rendition of "Yeah Yeah", after which Matt yelled "I'm running into the ocean after the show!", and an impromptu cover of R. Kelly's "Ignition (Remix)". When they closed with 'Daylight", everyone went sufficiently wild. It seemed Matt & Kim were meant to play stadium sized venues all along.
Matt made good on his promise to run into the ocean, and we of course followed him, along with about 30 teeny-boppers in a scene eerily reminiscent of the opening of "Hard Day's Night." We all floated around in the warm ocean for a while, Matt good naturedly hugging and taking pictures with everyone who asked. The scene embodied the strange place Matt & Kim are in right now--Matt couldn't run into the ocean without drawing a crowd, yet he still seemed genuinely happy to talk to every member of the mob that surrounded him.
Soon the sun sank behind the wall of housing projects behind the beach, leaving the Cyclone glowing neon in the background. A bearded man asked Matt if he had seen his short film, and we knew it was time to go. We turned and walked back up the beach, glancing back every now and then to see Matt drifting off into the darkness, only visible by the occasional flash of a camera phone.
1. I Wanna
2. Grand
3. Good Ol' Fashioned Nightmare
4. 5K
5. Cutdown
6. Lightspeed
7. Lessons Learned
8. Cinders
9. Jesse Jane
10. Turn This Boat Around
11. It's A Fact
12. Ready, OK?
13. Yeah Yeah
14. Daylight
Calling all HuffPost superfans!
Sign up for membership to become a founding member and help shape HuffPost's next chapter