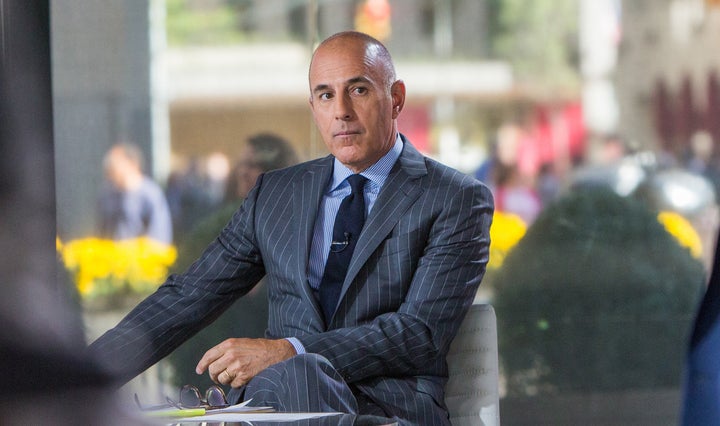 Matt Lauer's original accuser is "terrified" that her identity will become public. 
Her lawyer, Ari Wilkenfeld, appeared on the "Today" show Friday morning to advocate for his client's right to privacy. The anonymous woman was the first of multiple women to accuse the former "Today" host of workplace sexual misconduct.
"She showed her face, she gave her name, she told her story and at the conclusion of the interview she was asked, 'What do you want?'" Wilkenfeld told NBC's Stephanie Gosk, describing the accuser's interaction with the network. "And she said, 'I want you guys to do the right thing and, also, I'd like you guys to maintain my confidentiality.'"
NBC fired Lauer in November, but did not elaborate about the allegations at the time. The New York Post's Page Six later cited anonymous sources who accused Lauer of assaulting a female NBC staffer at the 2014 Sochi Olympics. NBC then confirmed that the allegation stemmed from an incident during the Sochi Games. 
"My client is terrified and she does live in constant fear that people are going to track her down and figure out who she is," Wilkenfeld said on Friday. 
NBC hasn't done enough to protect his client's identity, the lawyer said, even as there is a "hunt underway" to figure out her identity.
"I can say that NBC has a duty to maintain confidentiality ... and they have not done a good job of doing that. They know exactly what they've done and they need to stop," he said.
Wilkenfeld suggested that the way his client is treated will have a lasting influence on whether other women come forward with sexual misconduct allegations in the future. 
"I think that's going to have a chilling effect on other women who might want to come forward and tell their stories," he said. "She's been incredibly brave and she's helped protect the other women at NBC."
"There are no words to express my sorrow and regret for the pain I have caused others by words and actions," Lauer's statement read. "To the people I have hurt, I am truly sorry. Some of what is being said about me is untrue or mischaracterized, but there is enough truth in these stories to make me feel embarrassed and ashamed."
Calling all HuffPost superfans!
Sign up for membership to become a founding member and help shape HuffPost's next chapter