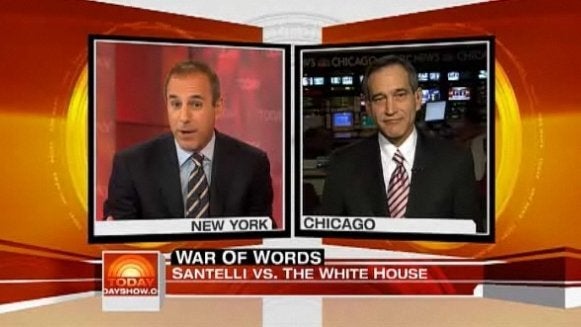 Since CNBC correspondent Rick Santelli's on-air eruption last week over Obama's mortgage bailout plan, he's been promoted by his network, become the subject of a viral video and dominated many a blog post. Santelli's very public assertion that "the government is promoting bad behavior" also reached the White House press briefing on Friday, soliciting a request from Press Secretary Robert Gibbs that Santelli take the plan and "download it, hit print and begin to read it." After that, Santelli ratcheted up the exchange by claiming that Gibbs was issuing a veiled threat.
On Thursday morning, "Today" host Matt Lauer asked Santelli if he was "serious" about his claim that Gibbs threatened him. A rather awkward exchange ensued:
Santelli: "Listen, let's put it this way. Matt, you're married, are you not?"

Lauer: "Yeah, I am."

Santelli: "Ok, this is more about the feelings my wife had when she watched the body language and listened to what he was saying."

Lauer: "But this is the White House Press Secretary. You think he's going to threaten you on national television?"
Popular in the Community