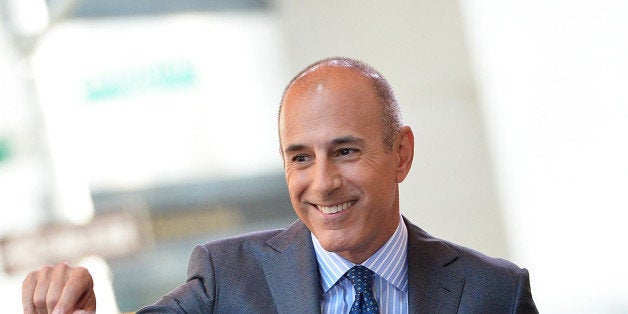 Matt Lauer, you are surrounded by strong women on the Today show, so why would you even think of asking Mary Barra if she could be a good mom if she's a CEO?
Matt Lauer, when you asked CEO Mary Barra on the Today show on June 26 if she could run General Motors and still be a good mom, it sounded like a sexist insult. After all, virtually all the CEOs of Fortune 500 companies are men, and have you ever asked any of them if they can be good dads and CEOs? I don't think so.
That's why you've been the subject of scathing criticism ever since you interviewed Mary in Detroit and had the following exchange with her:
Matt: You're a mom, I mentioned, two kids. You said in an interview not long ago that your kids told you they're going to hold you accountable for one job and that is being a mom.

Mary: Correct.

Matt: Given the pressure of this job at General Motors, can you do both well?

Mary: You know, I think I can. I have a great team, we're on the right path... I have a wonderful family, a supportive husband and I'm pretty proud of the way my kids are supporting me in this.
Now, fortunately for you, Matt, Mary answered your question about her CEO/mom qualifications diplomatically instead of calling you out on the air. But plenty of viewers -- both prominent business and media people and regular people -- did voice their indignation. Shonda Rhimes, creator of the hit TV shows Scandal and Grey's Anatomy, tweeted:
CNN star correspondant Christiane Amanpour tweeted:
Viewer David Gaffen had this to say:
And viewer Lisa (Kopec) Miller tweeted:
Matt, when you asked this question, it was like a knife in the hearts of career-minded women everywhere, because so many of us feel like we have had to work harder than any man to get ahead -- if they can get ahead at all.
And statistics really back them up -- women make up 25 percent more of college graduates today than men, but still earn only 77 cents for every dollar a man earns. Only 16.9 percent of Fortune 500 companies' board members are women and only 18 percent of the representatives in Congress are women.
Now, Mary Barra, 52, is one of those women who has broken through the glass ceiling and, after 30 years at General Motors, finally reached the top spot. Yet you are still asking her to defend her ability to mother her children and run a company at the same time. It's as insulting as former Secretary of State Hillary Clinton being asked if she can be a grandmother and potentially the next president of the United States.
Are moms' affections for their children really deeper than a father's? Matt, do you love your children less than Meredith Viera or Katie Couric, who also co-anchored the Today show with you?I doubt it.
Now you've taken to your Facebook page to defend your line of Mary Barra questioning, explaining that you decided to ask her about her career/motherhood balance because she admitted in a Forbes.com feature that she had to miss the junior prom of her son, Nicholas, 17.
"It's an issue almost any parent, including myself, can relate to," you wrote. "If a man had publicly said something similar after accepting a high-level job, I would have asked him exactly the same thing."
Well, Matt, I'd really like to see you just flat out ask a male CEO if he can be a dad and CEO, just to see the reaction you'd get. I doubt that male CEO would respond as graciously as Mary did. I bet he'd just think you were nuts.
Matt, whether you want to believe it or not, there is a double standard at play here. Women have a far tougher time getting into senior decision-making positions than men do, and once they are there, they often face criticism from both men and women about their mothering abilities and/or about their wardrobes and hairstyles.
Let me remind you about Hillary Clinton's experience running for president and then serving as secretary of state. There was so much obsessing about her hair through those years, that Hillary joked that she should have called Hard Choices, her new book, The Scrunchie Chronicles: 12 Countries and It's Still All About the Hair.
Matt, as a highly intelligent journalist, you should have foreseen what the reaction to your CEO/mom questions would be, especially considering the fact that the Today show audience is highly female.
Next time, instead of questioning Mary Barra's ability to do it all, ask her to give advice on how other ambitious career women can work their way up to being CEOs, too!
Related
Popular in the Community