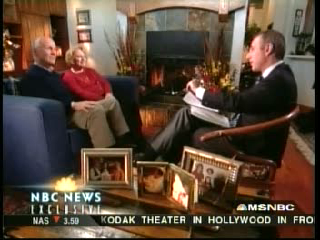 Oh gosh, Matt Lauer's interview with Senator Larry Craig and his wife Suzanne last night was uncomfortable to watch. Now I get what Lauer meant yesterday, how it must have felt to quiz Craig on the litany — the long, long litany — of gay-themed allegations (cruising, pickups, trysts) from throughout his political career and even from before, all while his wife was sitting there. Lauer did a good and deft job on this, and the Craigs candidly addressed it all head on, but the end result was the feeling of "no smoke without fire" and wow was there a lot of smoke. Not that there's anything wrong with that! The saddest part is how, if it's true (and if they're just rumors, well, there sure are a lot of them, from a lot of different sources), this guy has felt the overwhelming need to hide it and rail against it for his whole life. Here is a representative clip:
"I have a medical discharge based on my feet." Oh, Senator Craig, those feet.
Update: I'm going to have to disagree with Tom Shales, who criticized Lauer for being "anything but hard-hitting or confrontational." To my mind, that was precisely the right approach: Sympathetic, respectful, but persistent, putting each episode to Craig for his response, which created an overall effect of so many dominoes leading to that inevitable and sad moment in that airport bathroom. What Shales doesn't get is that Craig's had MONTHS of hard-hitting and confrontational — the cable shows, the late-night punchlines — the last thing that would have drawn him out would have been an antagonistic interviewer. When Lauer cited "cruising" and followed it with "whatever that means," Suzanne Craig laughed — breaking the tension of an uncomfortable moment and keeping it as comfortable, really, as it was ever gonna be. This interview didn't need to be hard-hitting; as I mention above, just the litany of episodes and innuendos, presented to Craig again and again, had a far more quietly damning effect.
Related
Popular in the Community