Matt LeBlanc offered a frank take on his $1 million-per-episode payday for the final season of "Friends" during an interview with HuffPost Live on Thursday.
The "Friends" cast famously banded together and jointly negotiated the record-breaking salary in 2002. Their paychecks have since become a part of television lore; when the cast of "The Big Bang Theory" locked down the same pay for themselves last year, comparisons to "Friends" were inevitable.
The significance of LeBlanc's net worth and the extensive coverage it's received has made it a core part of his public persona. In the upcoming fourth season of his Showtime comedy "Episodes," in which he plays a fictionalized version of himself, the faux Matt LeBlanc deals with some severe money troubles. "He has a sort of financial catastrophe and loses half his money. Millions and millions of dollars," the real-life LeBlanc told Glamour. (In a clip from the new season, LeBlanc's character specifies "half" of his money as a cool $32 million.)
The actor hasn't shied away from the interest in his bank account. In 2011, he described his "Friends" pay to Details this way: "You know there's that saying that you make your f*ck-you money in Hollywood? I made that."
So when LeBlanc spoke with HuffPost Live on Thursday, host Alyona Minkovski showed him what fellow "Friends" alum Lisa Kudrow said about their salary in her own HuffPost Live interview in November. Kudrow argued that because the show was "generating an enormous amount of money," the cast's pay was "affordable to whatever entity has to pay it." LeBlanc agreed "for the most part," he said:
I've been asked this question before, but phrased as, do I think we were worth it? Were we worth $1 million? To me, that's such a strange question. It's like, well, that's irrelevant. Are you worth it? How do you put a price on how funny something is? We were in a position to get it. If you're in a position in any job, no matter what the job is -- if you're driving a milk truck or installing TVs or an upholsterer for a couch -- if you're in a position to get a raise and you don't get it, you're stupid. You know what I mean? We were in a position and we were able to pull it off. "Worth it" has nothing to do with it.
Sign up here for Live Today, HuffPost Live's morning email that will let you know the newsmakers, celebrities and politicians joining us that day and give you the best clips from the day before!
Related
Before You Go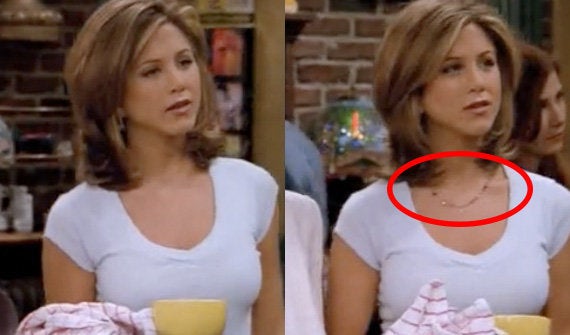 "Friends" Goofs To Watch For
Popular in the Community