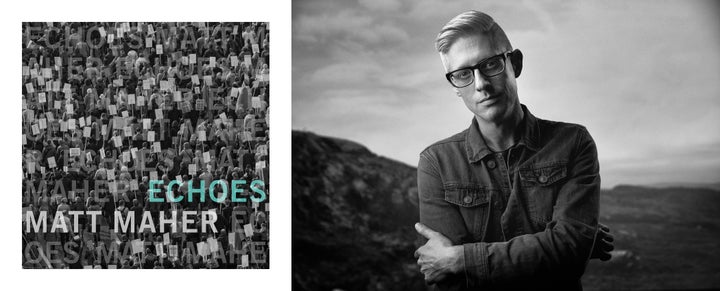 Eight-time GRAMMY® nominated artist Matt Maher's sixth studio album, "Echoes" (out today), is perhaps his most personal one to date. After writing most of the songs for it, the artist lost his father, prompting him to process his grief through the declarations of hope found within the record's music.
"I think the Holy Spirit knew what I was about to walk through and needed to hear," he said. "I realized that a lot of these songs, in particular the worship songs, were inspired by hymns written in or around some personal experience or bout with suffering – suffering of all different kinds: personal, physical, mental, and spiritual."
The song "What a Friend," for instance, was inspired by the hymn "What a Friend We Have in Jesus" by Joseph M. Scriven, who wrote it in 1855 to comfort his mother in Iceland while he was living in Canada. Like the original, Maher's rendition highlights God's faithfulness even in the midst of personal sorrow and devastation. Each song on the album likewise provides a unique, though timeless reflection on the reality of love and loss.
Despite the overarching theme of human suffering, however, the album is far from depressing. The tracks strike a balance between hope and hardship, and exude the triumphant tone characteristic of Maher's work.
"I don't think that Christians are ultimately called to be a sad people," Maher said. "I think melancholy is fully accepted and celebrated in the kingdom of God, but inasmuch as it leads to joy."
Through this message, Maher hopes take each listener on a journey of processing their own suffering and learning to echo the message of the cross back to the world, rather than their own narrow view of suffering.
"It is possible to have hope and joy that is not governed by fear, and this record points to that and not a gloom, bleak picture of suffering. I want to remind people once again to believe in a God that gives us hope, joy and peace."
Maher will take his new songs on the road this fall as he joins Chris Tomlin on the "Good Good Father Tour." Upcoming tour dates can be found on mattmahermusic.com.
Popular in the Community