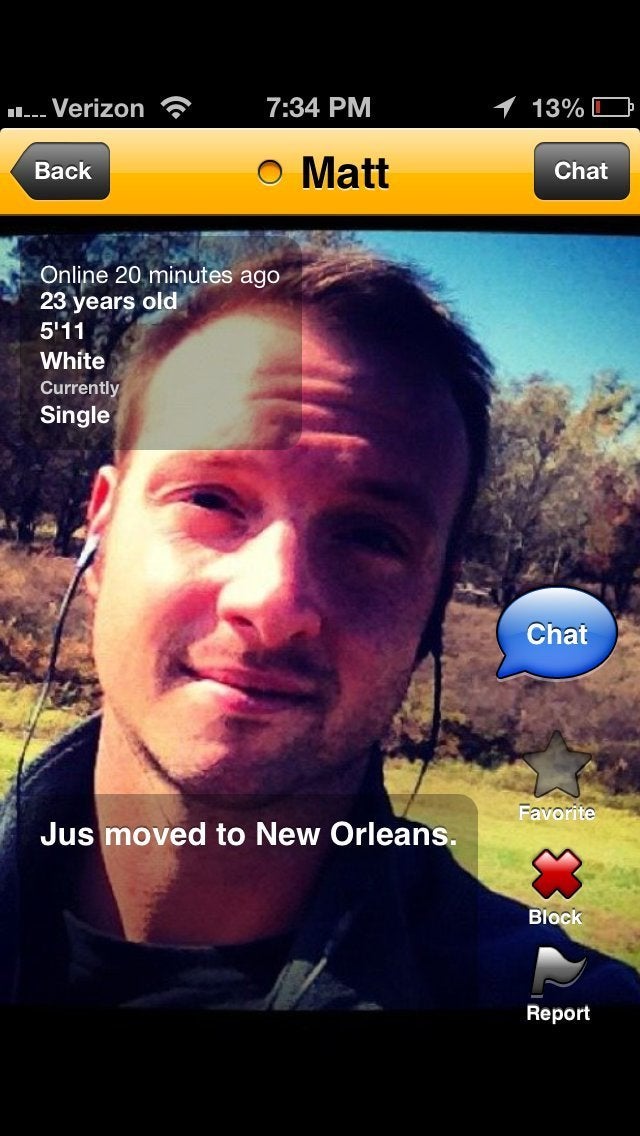 Matt Moore, the so-called "ex-gay" Christian blogger who was exposed for being on the gay-dating app Grindr in February, says in a new interview that he wasn't looking for sex on Grindr: He was looking to meet men in New Orleans to take him to gay bars. Moore has since sold his computer and locked his phone so that he can't "give in to temptation" again. (Listen to the full interview below)
"Basically I just wanted to see who was on it and who was around me," Moore, a 24-year-old a blogger for the Christian Post who has called homosexuality sinful and an abomination, said on my SiriusXM radio program. "I can honestly say that I didn't have any kind of sexual conversations with anyone. Anyone who sent me any kind of explicit photos or conversations, I blocked immediately. The first time I got on it, I wanted to go out and I wanted to go to the gay bars in New Orleans. So I was trying to meet someone on there to basically tag along with. That was the reason I was originally on it."
But before Moore could meet anyone, he says, screenshots were posted on the web by blogger Zinnia Jones, soon labeling him across the blogosphere as the "ex-gay" on Grindr, a label he refutes. He said he came forward now, seeking out an interview two months later, to clarify that he does not believe that he is "ex-gay" and that he doesn't believe reparative therapy makes people heterosexual if they are homosexual.
"I want to clarify some things," he said. "I think the way the articles were written, they're based on the assumption that when I became a Christian, I became straight and that I did not have homosexual feelings anymore and that my presence on Grindr was pointing out that I basically lied. I had never, ever said any of those things."
Moore, who said he once was an "out" gay man and had boyfriends until he turned to evangelical Christianity in 2010, explained that he still is sexually attracted to men and is not sexually attracted to women -- that 'it's impossible to change yourself" -- but that he is trying to refrain from acting on his sexual desires because of his religious beliefs.
"I do believe it's the truth, so, honestly, yes," he said, when asked if he's urging all gay people to follow his path. "I stopped going out to gay bars and stuff like that. Most of the relationships that I did have did cease. And I had not been on Grindr or any kind of gay social network until January of this year."
Listen to the full interview below:
Calling all HuffPost superfans!
Sign up for membership to become a founding member and help shape HuffPost's next chapter
BEFORE YOU GO
PHOTO GALLERY
13 Things The Bible Forbids (That You're Probably Guilty Of Doing)