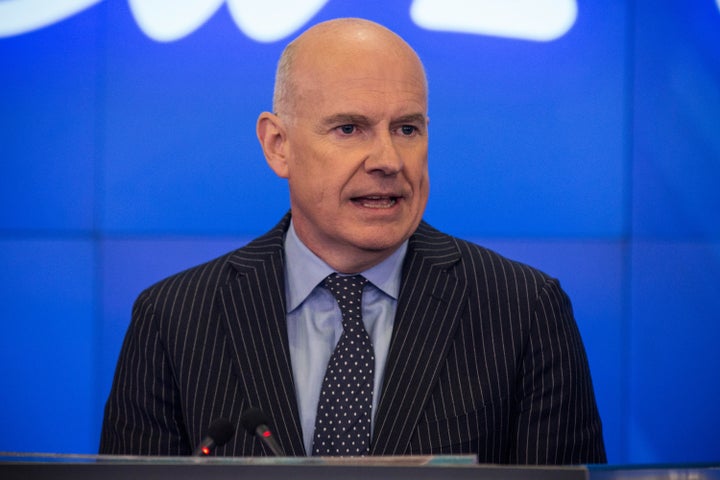 Gerard Baker's tenure as editor-in-chief of The Wall Street Journal has come to a close, according to a release from News Corp., which owns the Journal.
News Corp. announced Tuesday that Baker will take on a new role as editor-at-large, making way for Executive Editor Matt Murray to succeed him as editor-in-chief.
The Journal is wasting no time either: Murray's first day in charge will be next Monday.
A five-member group, known as the Dow Jones Special Committee, "unanimously approved the changes," according to the release. The committee was established in 2007 to "monitor editorial standards and ethics issues" at the newspaper.
Baker, who ran the Journal for over five years, is not going away. In his new role, he will write a regular weekend column for the paper, host "a WSJ-branded news and interview show" on Fox Business Network, and represent the paper at its high-profile conferences and events.
His removal from the Journal's top job wasn't entirely surprising. As early as last October, the murmurs were already getting louder that Baker might be ready for a new gig and that the newsroom might be ready for a new boss.
In its release, News Corp. celebrated Baker's tenure, boasting that the Journal's daily circulation grew by a third under his watch and that the "paper's technological transformation has resulted in rapid international expansion under Mr. Baker's leadership."
But Baker's relationship with his newsroom started to turn rocky after Donald Trump won the 2016 presidential election. Employees reportedly began grumbling that the paper had gone too soft on Trump, so much so that in February of last year, Baker held a newsroom meeting in which he called the criticism "fake news."
"Sorry. This is commentary dressed up as news reporting," he wrote. "Could we please just stick to reporting what he said rather than packaging it in exegesis and selective criticism?"
Then this March, Wall Street Journal employees circulated a letter internally alleging that a "senior editor" ― later identified by a ProPublica reporter as Baker ― tried to remove a multimedia graphic about the financial crisis from the paper's website after he deemed it "not politically palatable."
"This is censorship and it is beneath the standards of the Wall Street Journal. It isn't the first time, either," the letter read in part.
Murray, Baker's replacement, has held many jobs at the Journal since joining the news desk in 2004, including deputy editor-in-chief, deputy managing editor, deputy national editor and national news editor. He first joined Dow Jones & Company, now a division of News Corp., as a reporter in 1994.
Do you have information you want to share with HuffPost? Here's how. You can reach me at maxwell@huffpost.com and 347-788-0919. If you use the secure email service ProtonMail, I'm also available at maxwellhuffpost@protonmail.com.
Matt Murray has been named Editor-in-Chief of The Wall Street Journal and Dow Jones Newswires, succeeding Gerard Baker, who is to take up a new position as the Journal's Editor-at-Large, which will include regular writing, hosting the paper's expanding network of conferences and events, and television presenting. Mr. Murray is currently Executive Editor of the Journal.

Under Mr. Baker's five-and-a-half year tenure, the Journal's daily circulation has grown by more than a third, led by a rapid digital expansion, and at a time of declining trust in news media the paper has cemented its position as the most trusted newspaper in America. The Journal has consistently led the field with the deepest and most consequential reporting on US and global business, finance and economics news, and it has been the principal contributor to Dow Jones hitting three million memberships this year, creating a firm base for the future of the highest quality journalism. The paper's technological transformation has resulted in rapid international expansion under Mr. Baker's leadership and its Conference network is continuing to grow on a global scale.

Robert Thomson, Chief Executive of News Corp, said: "Gerry has been a very successful editor at a time when journalism has been digitally challenged. I have no doubt that Matt is a worthy successor as Editor-in-Chief and will be a leader of the highest commitment and integrity. His strong reporting and editing background and his passion for the Journal are obvious to all who have the privilege of working with him.

"In his new role, Gerry, who is a gifted writer and skillful and intelligent interviewer, will continue to make an important contribution to the Journal's development."

William Lewis, Chief Executive of Dow Jones & Company, said: "I thank Gerry for his contribution to the great growth of the Journal in recent years, and look forward to his continuing work with us in his new roles. And I know Matt is the right person to take the reins and help us seize the great, new opportunities before us. We see many fruits from our work in embracing digital transformation and a deeper membership model, and there is much yet to do."

Mr. Baker will write a regular column in Review, the paper's weekend section, as well as other articles for the paper. In addition, he will host a WSJ-branded news and interview show on Fox Business Network and be a leading voice of the Journal's rapidly expanding live journalism and events business, conducting interviews with leading figures from business, politics and culture.

The five-member Dow Jones Special Committee, formed in 2007 to monitor editorial standards and ethics issues at The Wall Street Journal, has unanimously approved the changes. Under the Agreement which established the committee, as well as subsequent amendments, management is required to give the committee timely notice of plans to make changes in top editorial leadership.

Commenting on the changes Gerry Baker said:

"It has been an extraordinary opportunity to have led the world's greatest and most trusted news organization. I'm enormously grateful to Rupert, Lachlan and Robert for entrusting me with the Journal's mission and it has been an unsurpassed privilege to have worked with so many talented and dedicated colleagues," he said.

"There has never been a more important time nor a greater demand for trusted, authoritative, objective journalism and I am very much looking forward to continuing to pursue that mission as a writer, commentator and interviewer. I am honored to hand over the reins of this venerable institution to Matt Murray, an editor of unsurpassed quality and a trusted friend and colleague."

Matt Murray said:

"I am honored to have been appointed Editor-in-Chief of The Wall Street Journal and it is a privilege to serve our millions of readers in print and digital. Our diverse array of talented journalists, ranging from reporters to graphic artists, video producers to data experts, are the best in the business. Every day, we set out to ensure that we are the most trusted source of news and information. We're especially proud that the Journal is absolutely the preeminent news organization in business, economics and markets, the forces that shape so much in the modern world, and that Dow Jones Newswires is growing digitally and internationally as it provides business and market insights and analysis to clients around the world."

"There is little doubt that at a time when journalism faces a host of challenges, readers are hungry for sophisticated, fair, illuminating and fact-based journalism ― and see us as a uniquely trusted news source."

"I especially appreciate the support of Rupert and Lachlan Murdoch, Robert, Will, and the leadership of Dow Jones, and I thank Gerry for his significant contributions to the Journal and his support for me."

Prior to his appointment as Executive Editor, Mr. Murray was Deputy Editor-in-Chief since 2013, and had been a Deputy Managing Editor since 2008. He joined Dow Jones & Company in 1994 as a reporter for the Pittsburgh bureau. In 1997, he joined the Journal's Money & Investing section, where he covered banking.

Mr. Murray joined the news desk in 2004, and later served as a deputy national editor and national news editor. He is the author of The Father and the Son and the co-author, with former New York City fire commissioner Thomas Von Essen, of Strong of Heart. He holds Bachelor's and Master's degrees in journalism from Northwestern University and lives in New York with his wife and daughter.

Mr. Murray will formally take the Editorship of The Wall Street Journal and Dow Jones Newswires on Monday, June 11.