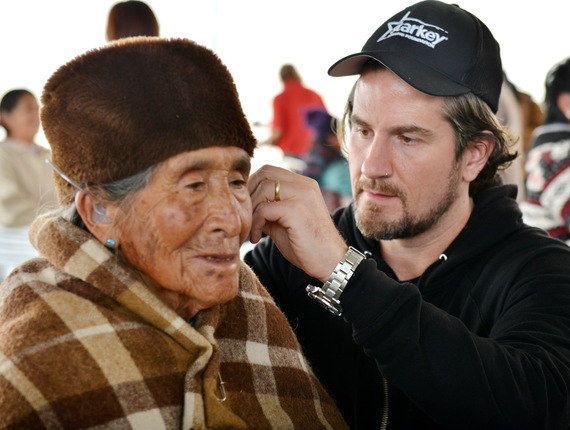 Singer-Songwriter Matt Nathanson in Peru with the Starkey Hearing
Foundation. His music video Headphones donates 100 percent of the
proceeds to the Starkey Hearing Foundation
When Matt Nathanson, whose songs include the platinum selling 'Come On Get Higher' , wanted to create a music video for his new single Headphones featuring LOLO in 2014, he decided to create a different kind of video than he had previously released. The lyrics of Headphones speak to the power of music, and the confidence it can give the listener. Considering the inspiration for the song led Nathanson to think about what music meant to him personally. Enjoying music, and hearing, he discovered is something most people take for granted.
"If I didn't have my hearing, I wouldn't have music. And if I didn't have music, I definitely wouldn't have survived my childhood, listening to albums and seeing bands and being connected to songs was EVERYTHING to me. It still is. it makes me feel not alone," says Nathanson.
The artist reached out to the Starkey Hearing Foundation, and shortly after, jumped on a several plane journey to Huancayo, Peru to film his first medical mission with the Minneapolis-area based organization. In Peru, he experienced the amazing moment of seeing people receive the gift of hearing first hand. More than 1,000 hearing aides were distributed in just 48 hours on the trip.
In the past two years, several home videos of adults or children, have gone viral in the U.S. showing the exact moment when someone with hearing loss, hears for the first time. Witnessing it in person is nothing short of a miracle. I know, because my son Luke is 50 percent hearing impaired in both ears, and watching him hear even the simplest of sounds for the first time brought tears to my eyes. One of the first things Luke did was to zip his jacket up and down and ask me, 'Can you hear that?' Wow doesn't begin to capture it.
While these home videos have captured the joy this technology brings, what you don't see is their life before. We struggled for many years with misdiagnosis about my son's hearing loss that led to feelings of isolation, frustration and sadness for all of us. Technology for the hearing impaired in the last ten years has been life changing for families like my own, and now through the generosity of individuals like Matt and the Starkey Hearing Foundation, new families everyday will benefit.
The filming of Matt Nathanson's experience resulted in an incredible music video for Headphones that documents his journey in Peru, but more importantly, generates awareness and funds, for people around the world suffering from hearing loss. The experience, also fostered a personal commitment by the artist to give back to the Foundation in numerous ways, some public, and some private. 100% of the artist and label proceeds from the "Headphones" video benefit the Foundation. To date, Matt and the video, has generated more than $50,000 in support of the Foundation. The video can been seen at here.
On November 7, 2015, Matt Nathanson will be honored with the Universal Smile Award by Operation Smile, at the San Francisco Smile Gala at the InterContinental Hotel. Shab Farzaneh and Shirin Aryanpour will co-chair the event and I am proud to be serving once again, as honorary chair. Fremont Bank will receive the Corporate Humanitarian Award, and Liam Mayclem, Host of CBS 5T V's Eye on the Bay, will serve as the evening's emcee. The award will be presented by last year's co-honoree Sara Aguh, co-founder of the Do It For The Love Foundation with her husband, musician Michael Franti.
"I am humbled to be recognized by an organization that gives back to children worldwide in need of smiles and brighter futures, and I look forward to lending my voice to further Operation Smile's mission," said Nathanson.
Operation Smile, is an international children's medical charity, which provides free surgeries for children worldwide suffering from facial deformities - healing their smiles and transforming their lives. The Universal Smile Award recognizes individuals who exemplify an extraordinary commitment to helping others in need who are facing medical challenges. For more information about the San Francisco Smile Gala, please visit here.
The Starkey Hearing Foundation provides more than 200,000 hearing aids annually to children and adults through global hearing missions and the daily efforts of their domestic Hear Now program. To learn more, please visit here.
Calling all HuffPost superfans!
Sign up for membership to become a founding member and help shape HuffPost's next chapter