Steven Spielberg doesn't have any movies coming out this summer, but he's still well represented at local theaters. Back in May, Gareth Edwards appropriated the Spielberg blockbuster playbook, specifically "Jaws," for "Godzilla." Now in July, it's Matt Reeves' turn to flex his Spielberg muscles. The 48-year-old filmmaker directed "Dawn of the Planet of the Apes," a sequel to 2011's "Rise of the Planet of the Apes," and a film that owes as much to "Apes" lore as it does to "Jurassic Park."
Set a decade after the events of "Rise," with humanity all but extinct, Reeves' film is focused not on the survivors but the apes and their leader, Caesar (Andy Serkis). The result is almost an oxymoron: a summer action thriller that doubles as an introspective, offbeat character study of a digitally created protagonist, one who learns that the foibles of human nature are not limited to just humans.
HuffPost Entertainment spoke to Reeves about how he was able to make "Dawn of the Planet of the Apes" one of the summer's best blockbusters.
He Was A Fan Of "Planet Of The Apes" ...
Reeves, best known for directing "Cloverfield" and "Let Me In" (a remake of "Let the Right One In"), has loved "Planet of the Apes" since his childhood.
"I was obsessed with those movies as a kid," he recalled. "I had the dolls, I watched all those movies, I had the records, I had the toy sets -- I had all of the stuff."
Despite those decades of familiarity with "Apes," however, it was what director Rupert Wyatt, visual effects company WETA and Andy Serkis did with Caesar in "Rise of the Planet of the Apes" that put the franchise in a new perspective for Reeves.
"As kid, I desperately wanted to be an ape, because I loved that John Chambers makeup, and I just wanted to look like an ape," Reeves said. "When I saw 'Rise,' I thought I had just become an ape in the way I wanted to as a kid. Except it was not in the terms of the way I looked, but in terms of the emotion. I felt what it felt like to be Caesar. I was blown away by that."
... Who Understood The Real Appeal Of "Rise"
With that newfound realization as a guidepost, Reeves said he pitched 20th Century Fox on turning the "Rise of the Planet of the Apes" sequel into a story about Caesar. The initial problem was that Fox had some other ideas.
"When I first met with them, they pitched to me an outline of what they were planning to make. It wasn't completely Caesar centric. It was more of a human story. The apes came into the city and they were living in the city. They were very articulate. Somehow they had skipped all this stuff," Reeves said. "I thought it was such a huge jump from 'Rise.'"
According to Reeves, he told Fox executives that he maybe wasn't the right choice for the project. When they pushed back, he explained why.
"I said that the miracle of what you guys did was that you created in Caesar a hero who is the most human character in that story, and he's not human at all. That's incredible," Reeves remembered. "For me, I think the thing that I want to do is to carry that emotion forward. Not only that, I wouldn't want to start in the post-apocalyptic human world, which is a movie we've seen before -- I want to start in the world Caesar created. I want to see the world the apes have inherited and do an ape-world creation story. I want to start in their world for maybe 15 or 20 minutes, and just be with them before we see any humans."
As critics have seen already, and audiences will soon find out, Reeves' ideas won out. While there are human characters in the film -- played by Jason Clarke, Keri Russell and Gary Oldman, among others -- this is an apes movie through and through. To wit: Serkis receives top billing in the closing credits.
"I thought for sure they would say, 'Oh, that's a very nice idea, but we're already down the path on this. Good luck, we'll see you later,'" Reeves said of his pitch. "But they actually said, 'Okay.' I was shocked. [...] If they were going to do the story I was going to do, how could I turn that down?"
But His Reference Point Was Francis Ford Coppola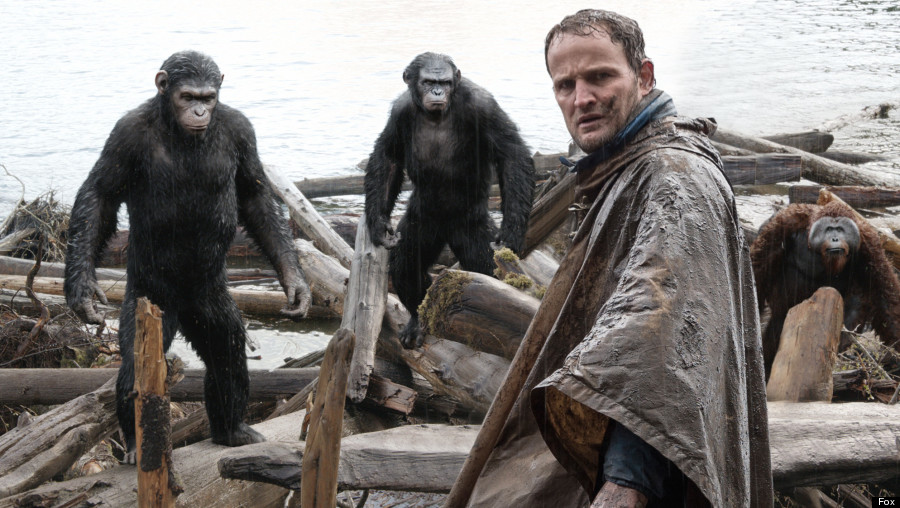 After the opening sequence in an ape world just outside of San Francisco, "Dawn of the Planet of the Apes" follows parallel stories about family patriarchs (Clarke's Malcolm and Caesar) trying to hold their lives together.
"I wanted it to be 'The Godfather' with apes," Reeves said. "Just the way that movie is this grand Shakespearean story set in the gangster world, but it's truly about family. It's really a king and his sons. I wanted this to be a king and his sons, but I also wanted it to be about two families: a human family that was trying to repair itself after a grand tragedy, and an ape family that was really in its ascendancy. To have it be a story about whether or not they could coexist. That family aspect of it was part of the conception."
He Knew To Trust WETA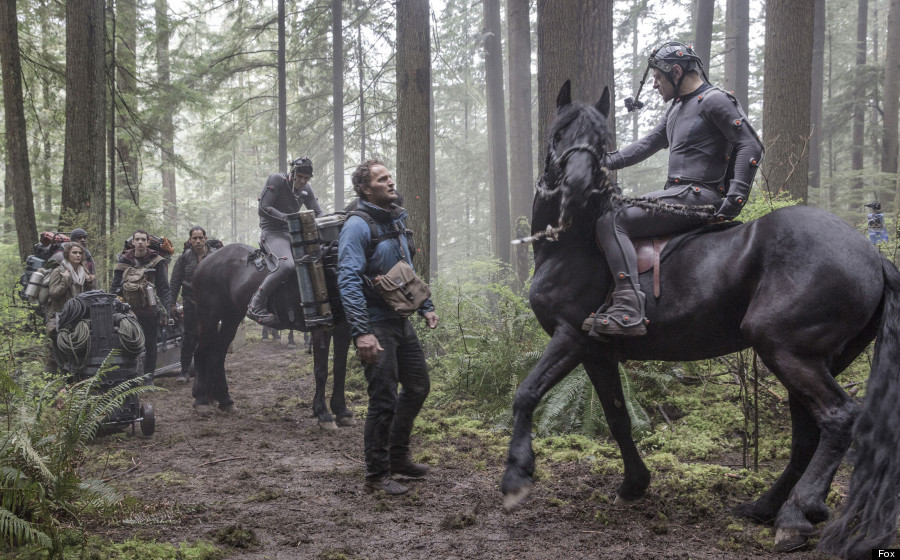 Reeves and Serkis turn Caesar into a character everyone can root for (Reeves called Serkis one of the best actors he's ever worked with), but the ape leader wouldn't exist onscreen without the help of WETA. The visual effects company co-founded by Peter Jackson worked on "Rise of the Planet of the Apes," but the company's labor reaches new heights in "Dawn."
"The genius of WETA was being able to figure out how to translate that emotion onto the anatomy of an ape. Caesar and Andy do not look alike. That is no easy task. That takes tremendous artistry. They are the best in the world, no question," Reeves said of the company and visual effects supervisor Joe Letteri, a four-time Oscar winner. "What I said to them was that I wanted to continue that from 'Rise,' but I wanted to push the photo reality further. What if, instead of shooting on a stage, which 75 percent of 'Rise' was shot on, we shot on location? What if we went into the rain forest?"
Reeves got his way: Huge portions of the film's first two acts take place in the woods outside San Francisco, a dense fog coating much of the proceedings. The effects are seamless.
"WETA totally believed that their rigs and models and characters would hold up to that level of critical examination," Reeves said. "They pushed things to a whole new level. I really do believe this is a high-water mark for this kind of thing."
... But Also His Friends
Matt Reeves and composer Michael Giacchino have a mutual friend in J.J. Abrams, the super producer who worked with Reeves on "Felicity" and "Cloverfield" and Giacchino on "Alias," "Lost," the "Star Trek" movies and countless other projects. For their part, Reeves and Giacchino collaborated on both "Cloverfield" and "Let Me In," and that latter film inadvertently led to Giacchino's score for "Dawn of the Planet of the Apes."
"When I was doing 'Let Me In,' Michael and I were working on the score and recording the score from Michael's office in his house," Reeves said. "One of the things I noticed was that his office was filled with 'Planet of the Apes' dolls. He told me how much he wanted to be an ape, and I told him how much I had wanted to be one, too. It was a thing from our childhood that we bonded over."
Cut to a few years later when Reeves was hired for "Dawn," and the first person he called was Giacchino.
"It went without saying that I wouldn't want to do this movie without him. He was such a lifelong fan of the franchise, and he's also the most gifted and amazing composer there is today," Reeves said. "He's not just a composer, he's also a storyteller. I think this score is a throwback to a time when scores used to have memorable themes and ways in which you could connect to the characters because of the beauty of those themes. What he's done for this film, the way his music elevates the movie and deepens it and enlivens it is astonishing. I think I would never not want to do a movie with Michael."
REAL LIFE. REAL NEWS. REAL VOICES.
Help us tell more of the stories that matter from voices that too often remain unheard.
BEFORE YOU GO
PHOTO GALLERY
Celebrity News & Photos