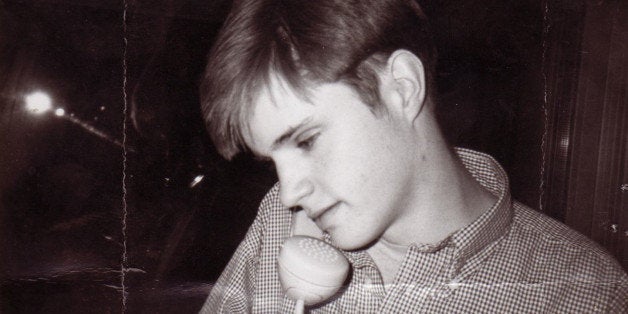 Fifteen years ago this October, Matthew Wayne Shepard was abducted, tied to a split-rail fence, and left to die in a remote area of Wyoming. He was only 21 years old. Those of us in the gay community who remember the death of Matthew Shepard vividly even now might imagine that anyone in the LGBT community has already heard his story. But they should think again. Gay and lesbian 21-year-olds of today were only 6 years old at the time of Shepard's death.
This notion first occurred to me after seeing a July 2009 episode of Bravo's Kathy Griffin: My Life on the D-List, in which the edgy comedian visited LGBT youth at the Los Angeles Gay & Lesbian Center. In the wake of Proposition 8's passage in California, Griffin was among a cadre of celebrities outraged by the law's passage. She wanted to visit with youth to educate them about the law and to motivate a future generation of political activists. One thing that ended up surprising her (and viewers alike) was that the teenagers she spoke with had never heard of Matthew Shepard.
Were he still alive today, Shepard would be just a few months shy of 37. I was a senior in high school, just turning 18, at the time of his death. I had no idea that what happened to Shepard would end up being one of the most notorious anti-gay hate crimes in our nation's history. I only knew that it was the first time I had heard and seen gay people mentioned so prominently on television. I also remember the newly out Ellen DeGeneres choking up at a vigil, but for me the news I was hearing -- especially the international reaction to Shepard's loss -- was too hard even to process.
Fifteen years on, few would disagree that Matthew's story became a catalyst for activists determined to stop violence against LGBT people. Judy Shepard herself, Matthew's mother, has become an outspoken and sought-after advocate, speaking around the globe in an effort to change hearts and minds. Numerous books and films, at least one play, and countless reports have been produced about Matthew's tragic death. Yet how long can someone's memory live on as new generations of LGBT youth come of age in a 21st-century world? And why should today's LGBT youth who suffer from bullying and violence -- particularly in rural America or in urban communities of color -- care about Matthew Shepard's legacy?
I didn't know Matthew Shepard personally, but I'd like to think that if I had, he and I would have been friends. Those close to Matthew Shepard have come to talk about the difference between "Matt," as his parents and loved ones knew him, and "Matthew Shepard," the name synonymous with the symbol he has become. The former is what filmmaker Michele Josue sought to portray in her debut feature-length documentary, Matt Shepard Is a Friend of Mine, which follows Josue (who was a close friend of Matt's) as she travels to pivotal locations in Shepard's life. As Josue interviews other friends and family members, we viewers gain insight into the beautiful life as well as the devastating loss of both "Matt" and "Matthew Shepard."
The new film will receive its world premiere on Friday, Oct. 4, on both coasts in a simultaneous, sea-to-shining-sea event hosted by the Washington National Cathedral in D.C. and the Mill Valley Film Festival in California. As part of a series of events to honor LGBT youth that weekend, the Cathedral's screening will include a post-screening discussion with Matthew's parents, Judy and Dennis Shepard.
We all know that Shepard's death did not end hate crimes against LGBT people. In September 2010, for example, 18-year-old Rutgers University freshman Tyler Clementi ended his own life after he was secretly broadcast via webcam while in an intimate act with another man and was intensely cyberbullied. Like Shepard's story, Clementi's was covered extensively by the news media, and the public's interest in how perpetrators of cyberbullying would be held accountable was highlighted by the ongoing attention paid to the criminal trial of Clementi's roommate.
Matthew and Tyler do have one important thing in common: They both had remarkable mothers who continue to carry forward their sons' legacies for the benefit of other LGBT youth. Both Judy Shepard and Jane Clementi will be on hand for a panel discussion at the Cathedral on Sunday, Oct. 6, hosted by Cathedral Dean Gary Hall. The moms will also be joined by Josh Deese, a University of Maryland sophomore and a member of the Trevor Project's Youth Advisory Council. Together with Dean Hall, the three panelists will discuss Matthew and Tyler's legacies, the organizations they work through, and the ways that people of faith can stand with the LGBT community and speak out against violence. Following the panel, that morning's 11:15 a.m. service of Holy Eucharist will include special prayers for LGBT youth and a sermon on the topic by Dean Hall. (Both events will be webcast live from the Cathedral's homepage.)
To me, though, equally important as honoring and remembering Shepard and Clementi is the simple fact that a nationally prominent house of worship is hosting such events. Who ever would have imagined that 15 years ago? Yet as Dean Hall has said, "For too long, LGBT people have been ostracized by or unwelcome in faith communities where the Bible has been used as a weapon. Washington National Cathedral is a house of prayer where all are welcome, and where all people can experience God's boundless love and grace."
The fact that God loves me in spite of my gay sexuality was something that I didn't understand as a high school senior when I heard the news of Shepard's death. So whether or not young LGBT people today have heard of Matthew Shepard, I hope and pray that they know that God loves them. And I pledge to continue to do my part to ensure that Shepard's legacy continues to be one that inspires our collective advocacy today on behalf of LGBT youth everywhere.
Check out the trailer for Matt Shepard Is a Friend of Mine:
To learn more about the screening of the film at the Washington National Cathedral, click here.
Related
Popular in the Community