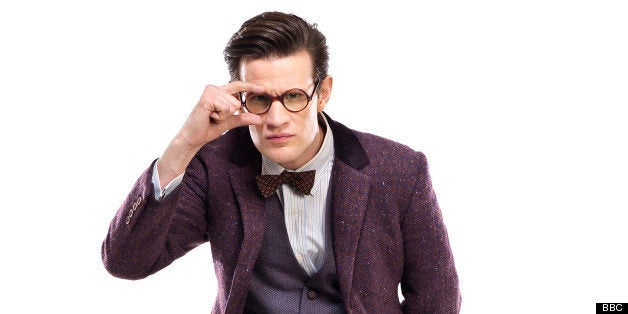 BBC announced Smith's departure will take place after he appears in the 50th anniversary and the 2013 Christmas special. Smith first stepped into the TARDIS in 2010. Steven Moffat, lead writer and executive producer on "Doctor Who," praised Smith's work on the long-running series.
"[G]reat actors always know when it's time for the curtain call, so this Christmas prepare for your hearts to break, as we say goodbye to number Eleven. Thank you Matt -- bow ties were never cooler," he said. "Of course, this isn't the end of the story, because now the search begins. Somewhere out there right now -- all unknowing, just going about their business -- is someone who's about to become the Doctor. A life is going to change, and 'Doctor Who' will be born all over again! After 50 years, that's still so exciting!"
Rumors of Smith's departure first surfaced in March. "I am very happy doing it. I go and I do the anniversary special, then I go away for a bit. Then I come back and I do the Christmas special. It's sort of one of those jobs that you have to take year by year really because it's 10 months a year. It's all-consuming so I don't think you can plan five, six years ahead or even two years ahead," Smith said on Jonathan Ross's show in March 2013. "At the moment, it's 2013 and we will see what 2014 holds."
Now, it's official. Smith said "Doctor Who" was "the most brilliant experience" thanks to the cast, crew and fans. "I'm incredibly grateful to all the cast and crew who work tirelessly every day, to realize all the elements of the show and deliver 'Doctor Who' to the audience. Many of them have become good friends and I'm incredibly proud of what we have achieved over the last four years.
"Having Steven Moffat as showrunner write such varied, funny, mind-bending and brilliant scripts has been one of the greatest and most rewarding challenges of my career," Smith continued in a statement. "It's been a privilege and a treat to work with Steven, he's a good friend and will continue to shape a brilliant world for the Doctor."
Smith praised the fans of "Doctor Who" for being "unlike any other" for their dedication to the series.
"Thank you so very much for supporting my incarnation of the Time Lord, number Eleven, who I might add is not done yet, I'm back for the 50th anniversary and the Christmas special!" he said. "t's been an honor to play this part, to follow the legacy of brilliant actors, and helm the TARDIS for a spell with 'the ginger, the nose and the impossible one'. But when ya gotta go, ya gotta go and Trenzalore calls. Thank you guys."
The "Doctor Who" 50th anniversary airs Saturday, November 23, 2013 on BBC America.