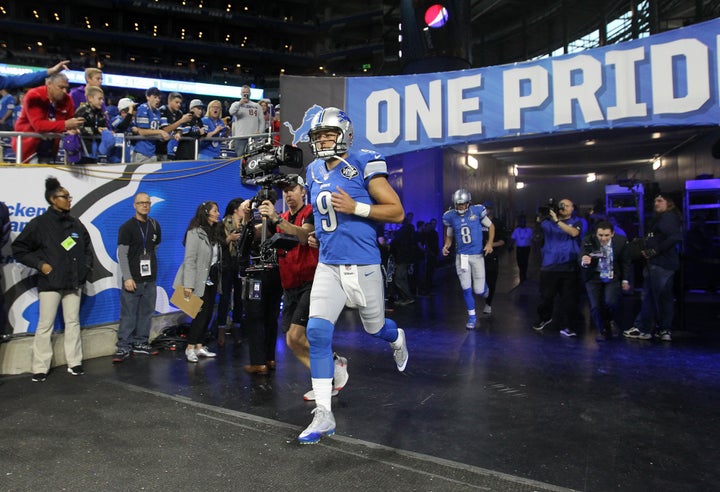 When the Detroit Lions selected Matthew Stafford first overall in the 2009 NFL Draft, they hoped the Georgia standout would win multiple MVPs and lead them to their first Super Bowl. None of that has happened yet, but Stafford, 28, has still proved to be nothing short of sensational. It's becoming more and more clear that he's a real contender for league MVP, a legitimate peer to marquee names like Tom Brady, Derek Carr and Matt Ryan.
To be sure, those three have accumulated better numbers (Brady on a per-game basis because he was suspended for four games). But Stafford ― who has been widely criticized in the past for errant, untimely turnovers and inconsistent play ― has become a model of consistency in his own right.
His five interceptions on the year easily put him on pace for the lowest clip of his career, while he maintains a healthy 7.37 yards per attempt ― more than Carr, Ben Roethlisberger or reigning MVP Cam Newton.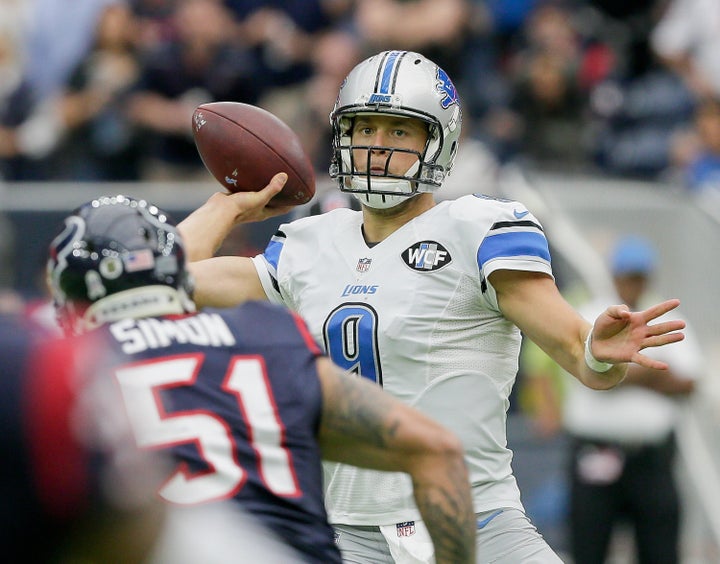 More important has been Stafford's clutch play for the upstart Lions, who at 7-4 sit atop the NFC North.
Having trimmed down to the best shape of his life, Stafford has mirrored division foe Aaron Rodgers with his rare ability to extend plays with his legs while angling his arm to execute even the most challenging throws.
This season, according to The Detroit News, 10 of Stafford's 27 runs have resulted in first downs ― including six conversions on third down and one on fourth down ― with eight of those first-down runs leading to points.
"I do think he's a weapon in that regard," Lions coach Jim Caldwell said after his team's Thanksgiving Day win over Minnesota. "He makes good decisions in that regard and those runs are very important."
Stafford was brilliant ― with his legs and arm ― during a crucial Week 7 comeback win over Washington, orchestrating a flawless six-play, 75-yard touchdown drive that culminated in a classic Stafford bullet pass to Anquan Boldin in the end zone.
In fact, No. 9 ― despite being protected by the NFL's second youngest offensive line ― has already tied the league's all-time record this season with seven game-winning drives in the fourth quarter or overtime. Additionally, Stafford is one of just four players, along with Brady, Carr and the Cowboys' Dak Prescott, to complete at least 65 percent of their passes with 18 or more touchdown passes and five or fewer interceptions.
Perhaps just as impressive is the fact that he's done it on the heels of superstar wide receiver Calvin Johnson's surprising retirement. Remember, Brady has All-World tight end and perennial All-Pro Rob Gronkowski, Prescott has perennial Pro Bowler Dez Bryant (not to mention Ezekiel Elliott and the best line in football) and Carr has the emerging star Amari Cooper, a Pro Bowler last year as a rookie. Stafford's leading receiver is fourth-year wideout Marvin Jones, who is, incidentally, on pace to shatter his career records.
Stafford, meanwhile, has done all of this without the hint of a running game (Detroit ranks 30th with a lamentable 81-yard per game average). We can talk about his career highs in both completion percentage and passer rating, but we also have to acknowledge his leadership qualities. Almost every great quarterback knows how to lead, but Stafford hasn't really gotten the credit he deserves in this area.
After a Week 9, 22-16 overtime victory in Minnesota ― another comeback, of course ― Lions center Travis Swanson couldn't help but gush over his under-center mate, telling ESPN, "We talked amongst ourselves that give Matt time, and he can make anything happen."
Tight end Eric Ebron expressed a similar sentiment. "Matt doesn't get intense, man," he said. "He stays calm. He stays collected."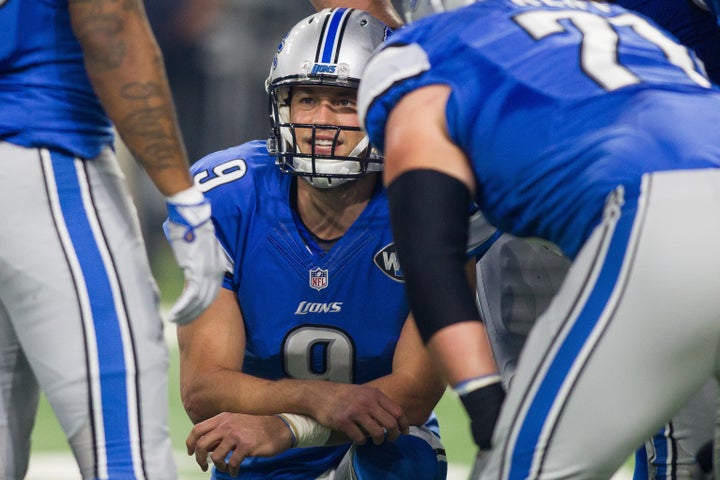 Indeed, if Stafford didn't know how to stay collected, he wouldn't have gotten this far. A quarterback is hardly responsible for his defense's output, but we can't deny what Stafford has overcome. According to Football Outsiders, the Lions have the worst DVOA metrics, an encompassing team defensive statistic.
Staying collected will serve Stafford and the Lions well as the NFC's playoff picture becomes clearer. The Lions haven't won a postseason game since 1991, but for the first time in a long time, they are in good hands.
"Matt is a bad man," standout defensive lineman Kerry Hyder said after the first comeback win over the Vikings. "I knew he was going to make it happen. He's our leader."
Popular in the Community