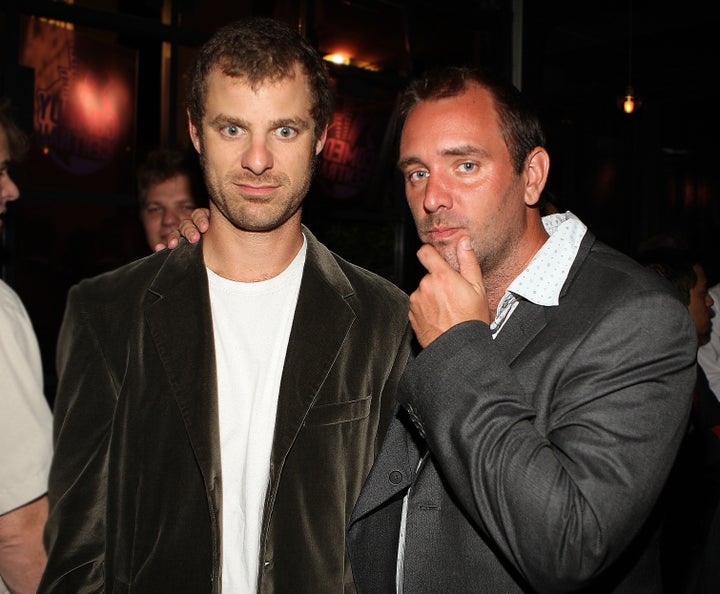 You're a freshman at NYU getting ready for that boring first day of class when Matt Stone and Trey Parker walk into the room -- no, it's not a dream, it's an episode of mtvU's "Stand In."
A bunch of freshmen are slumped in their seats when the duo appear, causing the room to erupt in disbelief. The class? "Storytelling Strategies." The gurus? The creators of "South Park," one of the sharpest, most deranged shows on television.
"Each individual scene has to work as a funny sketch," advises Parker. "If the words 'and then' belong between those beats, you're fucked. You want therefore or but."
The kids scribble notes frantically as he goes on. Whoever the class's regular professor is, he's going to have a lot to live up to -- or a semester's worth of real cred.
The clip comes from "Stand In," a show where both pop stars and Nobel Prize winners are sent to drop in on a college class to deliver their lessons. The episode featuring Stone and Parker will air on October 3. Previous guests on the show have varied vastly, and include Marilyn Manson, the president of Rwanda, John Legend, Malcolm Gladwell, Madonna, Bill Gates, Snoop Dogg and John McCain, among others.
Watch the clip at
.
Watch Marilyn Manson in his "Stand In" appearance:
Calling all HuffPost superfans!
Sign up for membership to become a founding member and help shape HuffPost's next chapter