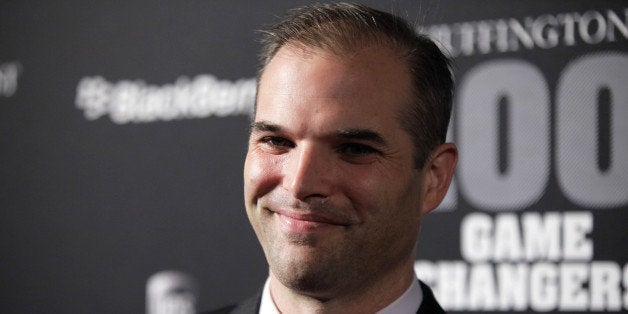 NEW YORK -- Journalist Matt Taibbi has left First Look Media, eight months after joining the billionaire-backed startup and before ever launching the digital publication he was hired to build.
First Look Media founder Pierre Omidyar announced Taibbi's exit in a Tuesday night statement and said that differences between the journalist and management were "never about editorial independence."
"We have never wavered from our pledge that journalistic content is for the journalists to decide, period," Omidyar said.
Taibbi declined to comment to The Huffington Post.
John Cook, editor-in-chief of The Intercept, the Omidyar-backed site co-founded by journalists Glenn Greenwald, Laura Poitras and Jeremy Scahill, defended his now-former colleague on Twitter after the official announcement. "What has happened is bad and dumb and needless and not matt taibbi's fault," he wrote.
It's not clear what specifically led to the departure, but the official news follows a Tuesday afternoon New York magazine report that Taibbi, a journalist best known for his adversarial coverage of finance and politics for Rolling Stone, was on leave from First Look.
Andrew Rice, who is working on a New York magazine feature about Omidyar, the billionaire founder of eBay and primary backer of the media venture, reported that there have been internal disputes and changes within the organization's structure. On Tuesday, he wrote that Omidyar and his close circle in Silicon Valley have now "exerted control over budgets and vacillated over the journalistic mission." He also reported that former newspaper editor John Temple, First Look's president of audience and products, has been given a job above editorial director Eric Bates, a former top Rolling Stone editor who is close with Taibbi.

Taibbi's exit only raises more questions about the mission of First Look, which already scaled back its publishing ambitions in July and has now lost a high-profile editor expected to oversee its second digital magazine.
While mission for the brand's first publication, The Intercept, seems clear, with a heavy focus on national security reporting and media criticism, the overall direction of First Look remains opaque a year after Omidyar expressed his desire to build a new media and technology company.
In an October 2013 interview with The Huffington Post, Omidyar pledged to spend around $250 million -- the amount Amazon chief Jeff Bezos paid for The Washington Post -- in launching what would later be called First Look.
The specifics weren't hashed out at the time, with Omidyar telling HuffPost that "at this point, we don't know yet how it's going to be organized." Omidyar also didn't know whether there would be one editor-in-chief to oversee all sections, and hadn't yet met in person with Greenwald, who had left the Guardian about 10 days earlier to start the new venture with him.
Months later, the editorial structure still appeared undetermined.
Bates, who joined in November, told HuffPost earlier this year that he still didn't have a title at the company. "We're all working very collaboratively now," Bates said. "We're not worried about titles or positions. There's so much work to be done and we'll be bringing so many talented people on board."
The plan in January was to launch a flagship general interest site and then several digital magazines built around specific coverage areas.
The Intercept, the first such digital magazine, was launched on Feb. 10 and featured new reporting on documents provided by former National Security Agency contractor Edwards Snowden. Just over a week later, Taibbi joined the company to "start his own publication focusing on financial and political corruption." Alex Pareene joined the Taibbi project from Salon in April as executive editor.
The Taibbi-led site was still incubating in July, when Omidyar announced that the company was scrapping plans for the flagship site, which had been a primary component of the editorial vision announced in early 2014. Omidyar also described Taibbi's project as a digital magazine "with a satirical approach to American politics and culture," which seemed like a departure from plans for a publication focused on "financial and political corruption."
Still, the Taibbi-led project kept growing, with Hairpin editor Edith Zimmerman and former MoveOn.org Cultural Director Laura Dawn joining in August.
In his Tuesday night statement, Omidyar said First Look would focus on "exploring next steps for the talented team that has worked to create Matt's publication." He said that management remains committed "to the First Look mission."
Disclosure: Pierre Omidyar is the founder of Honolulu's Civil Beat, which is partnered with The Huffington Post for HuffPost Hawaii.
Popular in the Community