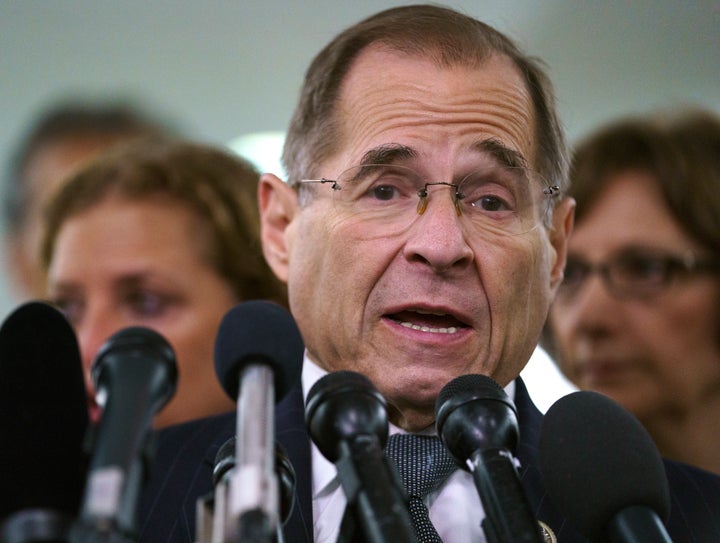 Rep. Jerry Nadler (N.Y.), the Democrat who is set to lead the House Judiciary Committee once the new Congress convenes next year, says he doesn't think the appointment of Matthew Whitaker as acting attorney general is legal.
"I don't think an attorney general can be appointed without the advice and consent of the Senate. His appointment is simply part of an attack on the [Russia] investigation by Robert Mueller, the special counsel," Nadler said Sunday on ABC's "This Week," adding that Whitaker's appointment is "part of a pattern of interference" and "attempted obstruction" by President Donald Trump.
Whitaker, who is now overseeing the Mueller investigation after Attorney General Jeff Sessions stepped down, has come under fire for expressing deeply critical views of the probe in the past. In 2017, Whitaker also argued that an American president had such broad executive power that the person could order any federal investigation be stopped without obstructing justice.
Some legal experts have questioned whether Whitaker's appointment is constitutional. John Yoo, a former Justice Department lawyer in the George W. Bush administration, for example, wrote last week that Whitaker cannot serve as acting attorney general because he was never confirmed by the Senate.
Whitaker, who is a former U.S. attorney, previously served as Sessions' chief of staff. He's been viewed with deep suspicion both inside and outside the department as being a Trump loyalist who was installed to curtail the Mueller probe.
On Sunday, top Democrats in the House and Senate sent a letter to the DOJ's chief ethics officer highlighting Whitaker's many negative comments about the Mueller probe and outlining reasons he should immediately recuse himself from overseeing it.
"The official supervising the Special Counsel investigation must be ― in both fact and appearance ― independent and impartial. Regrettably, Mr. Whitaker's statements indicate a clear bias against the investigation that would cause a reasonable person to question his impartiality," read the letter, which was signed by Senate Minority Leader Chuck Schumer (D-N.Y.), House Minority Leader Nancy Pelosi (D-Calif.) and other top Democrats.
Nadler, who also signed the letter, said Sunday on CNN's "State of the Union" that the Judiciary Committee's' "first witness" next year will be the acting attorney general. He added that the committee will issue a subpoena to make him appear before the panel and answer questions about the Mueller probe "if necessary."
Democrats are also looking to push for language protecting Mueller in a spending bill needed to keep the government open in the next few weeks. Republicans are confident Trump will not fire Mueller, and they believe such protections are unnecessary. Schumer stopped short of threatening a shutdown over the matter when asked about it on a separate CNN interview Sunday.
Support HuffPost
The Stakes Have Never Been Higher
Popular in the Community