"Girls don't read comics!"
"No one wants to see a female super hero!"
"Female superheroes won't sell unless they're sexy!"
Girls and comics: even with characters like Wonder Woman™, Supergirl™, Jessica Jones™, and Black Widow™, it's still a tough sell with some people; but that is something toy company Mattel®, and designers like twin brothers Darren and Garrett Sander are trying to change.
This year, Mattel and their team are bringing the girl power to Comic-Con™, with a major emphasis on the power. Among this year's exclusives are new Wonder Woman collectibles, including the much anticipated Barbie® Amazon Princess Wonder Woman doll; an 11-inch She-Ra™ action figure from the classic He-Man and Master of the Universe™ spin-off; two exclusives from the mega-popular Monster High® series, and the first Comic-Con exclusive for Katana™, from the newly launched DC Superhero Girls™ line.

When asked about their new She-Ra doll, Darren Sander said, "Words can't begin to describe how excited we were! We have been wanting to do one for a while now," He and Garrett were approached by the Mattel team, not only because of their expertise in the Fashion Doll category, but also because of their love of the character. "She represents honor and strength. Everything She-Ra does is to help others. That's a pretty noble way to live, and she is an excellent role model for kids; plus, she is a twin like us!"
The twins were given permission to create the She-Ra they would want. "The cartoon outfit is her most iconic look, so we knew we were going to replicate that. Of course, she would also need her Adora outfit so you could change her back and forth. The doll-inspired outfit was a want, as we both had the doll as kids and it's just totally 80s!" However, even with the freedom they were offered, they felt it was important to do the character justice. "She is an icon to many, and replicating her look was really important. We wanted to make sure she lived up to her name as the 'Most Powerful Woman in the Universe,' and gave her an all-new, more muscular, sculpt with 24 points of articulation."

As artists, the brothers have worked on many properties for Mattel. Most notably, Garrett is credited with the creation of the hugely popular Monster High franchise, while Darren was involved in the initial concepts for both Monster High, and its sister line Ever After High®. "As the creator of Monster High, Garrett has designed many of the characters like Clawdia Wolf™, Ghoulia Yelps™, Nathan Rot™, and Abbey Bominable™," Darren states. "He also designed the Comic-con Monster High exclusives, from Black and White Frankie Stein™, to this year's Robecca and Hexiciah Steam™."

Though some say that little girls don't play with super hero dolls, and that boys don't like female super heroes, Darren doesn't feel that way. "I can't speak for Mattel," he said, "but I do think society's perceptions are changing. Mattel has always been a leader in knowing kids, so it was a natural evolution for them to begin offering items that break those stereotypes."
When asked about how exclusives are chosen for events like Comic-Con, Darren explained, "It differs brand to brand. Sometimes we brainstorm ideas based on what the brand has planned for that year; can we tie into something else? Sometimes we take a look at characters who didn't work out for the main line, but would be excellent candidates for an exclusive." Once the character is chosen it can take nine to twelve months to go from the first rendering to the final product, depending on complexity. According to Darren, the process of creating a property like their new She-Ra doll involves a large, dedicated team. "It takes a village to make a toy," he laughed. "So while Garrett was the toy designer and I was the package designer for She-Ra, there was a ton of other people who helped make her possible, from sculpting, to face painting, to soft goods (clothes), to illustrators and marketing."
Darren went on to describe the process of creating the dolls. "For She-Ra, Garrett did a rough sketch of a body with articulation points and the sculptor began to digitally sculpt the figure, starting with her head. The first prototype body is a non-moving printed sculpt. Once we have that printed body, Garrett works with the soft goods team to start making patterns for the clothes using that body as a 'mannequin.' He selects fabrics and finishes and the pattern makers create a muslin (all white) sample of the outfits before creating ones made of the selected fabrics. This goes on until the articulated body, head, clothes and all accessories are to the designer's liking, and then the first prototype is ready! Once the prototype is approved, all info is sent to our overseas partners to start working on the molds and sourcing fabrics. Sometimes we end up having to choose different fabrics because some are no longer available. Once everything is locked, we get pre-production samples to look at and make comments on before the toy goes into production. The next sample we receive is the final production one!"
This year, Comic-Con will not only feature the Monster High exclusive of Robecca Steam with her father Hexiciah, but also a Frankie Stein, exclusive, designed by Natalie Villegas, that will tie-in the character to the much-anticipated Ghostbusters® reboot, because as Darren states, "Ghouls Rule!"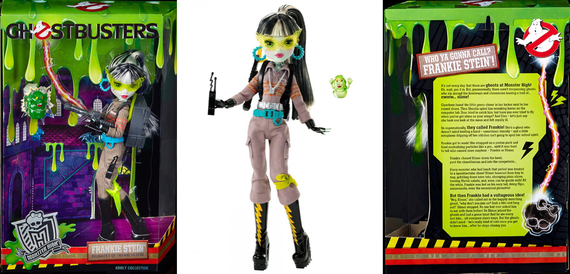 In a market that has traditionally been dominated by male-targeted adventure and action toys, it's not only refreshing to see Mattel shaking up the model by bringing their exciting new girl-power offerings to the forefront - it's game-changing.
Calling all HuffPost superfans!
Sign up for membership to become a founding member and help shape HuffPost's next chapter