Imagine a world where drones fly the skies -- but the drones aren't for warfare. Instead they're delivering packages, leapfrogging traditional infrastructure to create a world connected by tiny, nonviolent drones. In the U.S., such drones could replace the aging postal system; in developing countries, the drones could connect rural communities to markets, alleviating poverty and delivering badly needed supplies and medicines.
Imagine that world -- and imagine the woman trying to make it a reality.
That's Paola Santana, a former lawyer from the Dominican Republic, who founded the startup Matternet in 2011 with four other immigrant entrepreneurs. Her journey began when she got a scholarship to study with NASA and met three other scholars -- Andreas Raptopoulos, Dimitar Pachov and Darlene Damm. The four decided to try to bring about major change. For Santana, it was like starting from scratch.
"I'm talking to you about 2010, two years ago, 1.5 years ago, I didn't know this word entrepreneur, either in English or Spanish," she recently recalled. "I didn't understand what this word was talking about."
Santana and her co-founders got their first break at Singularity University, where they were challenged to "come up with an idea that could solve a big world problem, using technology that could have an impact on over one billion people in 10 years." They founded Matternet Inc. after developing the fundamental business concepts as part of a larger team, and received enthusiastic support from Ray Kurzweil and Peter Diamandis, both founders of the university."
Santana is now back in the Dominican Republic, working to launch the drones in her home country. She is also working with the neighboring country of Haiti, and said she has overseen several Matternet drone test flights there, including one over the half-destroyed presidential palace and one to a large post-earthquake refugee camp. "We delivered medicines and chocolate for kids," Santana said. "So they loved it."
Matternet's drones are small, electric quadcopters that use batteries to function. "We're aware of the constraints, but it serves well for us to cover mostly populated areas where drones should stop every 5 kilometers to drop off or pick up a package, and at that time change the battery on our landing stations," Santana said. Fuel is expensive in Haiti and the Dominican Republic; neither of the nations produce their own gasoline.
Matternet has been particularly well-received in developing countries. "The people who really get it are the people who really need it," Santana said.
A case study done by the Matternet team in Maseru, the capital city of Lesotho in southern Africa, showed that the entire 140-kilometer capital could be connected by a drone network for $900,000. "In contrast, the cost to build a 2 kilometer winding road is a million dollars," Santana said. For cash-poor countries with little infrastructure like Haiti and the Dominican Republic, the cost difference is crucial, and the infrastructure Matternet provides -- a whole network, rather than one road -- could be lifesaving, she added.
But the company has faced difficulties when it comes to aviation regulations. In the U.S., Matternet is waiting for the FAA to regulate commercial drone flights, an advance unlikely to happen until September 2015. In the Dominican Republic and Haiti, aviation authorities "have the capability to play more and be more free about what they do on the regulation side," Santana said. She added that her company is in the process of hammering out drone flight regulations with aviation authorities in the Dominican Republic.
For now, Santana said that she's focusing on starting small. "In the near future, we think we want to have small-scale operations in places where the needs are huge and the impact can also be huge." But, she says, Matternet could also be useful in the developed world, albeit for more trivial tasks. like finding your iPhone and sunglasses.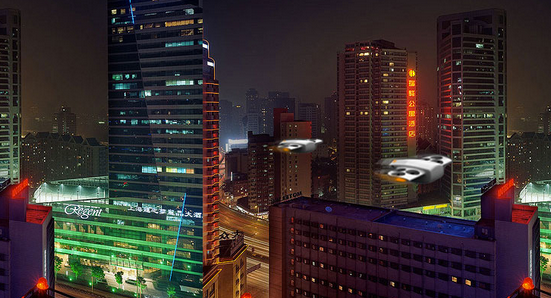 The Urban Wishlist
Related