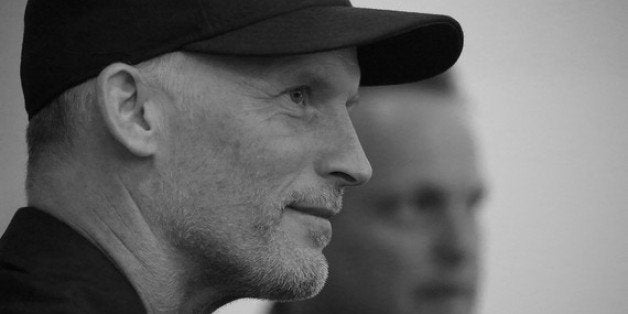 New York-based artist Matthew Barney was featured in a number of events in Los Angeles that I had the privilege to recently cover. Regen Projects in Hollywood presented on September 11, 2015, WATER CASTINGS: Fourteen Pieces, an exhibition of new work by Matthew Barney. Barney had his first solo gallery show at Regen Projects in 1991 and this marks the artist's fifth one-person exhibition at the gallery.
The show's seminal works are described as "The WATER CASTINGS are a group of cast bronze sculptures that evoke the mythological and material narratives of River of Fundament (2014), Barney's six hour operatic film. They continue Barney's recent shift away from his signature materials of thermal plastic and petroleum toward metals used both in early forms of sculpture-making and in automobile manufacture." As part of a fourteen-part series the work is inspired by the narrative central to River of Fundament: the Egyptian myth of Osiris, whose body was cut into fourteen pieces.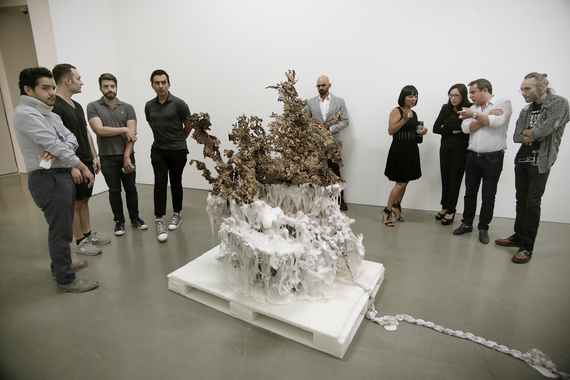 Regen Projects opening for Matthew Barney. Photo by EMS.

The abstract forms presented at Regen Projects and MOCA are the result of molten bronze poured into a pit of bentonite clay silt. "As the bronze comes into contact with moisture, the metal violently displaces the water and finds its way into the crevices between the pieces of clay, eventually hardening and resulting in unpredictable and abstract forms." On top of the water casting sculptures that filled the ground space within the rooms, Regen Projects also featured a suite of engravings on bronze with gold plating on the walls. "These drawings explore the sites and themes of River of Fundament, linking them to the narratives that arise from the casting process."
While six of the water casting sculptures are on view at Regen Projects, the remaining eight are exhibited at the Museum of Contemporary Art, Los Angeles (MOCA) in the exhibition "Matthew Barney: RIVER OF FUNDAMENT." This is Matthew Barney's first solo museum presentation in Los Angeles (September 13, 2015 - January 18, 2016). River of Fundament will screen regularly throughout the duration of the exhibition. MOCA proudly brings together approximately 85 works inspired or made in conjunction with the film, including large-scale sculptures weighing up to 25 tons, drawings, photographs, and vitrines
A lecture was also held with Matthew Barney, renowned dancer and choreographer William Forsythe, and author Maggie Nelson where they discussed the filming and artistic process of making large-scale projects.
Having the opportunity to get in up close with Barney at the Regen show and listen to him at the MOCA lecture, one can't help to notice his down to Earth charm and interest in other people. The fact that he tends to be mistaken for Richie Cunninham in happy Days, or more appropriately, filmmaker Ron Howard, ...or that he decided to wear all black at the Regen show insofar as wearing an Oakland Raiders hat reminded me of ex-Raiders coach and host of Monday Night Football, Jon Gruden. Howard, Gruden, and Barney...are all legends that drink from the fountain of youth, successful through charm, driven by obsession, never getting old.
As history and mythology permeate Barney's work through his films, motifs of sex, violence, and power continue to fascinate Barney, as in most filmmakers that are driven to produce films of epic and monumental scale. Since Barney's heralded five-part CREMASTER film cycle (1994-2002), RIVER OF FUNDAMENT brings another round of auspicious exhibitions in Los Angeles art history.
This article is part of an ongoing photojournalism survey of art exhibition openings titled EMS N(art)rative. Through my lens I document a photographic essay or visual "N(art)rative" that captures the happenings, personalities, collectors, gallerists, artists and the art itself; all elements that form the richly varied and textured fabric of the SoCal art world. This reconnaissance offers a unique view for serious art world players to obtain news and information on the current pulse of what's in the now, yet capturing timeless indelible images for posterity and legacy. Here is EMS N(art)rative Thirty.

Calling all HuffPost superfans!
Sign up for membership to become a founding member and help shape HuffPost's next chapter