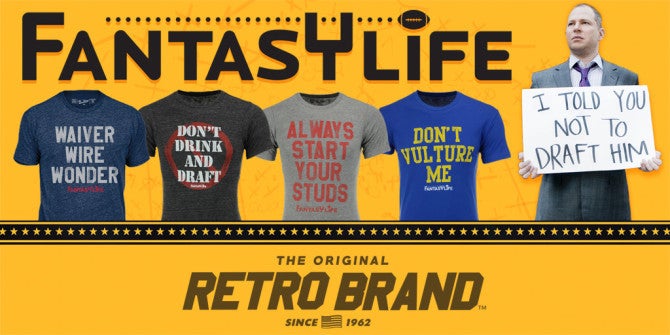 If you have a Dallas Cowboys fan in your life, there are plenty of gift options for you to choose from. If you have an Ezekiel Elliot fan in your life, there are just as many ideas to pursue. However, if your father, sister, or cousin is a die-hard Fantasy Football fan, your options simply don't exist. That is, until Matthew Berry, ESPN fantasy sports analyst and TV personality, noticed.
I had the privilege of speaking with Berry on how his idea for Fantasy Life t-shirts came about and why it makes the perfect stocking stuffer for the fantasy football fan in your life.
I know you're an entrepreneurial guy, but how did you decide to get into retail?
Two years ago, I went to a sports licensing show in Las Vegas to do a meet and greet. I was walking up and down the aisles and noticed that, if you're a fantasy football player, there's nothing you can buy. All these teams and players are represented, but nothing for the fantasy football player and there's nothing they can buy to show their love [for the game]. I thought it was an underserved market. As a fantasy player myself, I want something to wear to the draft and to the bar and give as gifts to my friends. Whether you play or not, everyone in America has someone in their life that plays fantasy football. You might not play, but everyone has a friend, coworker, husband, brother, sister, parent that plays and usually multiple people.
It's by players for players. I've dedicated my life to the game of fantasy, playing for over three decades and doing it professionally for almost two. It's very authentic and speaks to a passion. If you're looking for a gift idea, you want something that speaks to someone's passion that they might not buy for themselves. Here's something you can give to someone so they can enjoy that passion.
Earlier this year, we did a soft launch with LIDS as football season was starting. We had tested the market last year with a few online retailers mid-2015 season, testing some different subjects, before finally bringing the line to LIDS.
I've had a relationship with LIDS for a while. In 2015, I was a brand spokesperson for them. I knew, because of my previously relationship with them, that they understood the fantasy fan and they'd be a great partner to work with. It was an easy first-call and I was excited that they were excited.
Will there be more product lines?
Yes, I've partnered with a licensing agency and we have several product lines in the works. We've seen tremendous interest in the brand and the line and it's coming to a lot of products very soon. We're excited for Father's Day and the 2017 Football Season, and we'll be coming to multiple sports as well. People have really responded to it.
Is there anything else you want to say to your readers about the line?
I've dedicated my entire life to promoting and enjoying fantasy sports, specifically fantasy football. I'm its biggest cheerleader. For me, as much as I love the game, this is a natural progression and a way to enjoy the game we all love with a physical product. It's one thing to text back and forth, it's another to represent that and show your pride and the spirit and passion you have for fantasy. It's a way to display that and I think that's important because it just didn't exist before. Like I said, it's for players by players. I'm involved in every single aspect of it and everyone that works on the brand is a die-hard fantasy fan.
This interview has been edited and condensed.
Popular in the Community