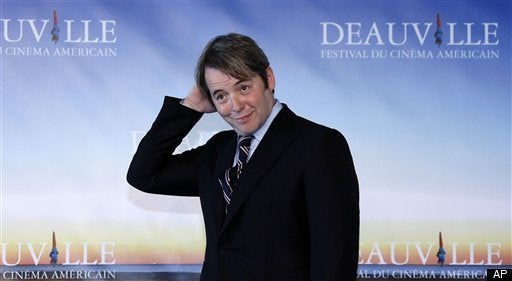 The following is the third in a series of celebrity roots profiles from the first season of NBC's Who Do You Think You Are? The previous profiles can be found here:
Matthew Broderick
Matthew Broderick found success at an early age with his memorable performance in Ferris Bueller's Day Off. His boyish good looks and unassuming manner make it easy to forget that he's been awarded two Tonys and starred in dozens of plays on Broadway and films ranging from The Producers to Godzilla to the Civil War drama Glory.
Matthew lives in New York with - wife, Sarah Jessica Parker, and their three children. Fatherhood sparked his interest in learning about his past. ''As you see your parents expressed in your children, it reminds you of them," he explained, and that inevitably leads you to wonder where "all these traits came from." Matthew was extremely close his father, James Joseph Broderick III, who was also an actor, but died in his fifties when Matthew was only twenty. This premature loss meant that Matthew was especially curious to explore his paternal ancestry. James Joseph Broderick III was best known as an actor, but Matthew had always admired his father's military service in World War II and wanted to see whether his bravery was something of a family trait.
A visit with his sister Janet, the unofficial family historian, revealed that their grandfather, James Joseph Broderick II, was also a veteran. Matthew never met his paternal grandfather, but Janet revealed that he served in World War I. In fact, she had heard that he was awarded a Purple Heart. This was news to Matthew, who had formulated an impression of his grandfather as "Joe the postman" based on family stories. Was his grandfather really awarded a Purple Heart, or was it just a family story?
Matthew went to the National Archives in New York to research his grandfather. Many twentieth-century military files were destroyed in a fire and the paper trail can be spotty, but Matthew was fortunate. Records showed that James Joseph Broderick II had joined the 102nd Infantry Division and saw action in France. Matthew was surprised to discover that his grandfather was part of the medical division. Intrigued by this, Matthew headed to the battlefields of northern France to find out more.
Consulting with military historians, Matthew discovered that his grandfather had been a combat medic. Not only was he tasked with administering first aid on the front lines and exposing himself to considerable danger, James Joseph Broderick II also had to make excruciating decisions about who could or couldn't be saved.
Matthew located the battleground where his grandfather's battalion had fought ninety-one years earlier during the Meuse-Argonne offensive, the largest battle that the American Expeditionary Force took part in during the First World War. Over a period of six weeks, from late September to November 1918, 26,000 Americans were killed and tens of thousands were wounded. At the end of the battle, of the 170 men in his grandfather's company, only 30 were left standing. Matthew's grandfather had survived, but hadn't escaped without injury. Documents showed that he was wounded in action and had indeed been awarded the Purple Heart. To Matthew's astonishment, he was also recommended for the Distinguished Service Cross for "giving first aid to the wounded under heavy shell and machine gun fire fearlessly and with absolute disregard for personal safety." Matthew reflected on his grandfather's courage. "It's like learning that there's something different in your being than you always thought," he said.
Next, Matthew turned his attention to Joe's wife, Mary Martindale. Matthew headed to Connecticut, where she was born, to see if he could find out anything about her elusive ancestors. At the State Archives in Hartford, he discovered that Mary had been put into an orphanage after the tragic death of her father, William Martindale, in a railroad accident. Matthew now wanted to uncover more about her father. Using census records, he followed William back through the decades, discovering that his parents were Robert and Charlotte Martindale. But by 1870 Robert had vanished.
Assisted by archivist Mel Smith, Matthew followed a hunch of yet another military link in the family and discovered enlistment papers dated August 1862 for his great-great-grandfather. Robert Martindale had been with the 20th Connecticut Infantry in the Civil War. Muster rolls revealed that he had fought at Gettysburg, a major battle of the war that resulted in more than fifty thousand casualties. Despite the high death toll, by the battle's end, the Union Army had thrown back the Confederate invasion of the North.
Matthew realized that he had unknowingly replicated aspects of his ancestor's Civil War experience in his portrayal of a Union soldier in the Civil War epic Glory. By coincidence, his character was also called Robert, and from a New England regiment. But Robert Martindale's story wasn't quite over. Muster rolls showed that after Gettysburg, he had marched south to Atlanta and fought on the skirmish line there.
In Atlanta, Matthew learned of Robert's fate. On July 23, 1864, Robert was killed by a musket ball to the head. Guided to the train tracks where the skirmish line once was and where Robert was hastily buried, Matthew reverently gathered a couple of stones to help preserve the memory. But there was one last chapter to Robert's story.
Soldiers buried in this makeshift grave had been exhumed and reburied at the Marietta National Cemetery, but no tombstone was recorded for Robert. Matthew met with historian Brad Quinlan, who has made it his mission to identify the burial plots of the more than three thousand unknown graves in the cemetery. He had already tackled the 20th Connecticut to which Robert belonged, but had a single grave left to assign. Through a process of elimination, he was now able to designate stone 2469 in Section D to Robert Martindale, Matthew's great great-grandfather.
Matthew's efforts to trace his family history unearthed a legacy of quiet heroes. "These sacrifices that my family made make me more than ever want to take advantage of the life they made possible for me and I'm very proud of them," Matthew reflected. "I hope they passed some of that strength and bravery on to me and my children."
Popular in the Community