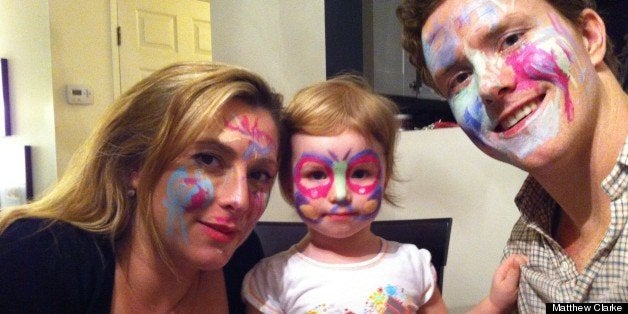 Though Clarke is now a dad of two -- Coco and her newborn sibling Shepherd -- Milchard is childfree. But that doesn't stop the actor from transforming into a fantastically funny toddler, with a tiny pink barrette in episode 1 (which involves princess games) and very little clothing in episode 2 (which is about bedtime, a.k.a. the time when toddlers take off their pajamas and force you to read 22 additional storybooks). Scroll down to watch both ad nauseum. Clarke and his wife, Leila Harrison, who are also actors and have a band together, play themselves -- as does little Coco, who has made two brilliant cameo appearances so far.
HuffPost Parents spoke to Clarke about the genesis of his viral idea, Coco's actual bedtime shenanigans and his plans for -- huzzah! -- future clips.
Have you been shocked by the response to these videos?
I was totally blown away. I've been doing things like making shorts or plays or music albums for like 15 years, and nothing is really like it -- this quick acceptance and excitement over something. When we put the first one up, I sent it to David, who plays my daughter, and said, "The video is online. Maybe we'll get a hundred hits." I honestly was hoping for a thousand hits within a couple weeks. I thought maybe we'd slowly build something.
Why do you think it exploded?
I have been thinking about that because [going viral] seems like something that is so unpredictable. But it's really probably quite perfect for the medium. It's concise. A simple but clear concept. It doesn't take a lot of investment to understand what's going on.
It's really a perfect way to represent what life with a toddler is like. How did you come up with the idea?
I forget the exact conversation. A few months ago I was talking to my daughter, and I stepped outside it for a second and thought, If she was 3 feet taller, this would be completely unacceptable.
I think, like I think most parents think, that my daughter's hilarious. Daily, she'll say something or do something funny on its own, and I'm drawn to situations in different contexts that can be very funny. And so I thought about having a grown man say these things and I thought, There's some comedy in that.
So I started recording the conversations after they would happen. There was this wealth of material.
Did that help you deal with the more frustrating moments of having a toddler? Recording them for a project?
I find the most frustrating things [with my daughter] are always trying to convince her to listen to me.
But I haven't written many of those yet. I haven't quite found the humor in them yet. And even when the situation is frustrating, after a couple moments or a couple deep breaths, I can find the humor and realize she is just 2. She is not being malicious or ill-intentioned. My wife and I already try to operate like that as a parenting style. Trying not to get too frustrated by it.
What does your wife think about all this?
She's equally in shock, and we're both excited that it's something that we're involved in together. The family is very important to me. I just miss them when I'm away.
What are some of the situations that are always funny with a 2-year-old?
Bath time is usually pretty funny. Playtime is always hilarious. They're just like pure imagination. As a writer I'm kind of jealous a little bit of her. She'll come up with something completely nonsensical. Like we're taking the pirate ship to the disco -- with no segue.
What's the best part of having a toddler?
When my wife was pregnant with Coco, someone said having kids is great because the only way to change them is to change yourself. It struck me, but I couldn't quite register it. Now as she is growing, every day I see that clearer and clearer. I see so much of myself in her, from her smile to her sense of humor to her temper. In a way they're like having a mirror -- a great opportunity to see yourself and take a real honest look.
And the worst part of having a toddler?
Ah, yes. What is Coco's bedtime routine?
It's usually a lot of convincing on our end of getting everything done. I mean, she's getting really good now. But it's the bath, brush your teeth, argue about how many stories she gets, argue about the snack, give in and go to sleep….

Personally, I spend a lot of time lying on my toddler's floor at bedtime.
Coco has specific requests for how to rub her back -- a circular rub or more of a tickle of the arm. She is also very picky about what song she wants to hear. [She likes] "All the Wild Horses" by Ray Lamontagne, "Someone Like You" by Adele, and "Wheels on the Bus." Those three are always winners. I feel like an all-request weekend radio station.
Yeah, I suppose we've created our own demise.
And they are not particularly concerned with our feelings.
Toddlers are the center of their own universe. Their brains are just different than a grown-up's, and that's what's so magical about them. And I guess why this concept is so ripe for comedy.
So will you show the videos to Coco?
Oh yeah. She loves them. She wants to watch them over and over again. Like [she] goes to the computer and says, "I want to see the movie." I just hope she laughs at them when she's older and feels the perfect blend of pride and embarrassment.
And the question on everyone's mind. What's the plan for future episodes?
We made the first two and we're shooting more now. Right now we're on track to make about eight. That was kind of my original vision for it. But I'm still quite open to seeing what the path holds. I think there's potential beyond that, but in what form I think still remains to be seen. None of us are interested in just repeating the same joke over and over.
Honestly I'm not sure what the next episode will be yet. We've got a couple in the works, so we're going to see how everything shapes up and what feels right.
Bath time is definitely on the docket!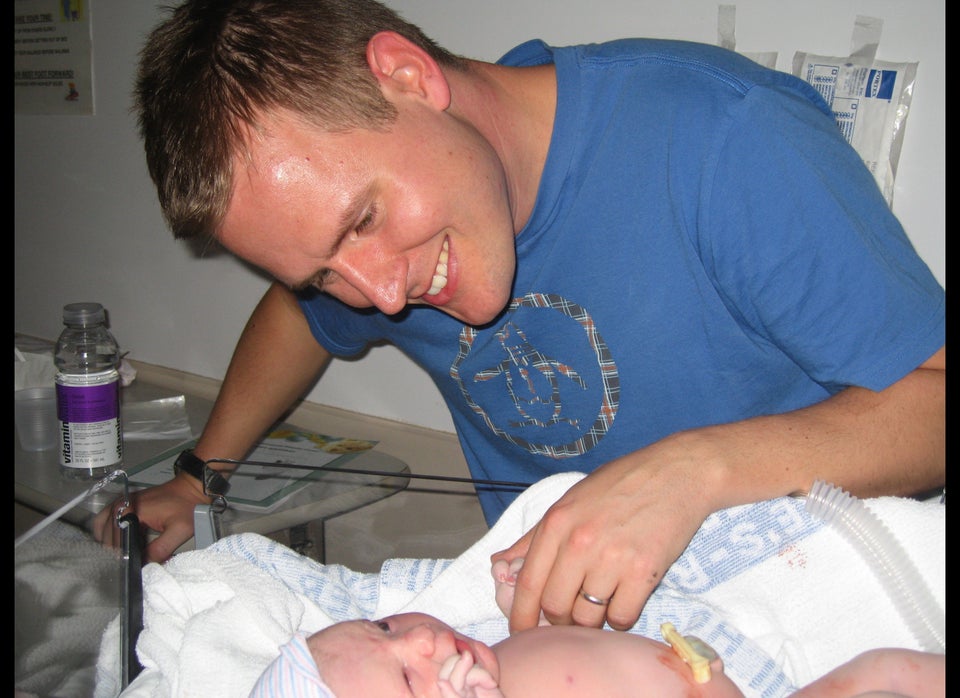 First Photos Of Dads And Babies