"We see ourselves in order to exist," states the narrator-host, in Matthew Day Jackson's new video In Search Of, a 30-minute mock TV show, modeled after the 1970's series In Search Of, hosted by Leonard Nimoy. "But what do these images prove about our existence?"
Rather answer this question, Jackson, whose dual-gallery Manhattan solo show remains on view at Peter Blum Chelsea on 526 West 29th Street and Peter Blum SoHo at 99 Wooster Street through November 13th, offers an exquisitely dry send-up of contemporary culture.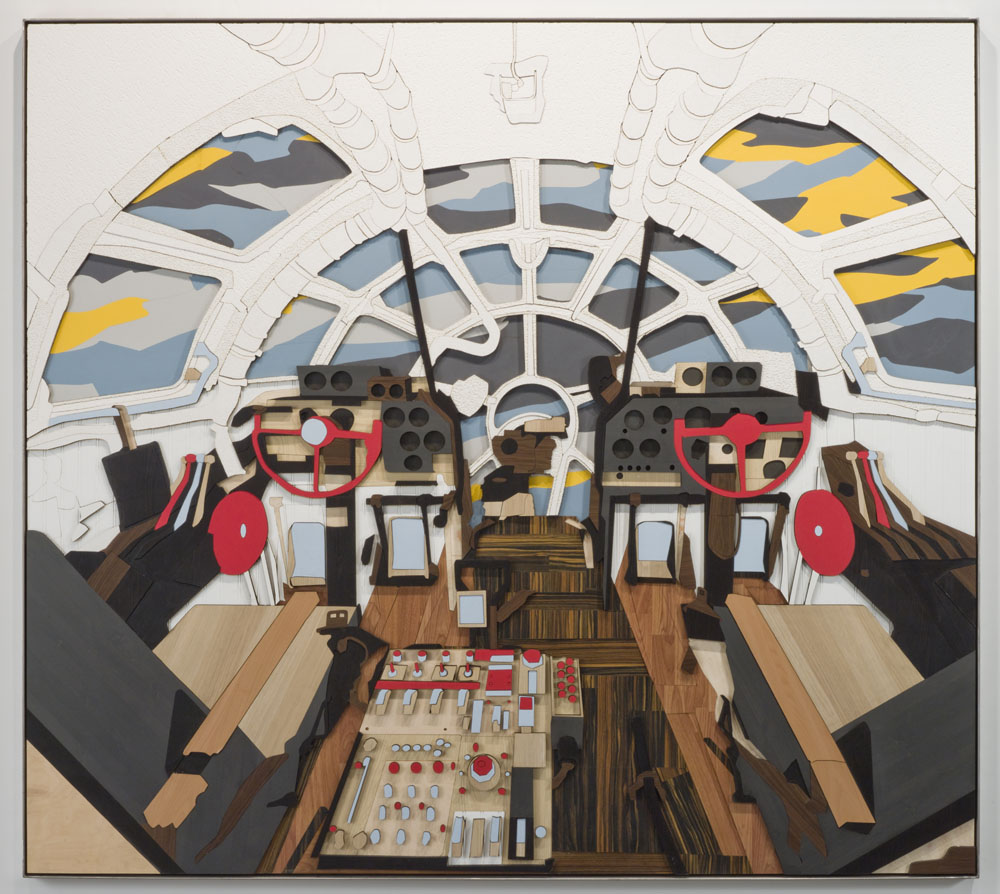 A series of tightly choreographed story segments, combining Twilight Zone-like subjects with a Stephen Colbert-style mélange of fact and fiction, the video (on view in the Chelsea space only) offers an ideal point of departure for Jackson's most recent body of work.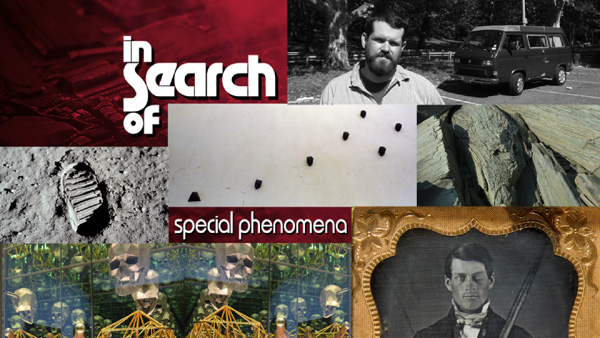 During an interview at his temporary studio in Gowanus, Brooklyn, Jackson, 36, described his version of In Search Of as "an absolutely honest attempt at making comedy," adding that he and his collaborators "went to an insane measure, to give a feeling that we're not putting one over on you."
Which, of course, they are.
Among the video's many deadpan highlights are the discovery of human and animal forms allegedly drawn with a pen by "a bored scientist" on the historic 1967 negatives depicting the first color images of Earth from outer space. ("There's a picture of me and my dog in there," Jackson laughed).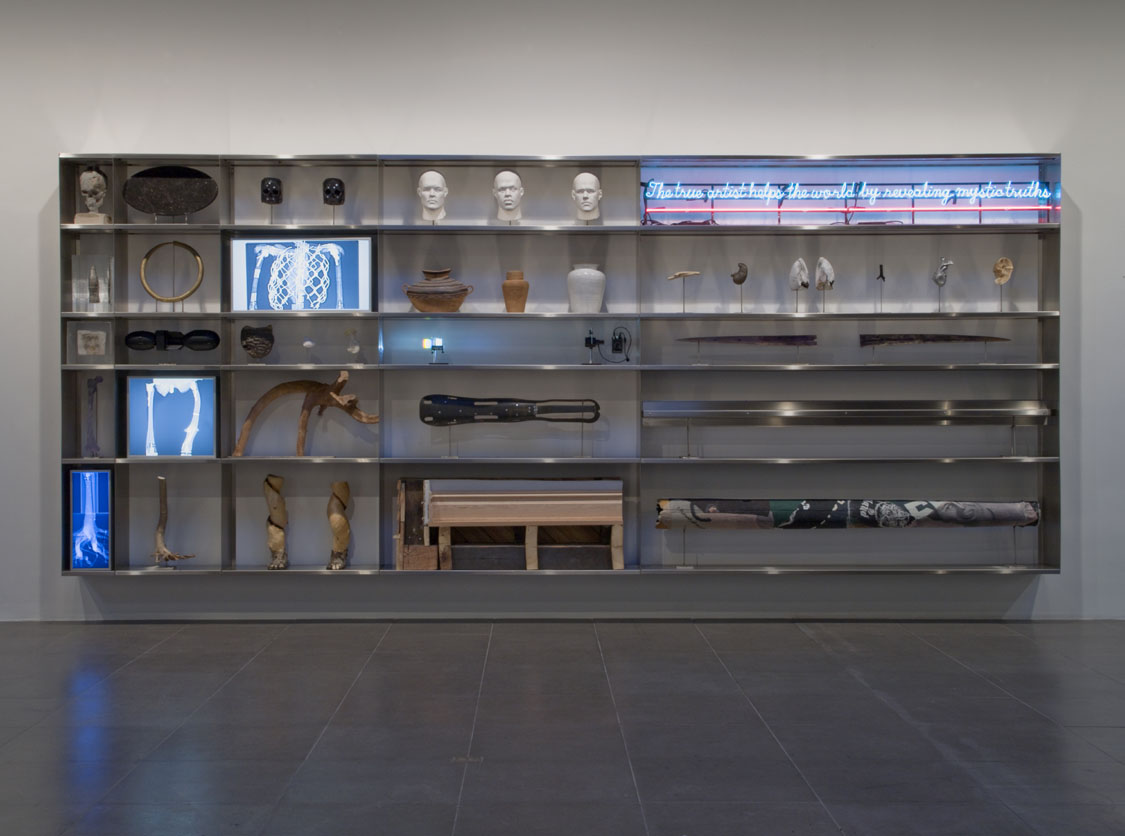 Equally clever is the so-called discovery of the Eidolon collection, confirming the existence of a lost ancient civilization, based on anachronistic artifacts exhibited in a fictitious gallery of the Met, known as "the Michael C. Rockefeller" room.
More eerie, however, is Jackson's fabrication of his own disappearance, presented by In Search Of's narrator-host, David Tompkins--Jackson's close friend--who also helped write the script.
Documented by photographs of an ersatz crime scene, the segment explains how Jackson's ransacked Volkswagen van was found, "after being parked for weeks," with many of its contents removed. Having allegedly run tests on decomposing food and other personal effects, the police then noted the discovery of a black box was filled with mysterious-looking photographs.
Shot during the artists so called "bummer tour," most of the photographs depicted sites considered "open sores" in our nation's history--i.e., the Trinity site, in New Mexico where the first atomic bomb was tested, and the South Dakota site of the Wounded Knee Massacre. Several of photos also revealed uncanny portraits of so-called supernatural "disturbances."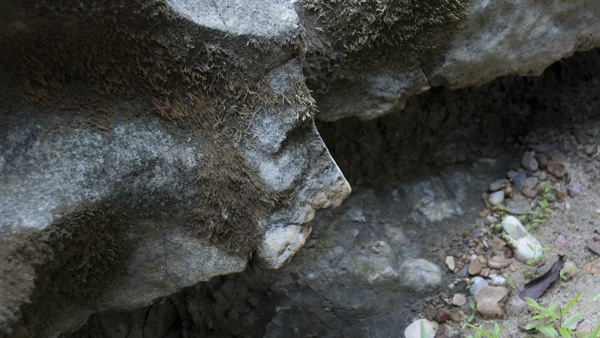 "We tried to really hard to make it look like a TV show that might play on say, the Mystery channel," said Jackson, who has a bushy beard, and sports a baseball cap bearing the words, "Martial art and supply friendship center."
Segments in the video correspond to wall pieces, sculpture and other props in the Chelsea show. Jackson's disappearance, for example, is mock-u-mented on a surprisingly convincing facsimile of a front page of The New York Times, which is offered at the front desk as a free handout.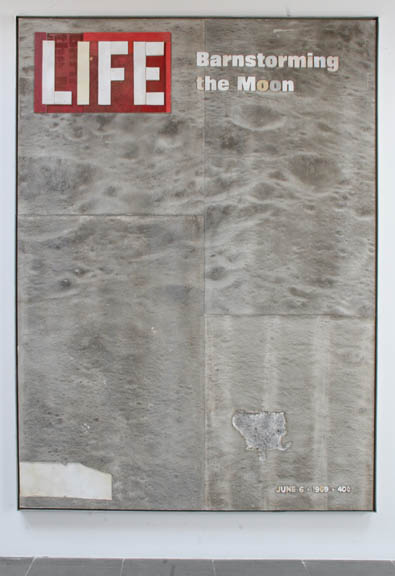 The footage depicting Earth from space relates, however loosely, to the wall relief, June 6, 1969 (2010). And the Eidolon find, corresponds to an elaborate wall of shelves, Study Collection VI, displaying real life examples of alleged artifacts, including an artisanal Coke bottle, and an "affectionate" reference to Bruce Nauman's spiraling neon dictum, "A true artist helps the world by revealing mystic truths."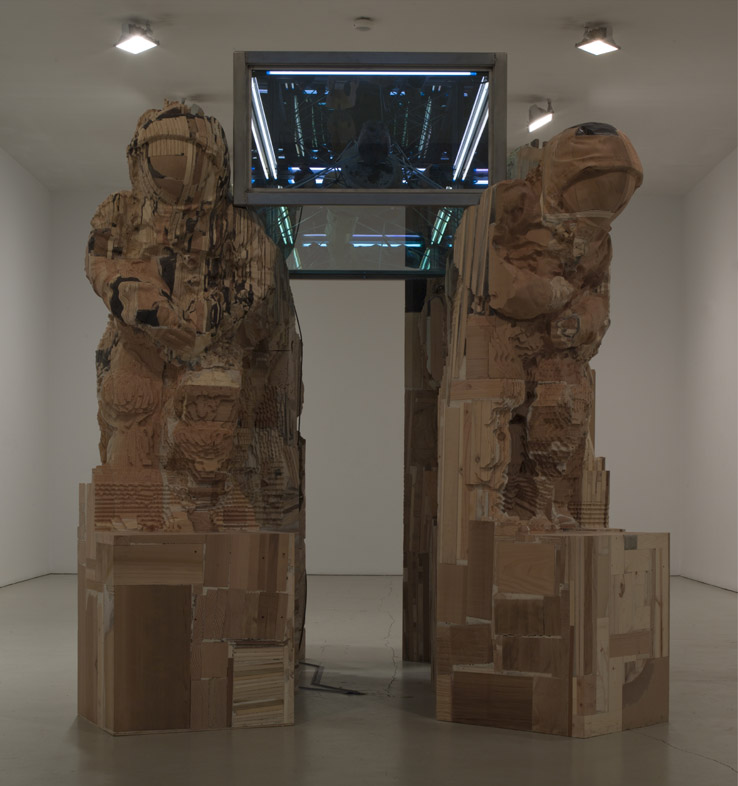 At the SoHo gallery, The Tomb (2010), a large-scale free installation, features eight astronauts, carved from blocks of compressed wood and plastic, lugging a boxed skeletal reproduction of Jackson's own body on their shoulders. The work refers to The Tomb of Philippe Pot, in which eight hooded monks, carry Pot's effigy, which Jackson said he saw at the Musee du Louvre. The link between past and present, also includes a more recent swipe at the 1980's television series Greatest American Hero, according to Jackson, who performed on the spot, his own rendition of the show's theme song, "I'm Walking on Air."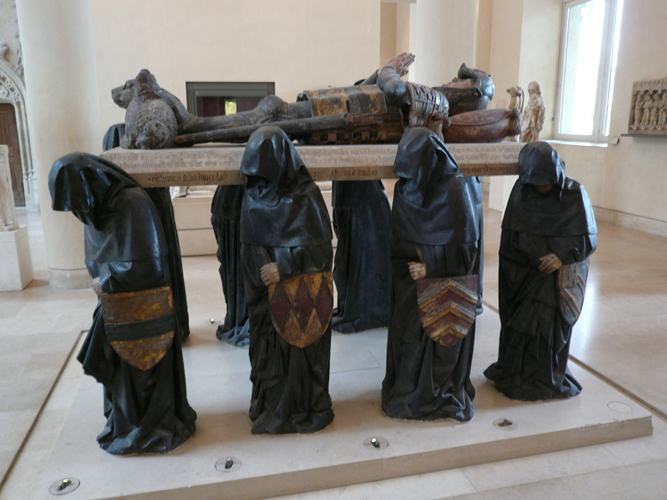 Jackson said he considers Joseph Beuys, Bruce Nauman, Yves Klein, Nancy Rubins, and Agnes Martin, "in a weird way," as his artistic mentors. But his work also contains traces of a younger generation of artists, including Ashley Bickerton, Mark Dion, and Matthew Barney.
And in keeping with Barney in particular, Jackson appears to take a certain pleasure in madcap physical feats.
Chariot II--I Like America and America Likes Me (2010), for example, on view in Chelsea, marks a recent trajectory in Jackson's work.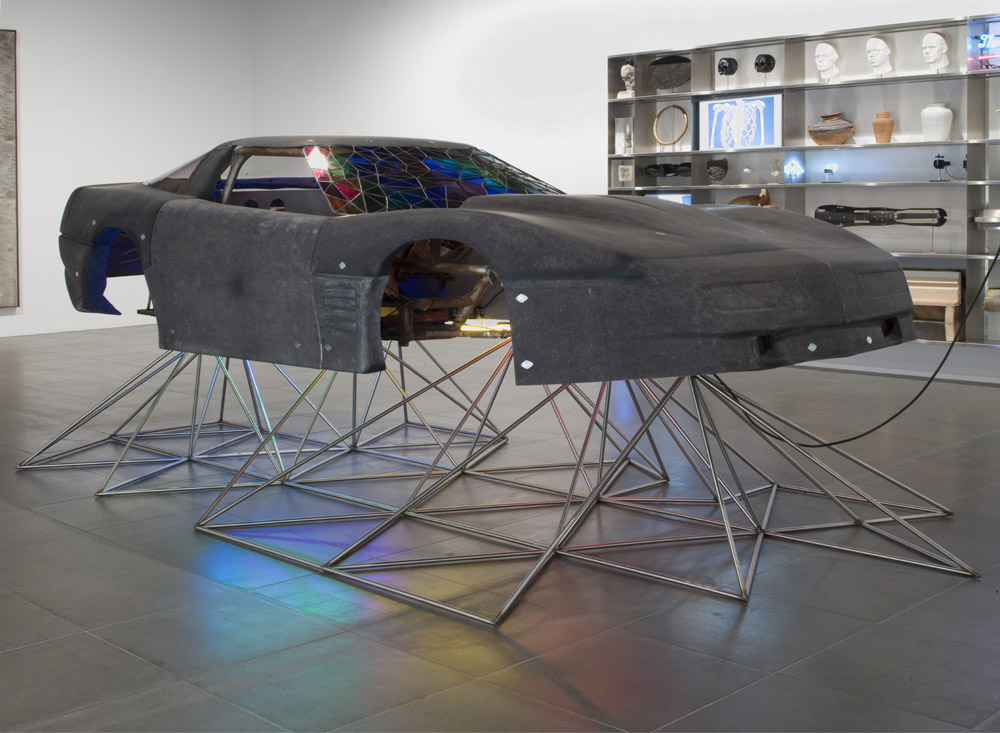 Having already earned his drag-racing license from Frank Hawley's Drag Racing School in Gainesville, FL, Jackson intends to build an actual racing car. If all goes according to plan, he said, the chassis will be built by McKinney Corp, based in Lafayette, Indiana; the motor will overseen by Keith Black, a famous engine maker in the racing world. Sometime next year, Jackson said, he expects to throw the car on a trailer, and "drag it down to local racing events."
Although Jackson believes drag racing represents "a fascinating cross-section of American culture," he confessed he's less interested in competition, per se, than in "public displays of faith, when you have something to lose."
"In order to race," he explained, "one has to push a machine as fast as it will go, while simultaneously maintaining control." Meanwhile, the machine in question--a car--is the result of hundreds of peoples' work, arguably. To operate such a thing at its highest level is to have a certain amount of faith in the people who made it. After all, said Jackson, "if the thing falls apart when its going really fast, I could really get hurt."
Jackson paused, as if to take this in.
"I'm going to race it for one season," he said. "And if I crash, then the sculpture's complete, and we show it."
Enola Gay, 2010
Ikea furniture, ceiling tile, wainscoting, laminate, stainless steel frame
97 x 108 x 3 in (246.38 x 274.32 x 7.62 cm)
Film still: In Search Of..., 2010
Blu-ray DVD
30 minutes, loop

Study Collection VI, 2010
Stainless steel shelves, plaster, glass, brass, lightboxes, digitally printed x-rays, neon tubes and steel frame, Eames leg brace, trinitite, Lucite
96 x 228 x 12 in (243.84 x 579.12 x 30.48 cm)
Film still: In Search Of..., 2010
Blu-ray DVD
30 minutes, loop
June 6, 1969, 2010
Gypsum board, found wood, lead, stainless steel frame
121 x 93 x 3 in (307.34 x 236.22 x 7.62 cm)
The Tomb, 2010
Wood, plastic resin, stainless steel, tow-way glass, neon tubes
126 1/2 x 94 x 124 in (321.31 x 238.76 x 314.96 cm)

Chariot II -I like America and America Likes Me, 2008-2010
Car frame, steel, wool felt, leather, stained glass, fluorescent light tubes, solar panel, fiberglass, and plastic
68 x 91 x 193 x in (172.72 x 231.14 x 490 cm)
All photos courtesy Peter Blum Gallery
Related
Popular in the Community