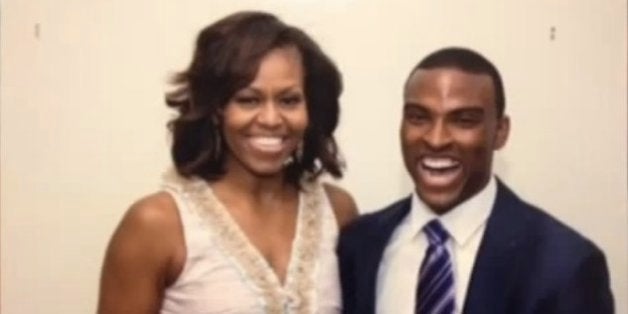 You have done something courageous​. And I want to take this opportunity to publicly thank you for it and offer you some words of encouragement as you carry­out your undergraduate career at an HBCU.
I was 14 years old when my grandfather said to me, "I will take my shotgun and shoot you dead if you gay. We don't have that in this family." While I don't know the details of your personal journey, I can relate to your experience.
Like yourself, I was raised in a black household, in a black neighborhood, and attended a black church. Like yourself, I was "taught" to be (with emphasis) a "Man." Like yourself, I was raised not to pursue or do anything that "threatened" or might cause someone to question my masculinity. Like yourself, my experience at my HBCU was bittersweet.
You are right. Being gay isn't nearly as accepted amongst the black community as it is in other communities. To be quite frank, I am certain, that for the majority of black men, "coming out" is an extremely hard thing to do. It is stigmatized as the worst thing a black man can be. I know that to be false. In fact, it is one of the most respectable acts he can do in the face of such cultural, social and religious adversity. And it should be honored as such.
Thank you for your courage.
On October 28, 2013, I "came out" publicly to my university (and the world) after filing a sexual discrimination complaint against the Morgan State University Alpha Iota Chapter of Kappa Alpha Psi Fraternity Inc.
For some time, I feared this experience would negatively define who I was as a student, as a person, as a man. The public backlash was nearly unbearable. The threats and harassment I received scared me. That semester I failed three classes, losing my honors status and delaying graduation (which at the time was a really big deal to my family and me).
By early December, I found myself sitting in a counselor's office (thank God for Dr. Piper) emotionally and physically -- having lost 15 pounds after falling into depression -- a wreck. Luckily, I had an amazing support system. From the university president to professors and student­ life staff across the campus, my family and close friends, what I considered my worst achievement became my greatest success.
My #HBCUExperience was one of the best things to ever happen to me​.
Choosing to grow from my experience with the Alpha Iota Chapter afforded me the opportunity to live an amazing and more fulfilling life. The moment I owned my truth (where I simply acknowledge it before), my life changed for the better. I have since studied abroad and traveled to 12 countries and over 16 cities around the world. I have left an amazing legacy at my HBCU both as student leader and as an advocate for the LGBTQ community.
My matriculation at Morgan State University afforded me the opportunity to do incredible things, like work at the White House for First Lady Michelle Obama, study abroad twice, and further my education towards a Master's Degree. I can say with confidence, that I am where I am in life, largely due to my experience at an HBCU.
Like yourself, the fear I placed on being gay at my HBCU was (in­-part) all in my head. While I may have encountered a horrible experience, it didn't define who I was. Instead, it strengthened my integrity, helped define my professional interest to pursue a career in public service, and afforded me a platform to inspire and change lives throughout the world.
While I would like say that you or any other student at an HBCU may not encounter a similar experience as I did at Morgan, sadly that is not the case. Acts of discrimination, invalidation and negative indignities based on a person's perceived or identified sexual orientation and or gender expression happen way too often on HBCU campuses across the country.
According to Campus Pride writer Dan Waxman, "The current climate for LGBTQ students at HBCUs is not ideal." According to the Campus Pride Index in 2012, "Currently, of the 106 HBCUs, only 21 perent have active LGBTQ-­specific organizations. Only three HBCUs have gender identity/expression in their nondiscrimination statement."
Your experience of having no form of a LGBTQ organization and not finding openly gay men on campus is a common theme amongst HBCUs. To be truthful, one might suggest that the state of LGBTQ issues and awareness at HBCUs is similar to where it was at all colleges in the '70s and '80s ­ when it was secretive at best but more likely shunned or penalized.
The deeply held cultural, social and religious pressures can be attributed to why black LGBTQ students at HBCUs fear of coming out. As Sharon Lettman­-Hicks, executive director and chief officer for the National Black Justice Coalition (NJBC), stated in her keynote address at the 2014 HBCU Student Success Summit, "Black LGBT are Black people, too ... But within Black spaces, they are often regulated to second­ class citizenry."
The necessity for your HBCU and HBCUs across the country to do a better job in meeting the needs of LGBTQ students as well as creating not just a "diverse" but inclusive culture is imperative, and can perhaps be lifesaving. How did it change in the '70s and '80s? One person at a time, standing up to be a good example.
Matthew, I want to personally tell you, If you face any form of discrimination, it is absolutely okay for you to #SpeakOut and #SpeakUp. Your speaking out will empower other students to share their stories and strengthen the message that discrimination against LGBTQ students on HBCU campuses across the country is not okay. It's never okay.
In a society that profits from your self-doubt, knowing who you are is a revolutionary act. In a culture that often tells you you can be anything except who you really are, living your truth is a revolutionary act. Attending an HBCU created for you -- to encourage your intellectual existence -- and who may not understand you, showing them is a revolutionary act.
Matthew, thank you for being revolutionary.​ Whether you believe it or not, your decision to own and share your truth has already inspired someone else to do the same.
If you ever need support, feel free to reach out to me.
P.S. I recently spoke to some students at Hampton about the unwelcoming culture and difficulty in getting the LGBTQ organization MOSAIC off the ground. As the 2015 National HBCU Week Conference comes to an end, I hope conversations on how HBCUs can provide resources and support to their [most marginalized] LGBTQ students were held -- especially in a time when the national acceptance of the LGBT community is becoming more and more normalized.
I am proud to say with the commitment from President David Wilson, the Morgan State University's LGBTQA Advisory Council has done some revolutionary things to improve the campus climate for LGBTQ students within the last two years. I hope this gives you hope that your HBCU, will one day too, become revolutionary in regards to inclusion efforts towards the LGBTQ community.
Calling all HuffPost superfans!
Sign up for membership to become a founding member and help shape HuffPost's next chapter