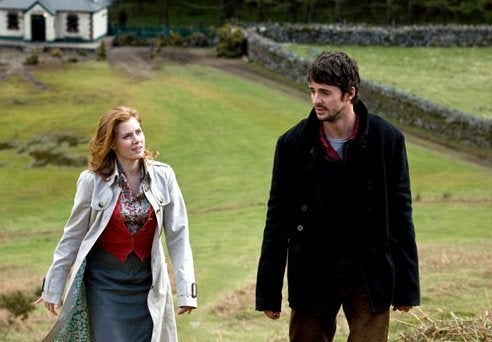 One of his 2009 movies earned its lead actor an Oscar nod, but Matthew Goode thinks his 'turgid' rom-com 'Leap Year' deserves a different distinction: the worst.
Goode told the paper he knew the script of the Amy Adams flick was awful going in but isn't above taking an easy paycheck with a convenient shooting location.
"That was the main reason I took it - so that I could come home at the weekends," he said. "It wasn't because of the script, trust me. I was told it was going to be like The Quiet Man with a Vaughan Williams soundtrack, but in the end it turned out to have pop music all over it. A bit like Chasing Liberty again. Do I feel I let myself down? No. Was it a bad job? Yes, it was. But, you know, I had a nice time and I got paid."
He lives in England, a short flight from the Dublin set, with his girlfriend Sophie Dymoke and their ten-month-old daughter--though his onscreen sexual flexibility has courted some speculation about his sexual orientation.
In 'A Single Man' Goode plays Colin Firth's lover, who gets killed in a car accident in the opening scene and later appears with Firth in flashbacks. Goode admits he first found the movie's script "a little banal" but thinks the finished film is "brilliant." Goode also played a coyly bisexual character in 2008's 'Brideshead Revisited' and a gay antagonist in 'Watchmen' last year.
After 'Watchmen' his American agent urged him to move to the US, but Goode seems to be more inclined to take on more 'Leap Year' type roles closer to home.
"If I lived in LA, I'd be schizophrenic after a week," he said. "I'd just sit in a hotel room with a shoebox full of weed going: "I'm not f----- moving. If they want me, they can come here."
Popular in the Community