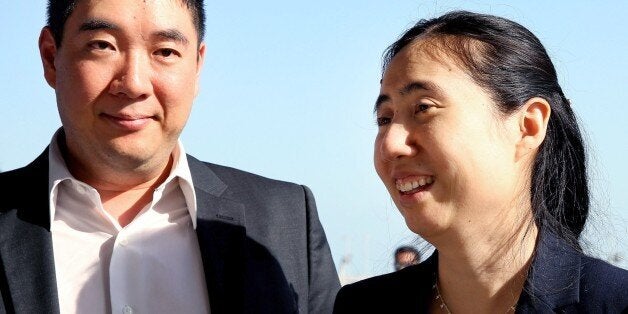 LOS ANGELES, Dec 2 (Reuters) - Qatar will soon lift a travel ban that has kept a U.S. couple from leaving the Gulf Arab state even after their convictions were overturned in the death of their African-born adopted daughter, the U.S. ambassador to Qatar said on Tuesday.
Ambassador Dana Shell Smith said on Twitter that Matthew and Grace Huang should be able to leave the country on Wednesday once the travel ban was lifted, and added she expected no further prosecution appeals in the case.
The couple had initially been charged with murder in the death of their 8-year-old daughter, Gloria, and were convicted of lesser child endangerment charges earlier this year in connection with her death, according to a support website for the family.
An appeals court threw out the convictions on Sunday. Yet when the couple subsequently sought to leave Qatar, they were stopped at the Doha airport and their passports seized, family spokesman Eric Volz said.
That sparked a flurry of diplomacy as U.S. officials worked to get a travel ban lifted so the couple can return to the United States, where their two other children, also adopted, have been living with relatives while the case continued in Qatar.
"Huangs can go tomorrow," Smith said on Tuesday in a Twitter post that said all Qatari requirements for their departure have been met.
The Huangs were arrested in January 2013 after an autopsy found their daughter died of dehydration and cachexia, an irreversible loss of body mass. The couple said Gloria suffered from malnutrition-related diseases since they adopted her from Ghana at age 4.
A lawyer for the couple filed an application on Monday to the attorney general's office in Doha, requesting the travel ban be lifted, Volz said.
"All the proper paperwork has been filed and any continued delays are a cause for concern," Volz said in a statement, adding that he hoped U.S. officials would "keep up any necessary pressure" to ensure the couple can leave Qatar on Wednesday.
The couple, who are from Los Angeles, had moved to Qatar so Matthew Huang, a Stanford-trained engineer, could work on a project related to the 2022 World Cup, according to supporters. (Reporting by Alex Dobuzinskis in Los Angeles; Editing by Cynthia Johnston, Doina Chaicu and Mohammad Zargham)
Support HuffPost
The Stakes Have Never Been Higher
Related
Popular in the Community