A top official at the Department of Housing and Urban Development previously worked at the controversial political data firm Cambridge Analytica, but that job is not listed on his official bio on the agency's website.
Matthew Hunter was the director of political affairs at Cambridge Analytica, which is at the center of a scandal for taking private information from more than 50 million Facebook users largely without their permission.
On Aug. 1, HUD chief of staff Sheila Greenwood sent a message to the department's staff announcing a group of hires, including Hunter, according to an email shared with HuffPost by a HUD employee:
Former HUDster Matthew Hunter returns to us as Assistant Deputy Secretary for Field Policy and Management, bringing 25 years of experience in data science and audience engagement to the Department. Matthew most recently served as Director of Political Affairs with Cambridge Analytica.
A slightly different but similar version of this announcement is online here.
Hunter's official HUD bio, however, has no mention of Cambridge Analytica, even though it was the job he held right before his political appointment to the Trump administration.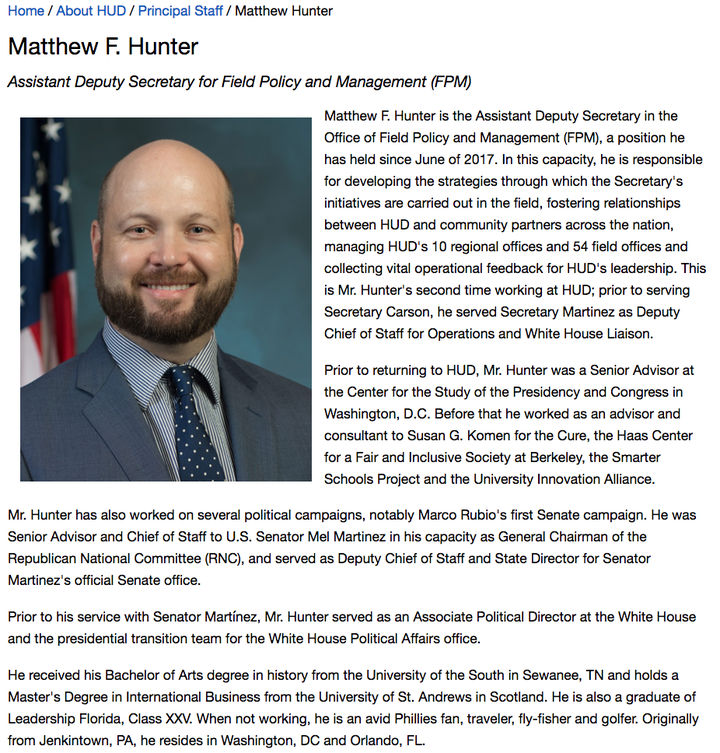 Hunter didn't return requests for comment about the dates he was employed at Cambridge Analytica and why his bio omits his previous employer. HUD's press office also didn't reply.
Hunter isn't the only Cambridge Analytica employee working as a Trump political appointee. As HuffPost reported Thursday, Kelly Rzendzian, a special assistant to the secretary at the Department of Commerce, worked at SCL Group ― Cambridge Analytica's parent company ― from March 2016 through February 2017. The résumé she used to apply for the government job says she worked at Cambridge Analytica at that time.
There is, of course, nothing wrong necessarily with hiring people who worked at Cambridge Analytica. The firm is facing multiple investigations over its data harvesting practices, but these specific individuals don't face any known allegations.
And the firm was obviously well-connected in Republican circles, making it likely that some of its people would get hired into plum political jobs. But it seems that people who did work there aren't bragging about it these days.
Popular in the Community