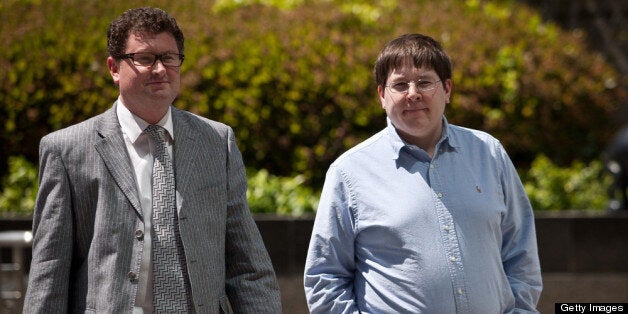 SACRAMENTO, Calif. -- Matthew Keys pleaded not guilty Tuesday to charges that he conspired with hacker group Anonymous to attack the websites of his former employer.
The 26-year-old journalist, dressed in khakis and a blue button-down shirt, didn't utter a single word inside the courtroom. Outside, flanked by what appeared to be his mother and grandmother, he refused to speak to members of the media.
Keys' arraignment comes on the heels of a high-profile firing from his role as deputy social media editor at Reuters, which occurred Monday morning. A spokesperson for the company declined to comment about whether the court case was related to his dismissal.
According to the indictment, he provided hackers with usernames and passwords in late 2010, after he was fired from his job at Tribune-owned KTXL Fox 40 in Sacramento.
The Justice Department claims that the conspiracy sought to "make unauthorized changes to web sites that the Tribune Company used to communicate news features to the public; and to damage computer systems used by the Tribune Company." One hacker managed to change a news story on the Los Angeles Times website using login information Keys allegedly provided.
Keys' attorney, Jay Leiderman, argues that his client acted as an embedded journalist when communicating with members of Anonymous in online chat rooms. "He met these people in chat rooms, they knew he was a journalist and knew where he used to work," Leiderman told The Huffington Post Tuesday.
Leiderman said someone ultimately posed as Keys inside the chat rooms, providing hackers with usernames and passwords for Tribune Co. websites that Keys didn't have access to. "This wasn't his work login," Leiderman said. "This was an all-access pass of sorts. His work login got him access to Fox 40, not all of Trib Co."
"There's an incongruity to all of this that we're hoping to get to the bottom of in the next couple months," Leiderman added.
Keys is charged with three criminal counts, including conspiracy to cause damage to a protected computer, transmission of a malicious code and attempted transmission of a malicious code. If found guilty, he faces up to 25 years in prison and a fine of up to $750,000. He has rejected a plea bargain.
Following his indictment in March, Reuters initially suspended Keys with pay. Keys broke the news of his firing in a Twitter post Monday, and spectators immediately tied his dismissal to the criminal charges.
Keys said that Reuters executives did not mention the court case during his firing, and instead cited a number of unrelated incidents, including his coverage of the Boston manhunt last week and his Twitter bio identifying him as a Reuters employee despite his suspension.
"Still, one has to wonder if they are connected," he said in a blog post about his firing. "The Tribune Company, at the heart of the indictment that came down last month, is one of Reuters' largest media clients. The suspension has been political from the start."
Keys' union, the Newspaper Guild of New York, plans to file a grievance. "Our contract with Thomson Reuters prohibits management from dismissing anyone without just and sufficient cause," union secretary-treasurer Peter Szekely said in a statement Monday. "We don't believe the company has the required justification here. At this point, we intend to vigorously defend Matthew Keys as we would any other hard-working member of the Newspaper Guild of New York who had been fired without cause."
During the Boston bombing crisis early last Friday morning, Keys came under fire for his live Twitter coverage, which included erroneous reports and continued after authorities warned members of the media to stop reporting information from police scanners.
He defended his actions in a Facebook post, claiming that he stopped tweeting once he learned about the request. "We have a responsibility to tell a story from all sides," he said.
Keys is scheduled to appear back in court June 12.
Popular in the Community